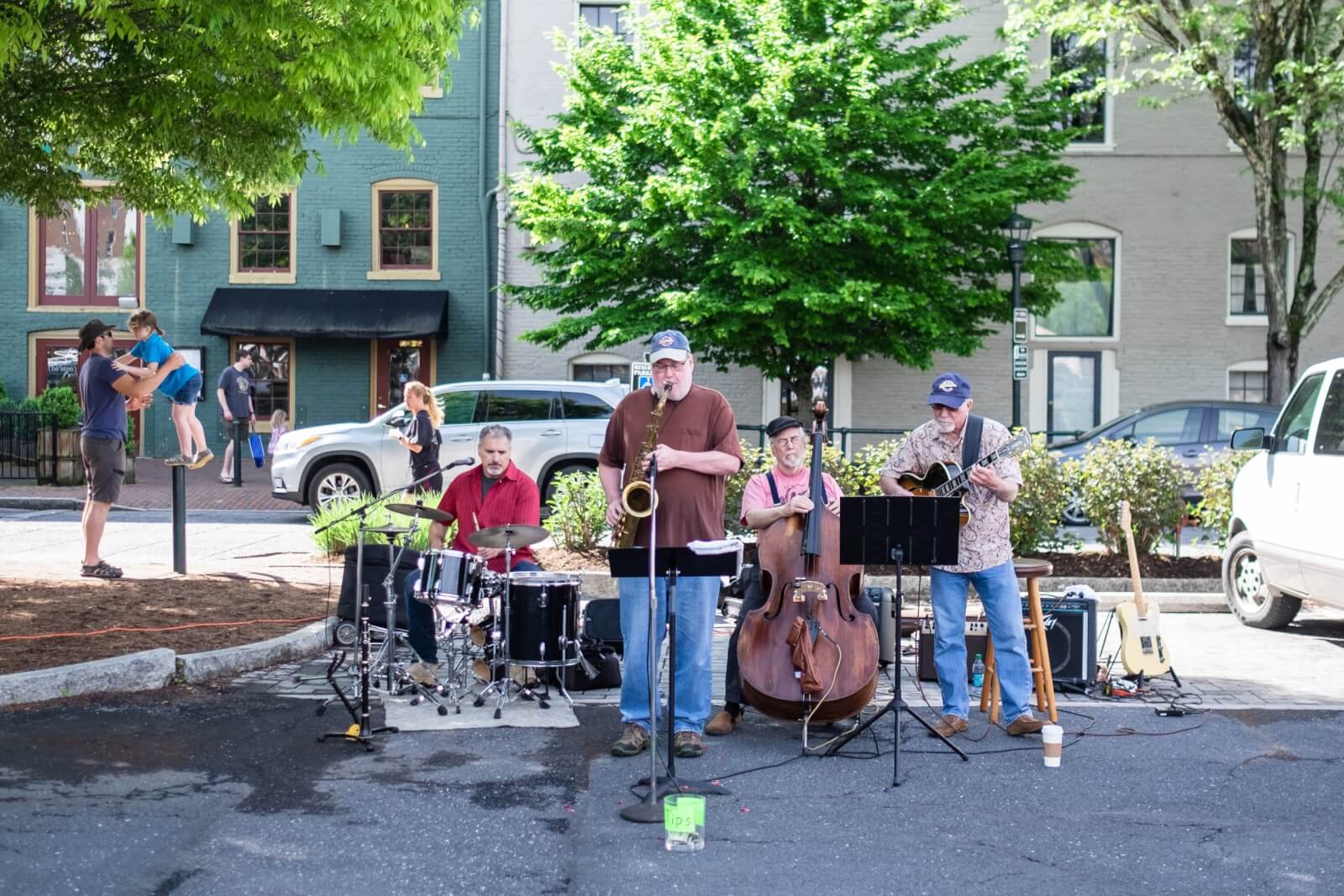 Catch These Summer Music Festivals in Staunton
---
(Published 06/01/2023)
What music is on your Staunton summer soundtrack? Staunton's eclectic music scene ranges from classical to contemporary and includes both local and regional artists and musicians from around the world. Come to Staunton to hear jazz or gospel in the park, savor the sounds of antique classical instruments, tap your feet to patriotic 4th of July music, or dance to your favorite bands at a brewery. Here's a guide to your Staunton summer music scene.
Redbeard's Music Festival
Want to enjoy delicious craft beer and food truck fabulousness while you listen to music and browse vendor booths for art, jewelry, handmade clothing, and other goods? From now through August 26, Redbeard Brewing Company's Live Summer Concert Series is the place to spend select Saturday evenings. Dance the night away with favorite groups like Six Shot Rebellion, Sund-Dried Opossum, and The Judy Chops.
Red Wings Roots Music Festival, June 23 – 25
Join other roots music fans in Natural Chimneys Park for the family-friendly Red Wing Roots Music Festival. Some of the biggest names in folk music appear at this home-grown event that takes place on five stages and is set against the impressive limestone towers. Look for music by The Steel Wheels, Old Crow Medicine Show, Robert Randolf Band, Watchhouse, and many more. Besides the music, festival attendees can enjoy craft beer, food, and vendor booths as well as festival bike rides, yoga practices, and lawn games for adults and kids.
Heifetz Institute's Festival of Concerts, June 21 – July 29
Exceptionally talented young musicians from around the world take the stage in Staunton for Heifetz Institute's Festival of Concerts! Choose from over 50 different public performances featuring Heifetz students, faculty, and guest artists playing solo or in chamber ensembles. The diverse range of concerts includes both classical masterpieces and contemporary works. See world-renowned celebrity guests in the Celebrity Series and Chamber Music Showcase. Heifetz students perform in the Stars of Tomorrow Series as well as the intimate Fridays in the Gallery series that pairs performances and conversations with the musicians. Anything goes in the Heifetz Hootenanny series, which will is paired with craft beer and artisan food. Admission is free for all events for kids 12 and under!
Happy Birthday America, July 3 – 4
Spread the blanket in Gypsy Hill Park this Independence Day for the free, family-friendly Happy Birthday America celebration. Along with lots of local music, the festival will include a free concert by country artists Wilson Fairchild with their special music guest, Grand Ole Opry member, and Country Music legend Gene Watson. The evening ends with an exciting fireworks display. Festivities also include a 5K race, a lively parade, a parent/child baseball game, a vesper service, a beauty pageant, and concessions.
Staunton Music Festival, August 11 – 20
The Staunton Music Festival draws an impressive 80 performers, composers, and historians to Staunton for a series of concerts. Musical selections are drawn from over 600 years. Concerts both large and small ensembles in a variety of Staunton venues like Trinity Episcopal Church and Blackfriars Playhouse. Festival highlights include "The Breathing of the World," a mixed program with music by Beethoven, Anders Hillborg, Milhaud, and more, the all-Bach "Baroque Inside-Out: The Brandenburgs," and "Mozart Extravaganza." While some events are ticketed, many are free.
Music in the Park at Gypsy Hill Bandstand
Monday Nights: Stonewall Brigade Band, June 5 – August 28
Staunton's historic 70-member Stonewall Brigade Band (SBB) is the oldest continuous community band in the U.S. Originally a marching band, the SBB added woodwinds after the Civil War and became the concert band it is today. It first played in what is now Gypsy Hill Park in 1889. Concerts featuring marches and big band classics begin at 7:30 pm. Look for themed shows like "All Disney," "Viva La France," "Juneteenth," and "Classic Concert Band." Here's the full schedule.
Tuesday Nights: Praise in the Park, June 6 – July 25
Head to Gypsy Hill Park on Tuesday nights for Linden Heights Baptist Church's annual Praise in the Park concert series. You hear contemporary and southern gospel as well as gospel bluegrass. Listen to favorites like Glen Shelton & Shannon Wickline, Streets of Gold Gospel Quartet, Faithful Praise, Blue Mountain Sunrise Band, and more. Check the schedule for special children's and teen shows. Concerts begin at 7 pm. See the full schedule here.
Wednesday Nights: Bluegrass, July 5 – August 23
Get ready for some energetic tunes and banjo picking! Most concerts include sets by two different local and region groups. Bands include Rebecca Frazier Band, Mark Templeton Band, Charlie Frazier and Virginia Ramblers, Kody Norris Show and more. Concerts begin at 7 pm. Watch for the full schedule here.
Thursday Nights: Jazz in the Park, July 6 – August 31
Celebrate hot summer nights with the Jazz in the Park summer concert series. You'll hear classic jazz standards by Charlottesville favorites, Sentimental Journey Big Band, as well as fresh New Orleans street jazz by Zu Zu's Hot Five. You'll also enjoy jazz by Robert Jospe Quartet, Jazz Infuzion, and Jstop Latin Soul. See the full lineup here.
American Roots Series at the Frontier Culture Museum, Sundays in August
The Frontier Culture Museum's American Roots Series is a great way to enjoy live roots music and a laid-back and beautiful space. Artists include the Judy Chops, Stoney Creek Bluegrass, Lonesome Heart, and Virginia Rain Bluegrass Band. Spend the day exploring the museum of come for the concerts (5 – 7 pm).
Live Music at the Staunton Farmers' Market, Saturdays
Along with the freshest fruits and veggies around, the Staunton Farmers' Market also offers live music each week. Shop for food and artisan products from local vendors.
Other Nearby Music
Lots of Staunton-area venues will also host live music this summer. Check the schedules for more information.
---
Newsletter Sign-up
Stay up to date on the latest and greatest happening in Staunton.