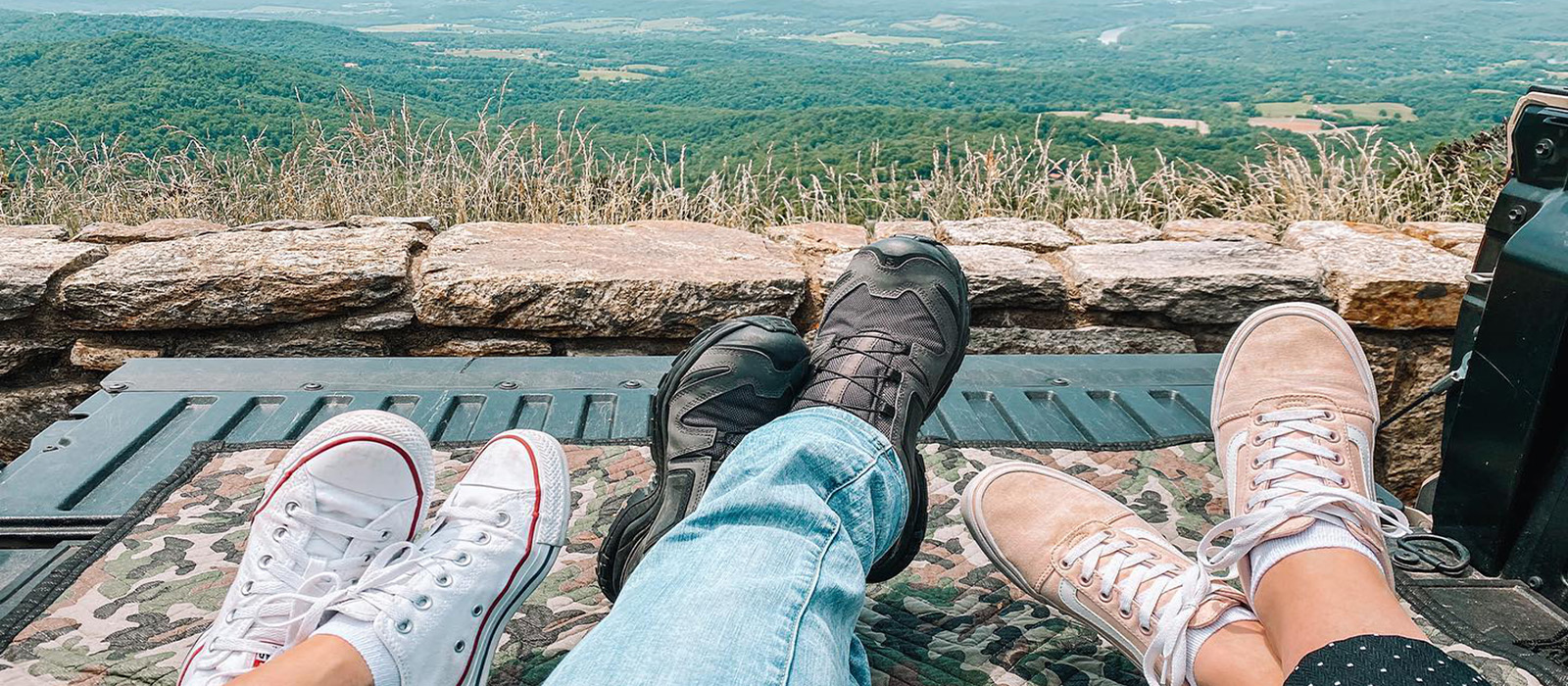 Dive into Summer: Staunton's Best Picnic Spots
---
(Published 05/26/2022)
Don't have plans for the weekend? How about a good, old-fashioned picnic? Pack the picnic basket, shake out the blanket, grab a frisbee, and get ready for some wholesome summer fun. We've rounded up our best area picnic spots with swimming and views.
A Swim and a Picnic
Gypsy Hill Park
You can spend an entire afternoon exploring Gypsy Hill Park. Start with a swim at Gypsy Hill Park pool, a large, L-shaped pool with lanes for laps, a slide, and a dedicated kiddie pool for the three-and-under crowd. Next, set up for a picnic at one of the park's many tables, find a place in a pavilion, or spread out on the grass somewhere private. One of our favorite spots is the south side of Lewis Creek to the east of the baseball diamonds. After your meal, walk the 1.3-mile loop, burn some energy at one of the playgrounds, or feed the ducks. If you want your picnic for dinner, check out the weekly live music schedule at the bandstand.
Montgomery Hall Park
There's a lot to do in Montgomery Hall Park. Start by arranging your picnic lunch at one of the large park's many picnic tables. Next, let the kiddos play at either the traditional playground or the natural playground. Get your heart rate up with a game of tennis, a round of disc golf, or a hike or bike ride along the wooded trails. Finally, take a dip in the park's pool, which has both a deep end with a slide and a shallow area for the littles.
Sherando Lake
25-acre Sherando Lake is known as the "Jewel of the Blue Ridge" because it's beautiful and when you come upon it tucked into the hills, you'll feel like you discovered a prize. One side of the lake features a large sandy beach and gradual deepening of the deliciously cool spring-fed water. There are even shaded places where you can lounge while your kids splash and play in the water. Built in 1933 by the Civil Conservation Corps, the recreation area also has camping, hiking, boating, fishing, showers, and picnic facilities. Day access fee applies.
Todd Lake
7.5-acre Todd Lake is a great place for a family swim, picnic, or camping weekend. This recreation area in George Washington and Jefferson National Forest features a sandy beach, bathhouse, picnic facilities, playground, hiking trails, volleyball courts, horseshoe pits, not-motorized boating, and camping. The lake was created in 1963 by the construction of a flood control dam. Today, it's a great spot to watch waterfowl. Day access fee applies.
Shenandoah Valley Campground
If you're hoping to make a weekend out of picnicking and swimming, Shenandoah Valley Campground is the place to go. Not only does this campground boast large, comfortable sites and plenty to do like playgrounds and a fishing pond, but there's also a big, heated pool as well as four six-person hot tubs. If you're looking to skip chlorine, you're in luck: the campground is tucked into a 1.5-mile horseshoe bend of the Middle River. That means there's wading and tubing access.
Picnic Spots with Views
Cannon Hill at Mary Baldwin University
Popular for viewing 4th of July fireworks, Cannon Hill at Mary Baldwin University is a perfect spot for a picnic any day of the year. This high, flat, open lawn commands a panoramic view of the city. While there aren't picnic tables, the space is usually empty, and there's plenty of room to toss a ball or chase fireflies.
Woodrow Park
Woodrow Park perches high above the railroad tracks on historic Sears Hill and boasts one of the best views of Staunton. You can park at the top or start at the Wharf and climb up and over the Sears Hill footbridge. Picnic on a bench or spread your blanket on the grass. Make sure to check out the informative signs that tell the area's history and point out notable buildings.
Frontier Culture Museum
While the views here are pretty, you'll spend most of your day gaining a new perspective on the past and learning about the Valley's earliest settlers at The Frontier Culture Museum. You'll develop a big appetite after walking the grounds and learning all the steps people needed to follow just to eke out an existence. There's a covered pavilion as well as plenty of picnic tables to relax and enjoy the relative ease of modern dining.
Skyline Drive
Finally, make sure to picnic this summer at one of the 70 scenic overlooks along Shenandoah National Park's Skyline Drive. Check out the views, look for birds and wildlife, and identify native plants and trees. Many of the overlooks feature trailheads, so you can get your exercise in before or after your meal.
---
Newsletter Sign-up
Stay up to date on the latest and greatest happening in Staunton.