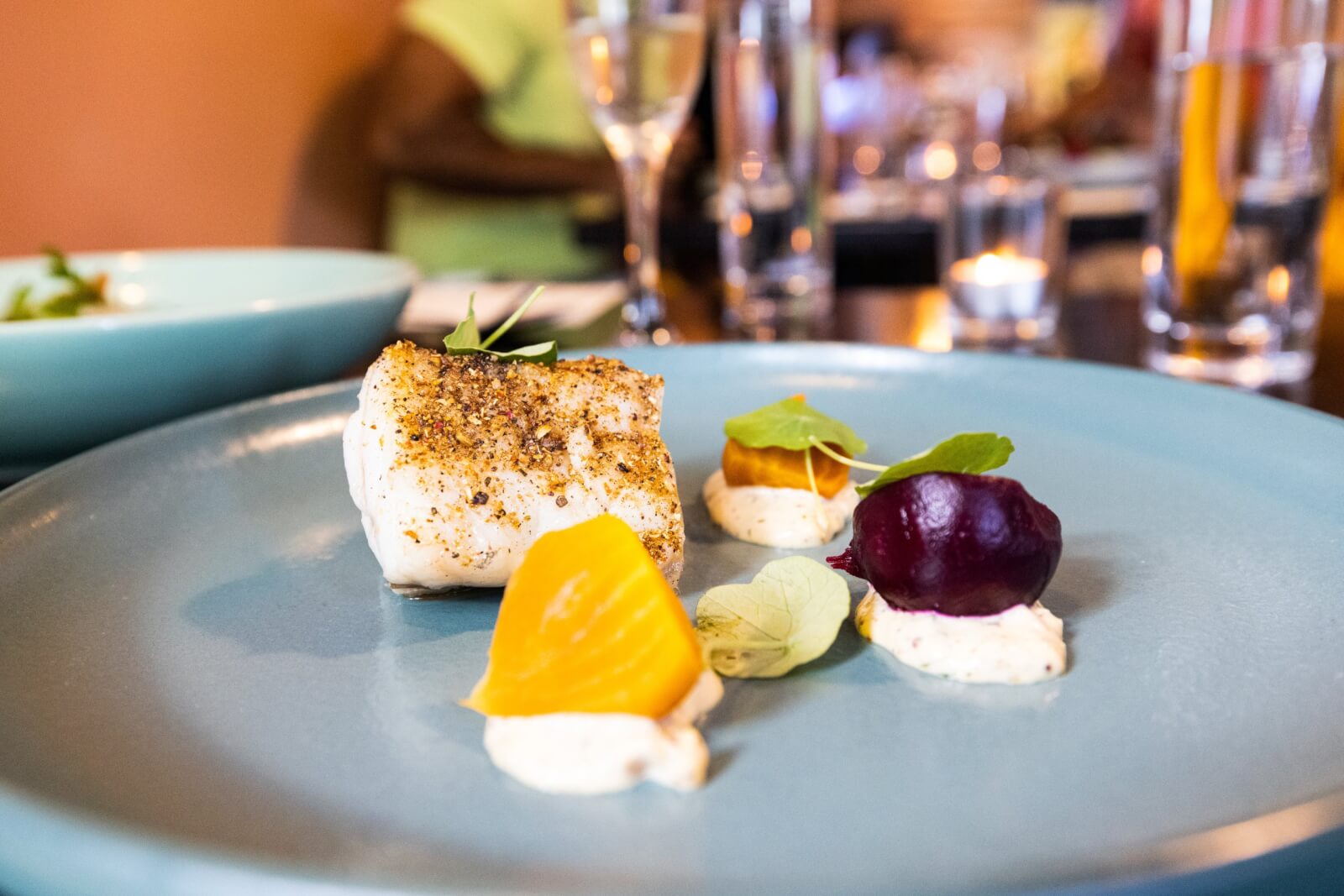 Eat, Drink, Love Staunton
---
(Published 08/19/2021)
There's a lot to love about Staunton. Not only does it have proximity to the beautiful Blue Ridge Mountains, a vibrant arts and cultural scene, and a rich history and agricultural heritage, it also serves up a wide range of culinary experiences. From coffee shops to farm tours, here's how to eat, drink, and love Staunton.
Eat
Begin your day with love at one of Staunton's bakeries or coffee shops. Réunion Bakery & Espresso pairs fresh coffee drinks with authentic French pastry like apple galettes with pecan cream. Check the menu for what they're baking this week: their focaccia and quiches are to die for.
Crucible Coffee Roasters is a great place to meet with friends and share site-roasted coffee in an urban cool environment. Prefer your coffee at home? Consider a coffee subscription.
If you're more interested in diner food, you should know that Kathy's Restaurant is the reigning breakfast champion. Not only is it wonderful and filling, it's served all day long. And people in other states fantasize about classic-Virginia-style breakfast (and pie) menu at Mrs. Rowe's Family Restaurant and Bakery.
For a small city in Virginia, Staunton has an exciting global dining scene. Check out Chicano Boy Taco, a Mexican-American taquería boasting a simple (but amazing) menu and some of the best burritos you've ever eaten. Gloria's Pupuseria stuffs its pupusas with chicken, blended pork, vegetables and cheese, and this Salvadoran dish packs major flavor. You can also get tamales steamed in plantain leaves, fried plantains, or Salvadoran enchiladas.
The enticing scents from Taste of India will distract you as you explore downtown, so you might as well go inside this gem and order a serving of chicken tikka masala or lamb vindaloo. Meat-free dishes like aloo gobi vegan and saag paneer will please vegetarians. You can get a good selection of Indian beers, wine, and yogurt lassi drinks. Staunton boasts authentic Thai cuisine at Ubon Thai. Aioli offers creative Mediterranean cuisine.
Staunton is a leader in farm-to-fork dining, and many of its restaurants emphasize using fresh local ingredients. You'll find an upscale and modern exploration of Southern favorites at Zynodoa, which serves entrees like housemade spaghetti and Autumn Olive Farm Sausage or crispy skin speckled sea trout.
For a guided tour of seasonal excellence, try the four or five-course tasting menu at The Shack. And if it's Virginia seafood you crave, BLU Point Seafood has some of the freshest you'll find in the state as well as a raw bar where you can find delicious Virginia oysters.
Finally, you can't go wrong with steak or pasta at the family-friendly Mill Street Grill and Depot Grille. Don't forget to follow your meal with The Split Banana gelato or a classic cone or sundae from Wright's Dairy Rite.
Drink
Virginia's award-winning wine and craft brewing culture is giving out-of-towners a reason to visit. Hundreds of vineyards and breweries dot the landscape, making use of locally grown ingredients and the magnificent views from tasting and taprooms. Jump on the Shenandoah Wine Trail, which stretches from Rockbridge County to the south all the way up the Valley to Frederick County and Winchester. Nearby favorites include Barren Ridge Vineyards, Bluestone Vineyard, and Rockbridge Vineyard & Brewery.
In Staunton, you'll want to head down to Ox-Eye Vineyards tasting room to sip estate-grown wines. Choose your favorite from a selection of reds, whites, and seasonals. Another place to taste to your heart's content is Yelping Dog Wine. This wine bar stocks an extensive collection of local, regional, and international wines to enjoy by the glass or the bottle over gourmet cheese plates and good conversation. The Green Room is a local meeting place that sells wine, beer, upscale snacks and more in an Instagram-worthy setting.
Speaking of beer, downtown Staunton is home to three craft breweries: Redbeard Brewing Co. and Queen City Brewing. Make yourself at home over delicious beer in their welcoming taprooms. Want to be entertained? Come on a night when there's live music, trivia, karaoke, open mike, table-top gaming and more on the schedule. These three breweries (along with 16 others) are part of the Shenandoah Beerwerks Trail. Other local restaurants with deep beer lists (as well as tasty fare) are the Clocktower, Shenandoah Pizza and Taphouse and Baja Bean.
Staunton is now home to Ciders from Mars, which ferments Augusta County apples into the hard cider it serves in its new, downtown taproom.
Love
You'll love spending a Saturday morning at the Staunton Farmers' Market producer's only market in the historic Wharf district downtown. Listen to live music, and say "hi" to your neighbors as you browse the stalls for your favorite flavors. You'll find ripe, organic fruits and vegetables, fresh baked goods, cut flowers, and much, much more.
There's nothing like having a delicious meal outside, and on weekends, Beverley Street in downtown Staunton transforms into a pedestrian mall, with access to dining and shopping. Visit Shop and Dine Out Downtown for more info.
Want to learn more about the food you eat? Why not take a self-guided, private, or "lunatic" farm tour of Polyface Farms, a leader in ethical, sustainable, and clean meat production?
Share the love with your family by taking a trip to a nearby pick-your-own farm for fruit, produce, or decorative gourds in the fall! Celebrate grape season at Wenger Grapes, stock up for apple pie baking at Sunrise Orchards, or up your autumn game with a wagonload of pumpkins from Middle River Farm.
---
Newsletter Sign-up
Stay up to date on the latest and greatest happening in Staunton.