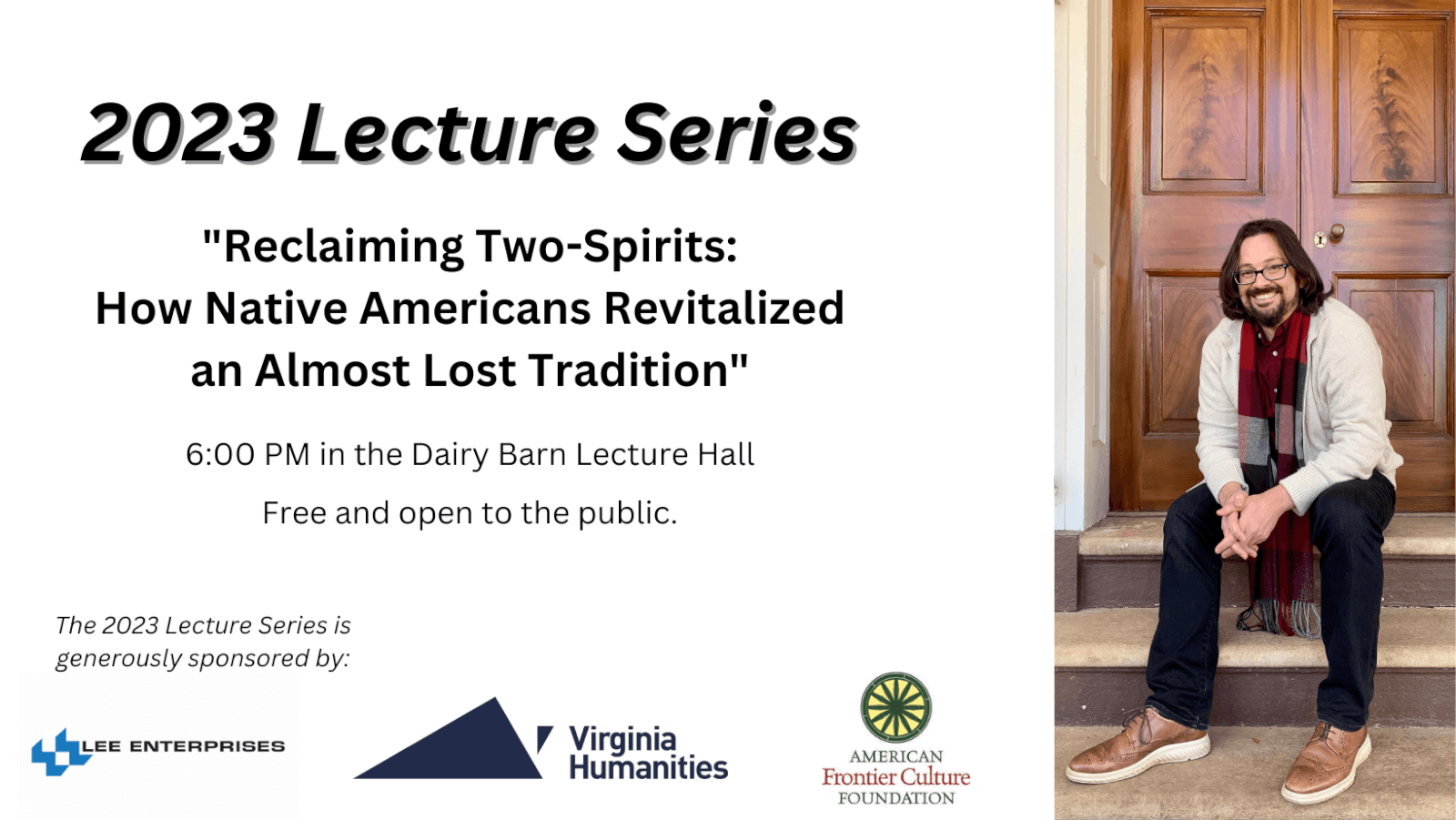 2023 Lecture Series: "Reclaiming Two-Spirits: How Native Americans Revitalized an Almost Lost Tradition"
This event is no longer available.
Join the Frontier Culture Museum on Tuesday, May 23, 2023 for the next installment of our 2023 Lecture Series. This month's lecture is "Reclaiming Two-Spirits: How Native Americans Revitalized an Almost Lost Tradition," presented by Dr. Gregory Smithers from Virginia Commonwealth University. The lecture starts at 6:00 PM in the Dairy Barn Lecture Hall and is free and open to the public.
In the summer of 1990, a small group of Native Americans gathered at a campground just outside of Winnipeg, Canada. Few of the attendees could have imagined the history they'd create. In fact, the legacy of that gathering continues to reverberate across Indian Country – and North America – today. In the summer of 1990, delegates at the Third Annual Gathering of Gay and Lesbian Indians went back in time, to their living traditions, to set a path for their collective futures. They went back beyond Columbus and 1492 and to a time when hundreds of Indigenous communities across North America included people who identified as neither male nor female, but both. Those ancestors went by aakíí'skassi, miati, okitcitakwe or one of hundreds of other tribally specific identities. At Winnipeg, a new term emerged: Two-Spirits, an umbrella term denoting feminine and masculine qualities in one person. But what does Two-Spirit mean? Where does it come from? And who were the people who coined a term that has reshaped almost two generations of Native American history?
The 2023 Lecture Series is sponsored by Virginia Humanities, Lee Enterprises, and the American Frontier Culture Foundation.
Frontier Culture Museum
1290 Richmond Rd
Staunton, 24401
May 23, 2023
06:00 pm - 07:00 pm
(540) 322-7850
Newsletter Sign-up
Stay up to date on the latest and greatest happening in Staunton.