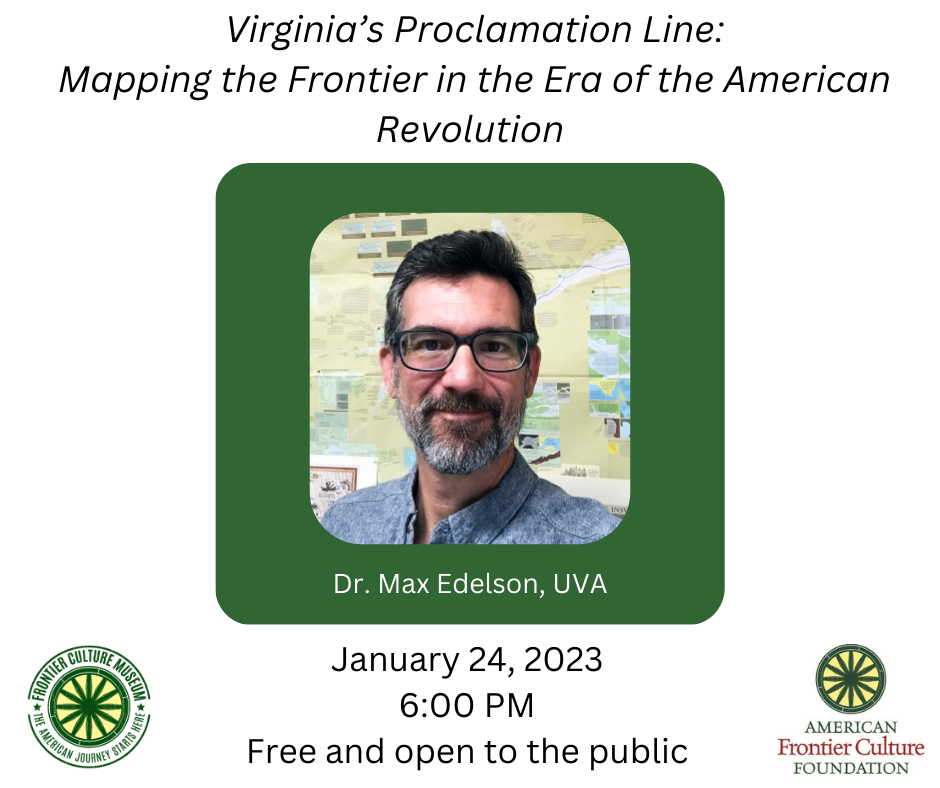 2023 Lecture Series: "Virginia's Proclamation Line: Mapping the Frontier in the Era of the American Revolution"
This event is no longer available.
Our 2023 Lecture Series starts off on January 24th with Dr. Max Edelson from the University of Virginia. Join us on January 24th at 6:00 PM in our Dairy Barn Lecture Hall. This lecture is free and open to the public.
On October 7, 1763, King George III's Royal Proclamation imagined a line passing through the Appalachian Mountains. By carefully dividing colonial and indigenous territories, British officials hoped to turn a fractious frontier into an empire of peace. When it came time to survey this continental boundary, however, Virginia's determination to claim land to the banks of the Ohio River threatened this imperial vision. Before the line could be settled, the American War of Independence wiped it off the map. This talk tells the story of the Proclamation Line in the Old Dominion, illustrated by more than a dozen original maps. It shows how Virginians pursued an agenda of expansion and how Cherokee and Iroquois leaders attempted to carve out a stable place for Native nations in North America in the generation before the American Revolution.
Frontier Culture Museum
1290 Richmond Rd
Staunton, 24401
Jan 24, 2023
06:00 pm - 07:00 pm
(540) 332-7850
Newsletter Sign-up
Stay up to date on the latest and greatest happening in Staunton.