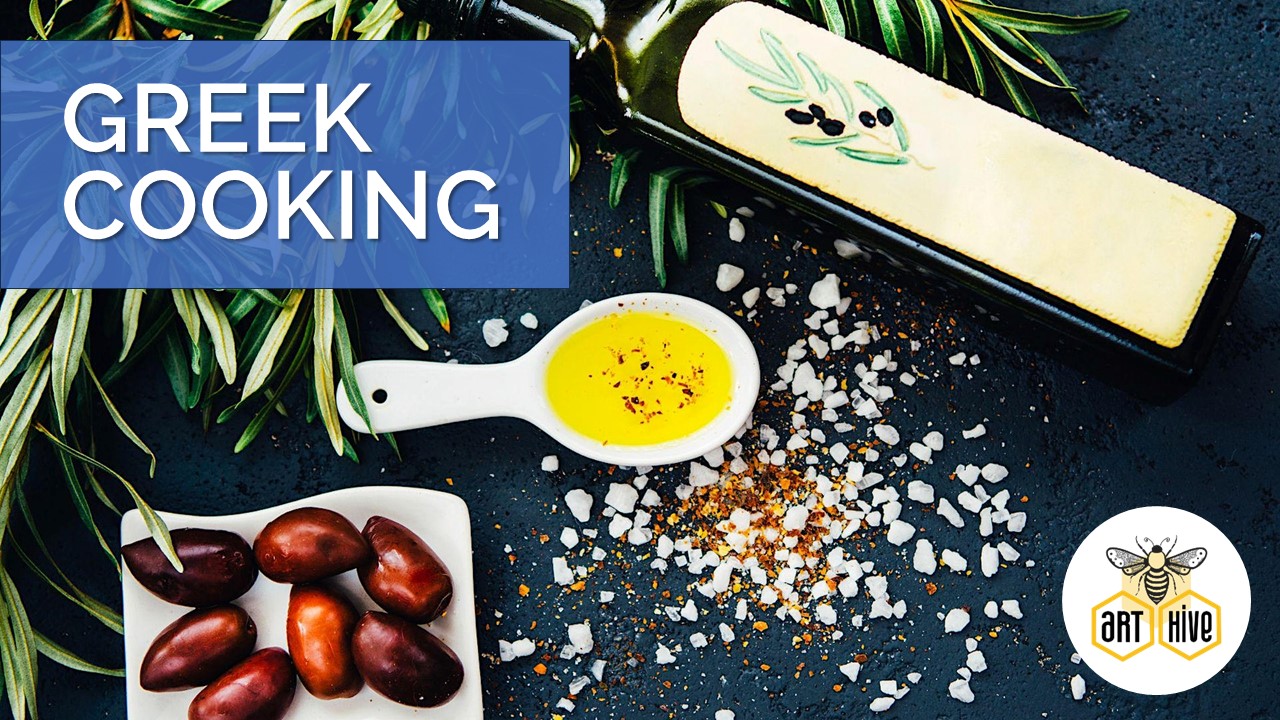 Greek Cooking with Chef Jimmie Salonie of Pauleen's Catering
This event is no longer available.
Immerse yourself in the tantalizing world of Greek cuisine and uncover its hidden treasures in "Exploring Greek Cuisine: Beyond the Basics."
This class is designed to take you on a culinary journey beyond the familiar Gyros and Feta cheese, delving into the diverse flavors, rich history, and healthy living principles that define Greek gastronomy. Get ready to expand your palate, sharpen your culinary skills, and embrace the essence of Greek culture through a variety of engaging lessons and hands-on experiences.
Course Highlights:
There's more than just Feta: Cheese Chat & Taste
Discover the wide array of Greek cheeses beyond the beloved Feta. Engage in lively discussions about their origins, production methods, and unique flavors. Sample a curated selection of cheeses and learn how to pair them with complementary ingredients for an elevated dining experience.
Enough with the Gyro: Street Food vs. Cuisine
Delve into the distinction between Greek street food and traditional cuisine. Understand the cultural significance of both and explore the ingredients and techniques that set them apart. Uncover the history behind iconic street food favorites and learn to recreate them at home.
What is Meze?
Unravel the concept of Meze, the art of savoring small, flavorful dishes. Learn to prepare an enticing spread of Meze, combining dips, finger foods, and aromatic bites that are perfect for social gatherings or a relaxed evening at home.
Healthy Living with Greek Cuisine
Gain insights into the Mediterranean diet, recognized for its health benefits. Explore the role of olive oil, fresh vegetables, whole grains, and lean proteins in promoting wellness. Discover how to incorporate these principles into your daily life while savoring the vibrant flavors of Greek dishes.
Dining Family Style
Embrace the heartwarming tradition of family-style dining that's central to Greek culture. Learn the art of sharing a meal with loved ones, creating a sense of togetherness and connection. Explore techniques for serving large groups with grace and ease.
Culinary Showcase:
Appetizer: Spanakopita (Of Course)
Master the delicate art of crafting Spanakopita, a savory pastry filled with spinach and cheese. Learn the secrets to achieving the perfect flaky phyllo dough and achieving a harmonious blend of flavors.
Salad: The Perfect Combo
Elevate your salad game with a Greek twist. Explore the balance of flavors, textures, and vibrant colors that characterize Greek salads. Create a salad that showcases the freshness of Mediterranean ingredients.
Entree: Marinated Chicken, Rice Pilaf, Green Beans in Tomato Sauce
Embark on a culinary adventure with a hearty Greek entree. Marinate and cook chicken to perfection, prepare a fragrant rice pilaf, and master the art of braising green beans in a rich tomato sauce.
Dessert: Baklava and a nut-free offering from Pastry Chef Sharon Radoiu. Honey. Nut. Flaky. Ohhhhhs! Indulge in the rich and decadent flavors of honey, nuts and flaky Phyllo to wrap up your Greek experience.
Join us in this interactive and informative class, where you'll not only learn about Greek cuisine but also immerse yourself in its cultural richness. Unlock the secrets of Greek cooking, foster new connections with fellow food enthusiasts, and take home the skills to recreate these culinary delights in your own kitchen. Opa!
Art Hive Creative Reuse and Art Center
835 Spring Hill Road
Staunton VA, 24401
Oct 14, 2023
04:00 pm - 06:30 pm
(540) 218-5321
Newsletter Sign-up
Stay up to date on the latest and greatest happening in Staunton.