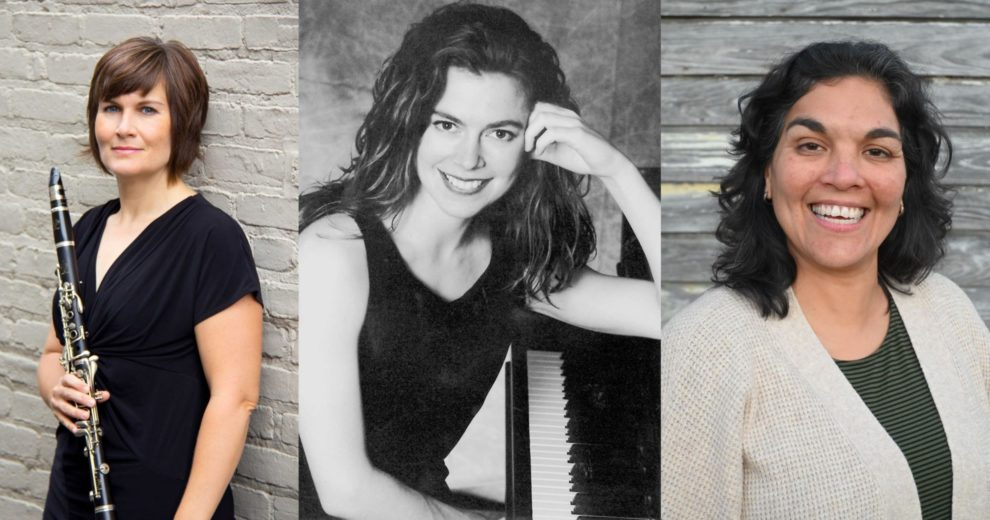 Mary Baldwin University Sunday Concert Series
This event is no longer available.
FEATURING
Naval Academy Band clarinetist, Lynda Dembowski
MBU Professor of Music Lise Keiter, on piano
International performer and Eastern Mennonite School strings instructor, Maria Lorcas, violin
PROGRAM
Attendees can look forward to a varied program that includes something for everyone. Selections range from traditional classical favorites to newer works that some may be hearing for the first time.
Malcolm Arnold: "Sonatina for Clarinet and Piano"
Jessie Montgomery: "Peace"
Carlos Guastavino: "Tonada y Cueca"
Darius Milhaud: "Suite for Clarinet, Violin, and Piano"
Camille Saint-Saens: "Sonata for Clarinet and Piano"
David Baker: "Dance" from Sonata for Clarinet and Piano
INFO ABOUT THE PROGRAM
Performers will open with the energetic Sonatina for Clarinet and Piano by English composer Malcolm Arnold.
They will also feature a work by Jessie Montgomery, Peace (for clarinet and piano). Montgomery is a young, African American composer and violinist, was recently named Composer of the Year by Musical America,and is one of the most sought-after composers of today. Her music interweaves classical motifs with elements of vernacular music, improvisation, poetry, and social consciousness, making her an acute interpreter of 21st century American sound and experience.
The program will also include Tonada y Cueca by Argentine composer Carlos Guastavino and Camille Saint-Saens' beautiful Sonata for Clarinet and Piano.
Violinist Maria Lorcas will join the duo for Darius Milhaud's delightful Suite for Violin, Clarinet, and Piano, and the performance will conclude with "Dance" by the esteemed American jazz educator and composer, David Baker.
GENERAL INFO ABOUT THE SUNDAY RECITAL SERIES:
All Sunday Recitals are FREE for all MBU faculty, staff, and students. (MBU faculty, staff, and students do not need to reserve a ticket in advance.)
Tickets are $5 for the general public; $4 for senior citizens and non-MBU students. They may be purchased online or at the door.
All Sunday Recitals are held in Francis Auditorium on Sundays at 3 p.m.
MORE UPCOMING EVENTS FROM THE MBU MUSIC DEPARTMENT:
Monday, Feb. 27 — Jordan Bak, viola (Broman Concert, 7:30 p.m., Francis Auditorium)
Sunday, April 2 — Anne Wick, soprano; Marie Masincup, piano (Sunday Recital, 3 p.m., Francis Auditorium)
Wednesday, April 12 — Spring Choral Concert (7 p.m., First Presbyterian Church)
All coming events may be found at the Music at Mary Baldwin page.
Mary Baldwin University's Francis Auditorium
Francis Auditorium, 227 E Frederick Street
Floor 2, Staunton
Jan 29, 2023
03:00 pm - 05:00 pm
(540) 887-7193
Newsletter Sign-up
Stay up to date on the latest and greatest happening in Staunton.