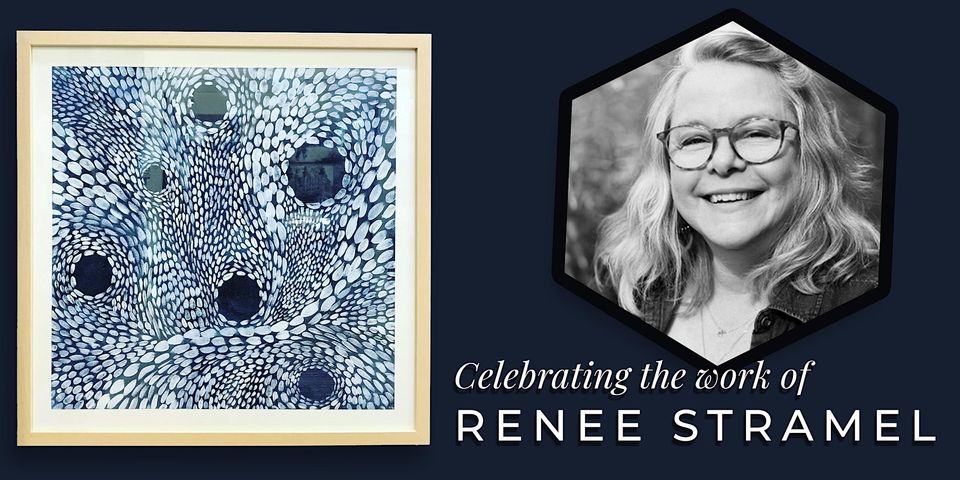 Renee Stramel: INDIGO Reflections Opening Reception
This event is no longer available.
We are joining Staunton's First Friday with our very first monthly Featured Artist – RVA's Renee Stramel.
Join Art Hive on Friday, September 1st, from 6 – 8 PM for the opening of Renee's month-long show "Indigo Reflections" at Art Hive, in Staunton, VA.
In her "Indigo" series Renée Stramel seeks to recreate the look of Batik textiles while sidestepping conventional wax-resist techniques. Inspiration led to an innovative process: a reimagined wax resist process. The result is a heavily textured surface that reveals the hand of the artist while harkening back to the wax-resist tradition. The glazing media retains a bit of glossiness adding subtle sparkle and shine amidst the dark blue matte finish background. This series is then custom framed in beautiful maple wood frames to complement the richness of the indigo.
About Renee
Renée Stramel is a broad ranging visual artist with a long career in art publishing and licensing. Her commercial work has sold worldwide with brands such as Anthropologie, Target, Ethan Allen, Bassett Furniture, and Ballard Designs. Renée works in various media including acrylic, watercolor, and photography, both digital and analog.
Endlessly curious, she has expanded into fabric and pattern design and sells her work through Spoonflower. Along with licensing work, she now creates originals out of her sunny studio in Richmond, VA.
Art Hive Creative Reuse and Art Center
835 Spring Hill Road, Staunton, VA 24401, USA
Staunton, 24401
Sep 1, 2023
06:00 pm - 08:00 pm
(540) 218-5321
Newsletter Sign-up
Stay up to date on the latest and greatest happening in Staunton.