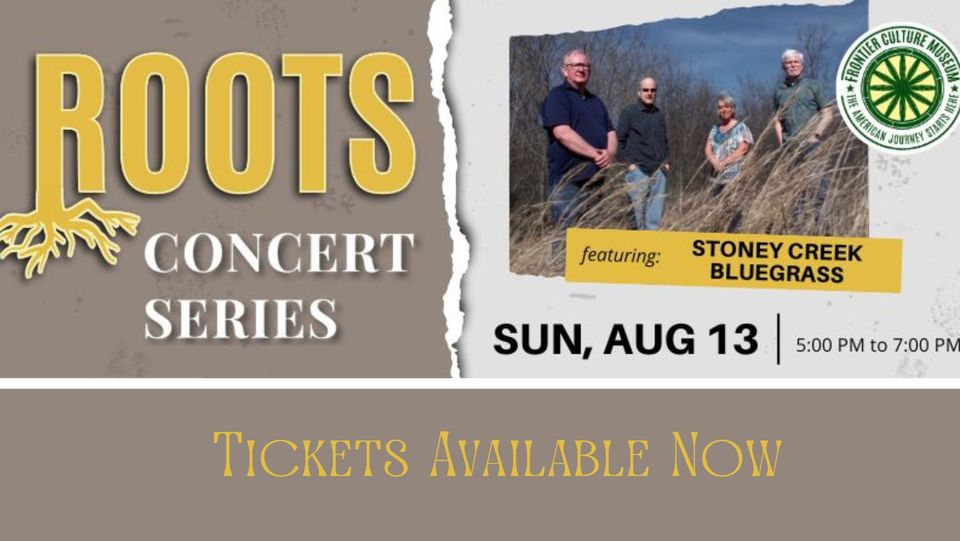 Roots Concert Series Featuring Stoney Creek Bluegrass Band
This event is no longer available.
The Frontier Culture Museum American Roots Concert Series is back for the 2023 season. Join us every Sunday in August from 5:00 PM – 7:00 PM for live roots music! The second concert of 2023 will feature Stoney Creek Bluegrass.
During its two decades of entertaining bluegrass audiences in the Mid-Atlantic region, Stoney Creek Bluegrass Band has been praised as "mainstream bluegrass at its best" by Bluegrass Unlimited magazine, and named "West Virginia's classic bluegrass band" by Around the Panhandle magazine.
Since 2020, Stoney Creek Bluegrass Band has partnered with Southern States Cooperative to promote stores located near the band's concert appearances. In Sept. 2018, Stoney Creek partnered with the Boot for an exclusive premiere of the "Fast Train" music video. The Boot, one of the top country music sites, praised the video's "stunning sights" and said the band is "known for fusing bluegrass traditionalism with gospel sensibilities." The band has seen radio airplay with original songs including "Come Stay Awhile," "Never Tell Me," "The Traveling Song," "Thirty Years" and "Fast Train." The band's music videos have gained a following on social media, due in part to their reflection of the traditional bluegrass sound and rural lifestyle. "Fast Train" spent two weeks at No. 1 on the Roots Music Report. "Thirty Years" spent five weeks at No. 1 on the same chart.
Stoney Creek Bluegrass Band features Libby Files on vocals and bass, Kenton "Red" Catlett on guitar and vocals, Troy Stangle on banjo, resonator guitar and vocals, and Bob Simmers on mandolin and vocals.
Tickets are $12 per person, or reserve an entire table for $60.00. Also, don't miss our Harvest Festival earlier that day! Tickets for Roots are included in museum admission, so spend the whole day with us! Rick's BBQ & Catering will be on site during the Roots Concert for dinner!
Frontier Culture Museum
1290 Richmond Rd
Staunton, 24401
Aug 14, 2023
05:00 pm - 07:00 pm
(540) 332-7850
Newsletter Sign-up
Stay up to date on the latest and greatest happening in Staunton.