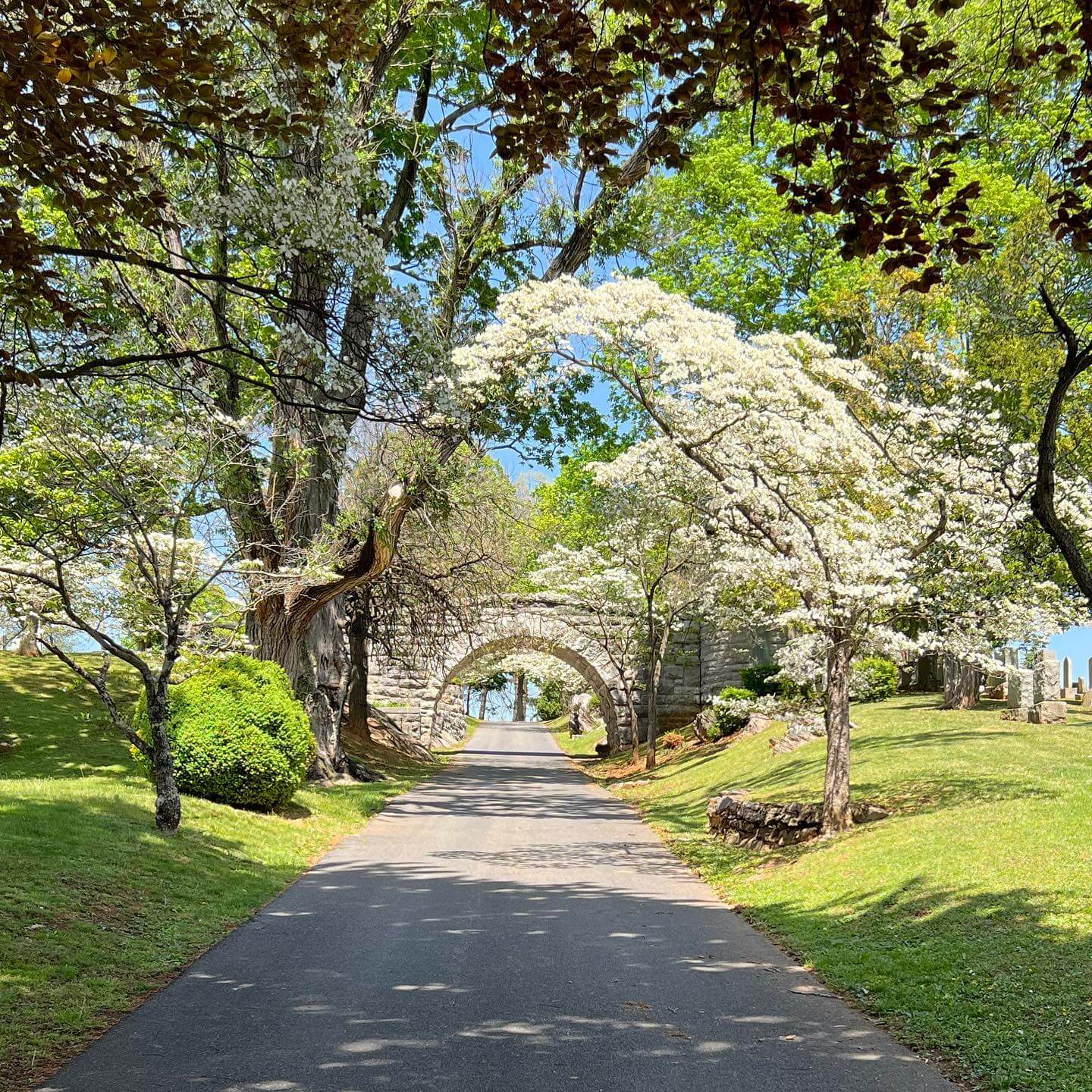 Explore Staunton's Hidden Spots For Peace & Quiet
---
(Published 03/23/2023)
Want to get outside for some sun and fresh spring air, but not sure you want anyone to see your freshly-bared winter skin? Want to find a quiet shady spot outdoors to read your book and sip your coffee? How about a place where your kids can explore nature at their own pace, far from the bustle of the playground? Here are some of Staunton's hidden spots picked especially for the introverts and peace-and-quiet lovers among us. 
Woodrow Wilson Presidential Library and Museum
Did you know that you don't need to pay for a ticket to explore the Historic Gardens at Woodrow Wilson Presidential Library and Museum? The gardens, designed by landscape architect Charles F. Fillette in 1933, are located just steps from Staunton's bustling downtown. Today, they are lovingly maintained by the Garden Club of Virginia. The three tiers of gardens include perennials, lilacs, boxwoods, and hostas. Visitors can walk the brick pathways and admire the plants, rest on a quiet bench, or learn about the ongoing archeological study. The gardens are open to the public from dawn to dusk.
R. R. Smith Center Garden
You'd never guess it, but there's a surprise tucked into an alley behind the R.R. Smith Center. The Mevluda Tahirovic Memorial Garden is a wonderful, quiet, and rather hidden space that features plants like hostas and climbing hydrangeas. There's also shade and tables and chairs away from the street noise, making this a sweet spot to meet friends and share coffee from nearby Reunion Bakery & Espresso. The urban green space can be accessed from the Smith Center or Barrister's Row. It's open to the public during daylight hours.
Brenda L. Papke Memorial Sensory Garden
The award-winning Brenda L. Papke Memorial Sensory Garden at the Staunton Library is a small, universally accessible space designed to stimulate all five of your senses. Sensory favorites include: a fountain, texturized surfaces, and plants like lavender, rosemary, and butterfly bushes. If you want to keep the kids occupied while you explore, download a scavenger hunt to use in the library and the garden.
Montgomery Hall Park
If you enjoy hiking or birding, Montgomery Hall Park has several miles of quiet and well-maintained trails winding through the forest. Not only will you get your heart rate up on the hilly sections, but it's also a birding and wildlife hotspot. Bring your camera! Parents with young children will appreciate Nature Ridge Natural Playground. Instead of relying on steel and plastic, this shady space makes use of natural materials like logs and branches. There's also a giant sand area, a tunnel, and more. Kids can play creatively and explore the space with both their bodies and their minds.
Thornrose Cemetery
You wouldn't think a cemetery would be a nice place to walk, but Staunton's historic Thornrose Cemetery was built during the 1800s movement to make cemeteries into park-like spaces. Visitors can walk on the extensive system of paved drives, admire the landscaping and the dramatic garden features like a tower and footbridge, and rest on one of many benches and gazebo structures.
Betsy Bell and Mary Gray Wilderness
The Betsy Bell and Mary Gray Wilderness area that encompasses the tops of Staunton's two small mountains is one of Staunton's lesser-known green spaces. You'll probably have the hike-able gravel road and the trails to yourself. The park has two overlooks that give nice birds-eye views of eastern Staunton.
Jones Garden
Jones Garden is a community garden dedicated to healthy eating, affordable and sustainable food, and "beautifying areas of the community by creating inviting community green spaces that encourage community pride and enjoyment of nature." Everyone is welcome to spend time in the garden, and if you volunteer, you get free produce. Visitors can also purchase produce on market days and admire an evolving community art backdrop. Check the schedule for educational, volunteer, and tasting events.
Woodrow Park
Everyone knows that Gypsy Hill Park can get really busy when the weather's nice. How about visiting some of Staunton's lesser-known gems instead? Located high on Sears Hill, Woodrow Park can be reached by car or by starting at the historic train station and climbing up over the pedestrian footbridge. There's plenty of room to stretch out under the trees and take in a wide, but lesser-seen view of downtown Staunton. Another small park that's good for a quick visit (and some photo posing) is one-acre Landes Park. This park overlooks Lewis Creek. It's mostly paved, and it tucks under the atmospheric railroad overpass.
Trails at Mill Place
Verona's Trails at Mill Place is a pocket park tucked in a hollow behind an industrial area. It might be hard to find at first, but there's plenty of parking and the 2/3-mile paved loop around a pond is quiet and pretty. There are benches and picnic tables, and it's private and away from traffic.
STAR Trail
If you head east toward Fishersville, you can stroll the universally-accessible STAR Trail at Woodrow Wilson Rehabilitation Center. This half-mile trail loops around a small fishing lake. The trail itself is mostly flat with lots of shade and there's a covered picnic area that overlooks the lake. The trail connects with the longer, paved shared-use Lifecore Trail that leads to Augusta Health.
JMD Farm Market and Garden Center
Take a short drive into the countryside to visit JMD Farm Market and Garden Center. Not only can you take care of your gardening needs with annuals, perennials, vegetables, pottery, and more, but you can also buy a glass of local wine and spread out for a snack while the kids play in the small natural play area.
---
Newsletter Sign-up
Stay up to date on the latest and greatest happening in Staunton.