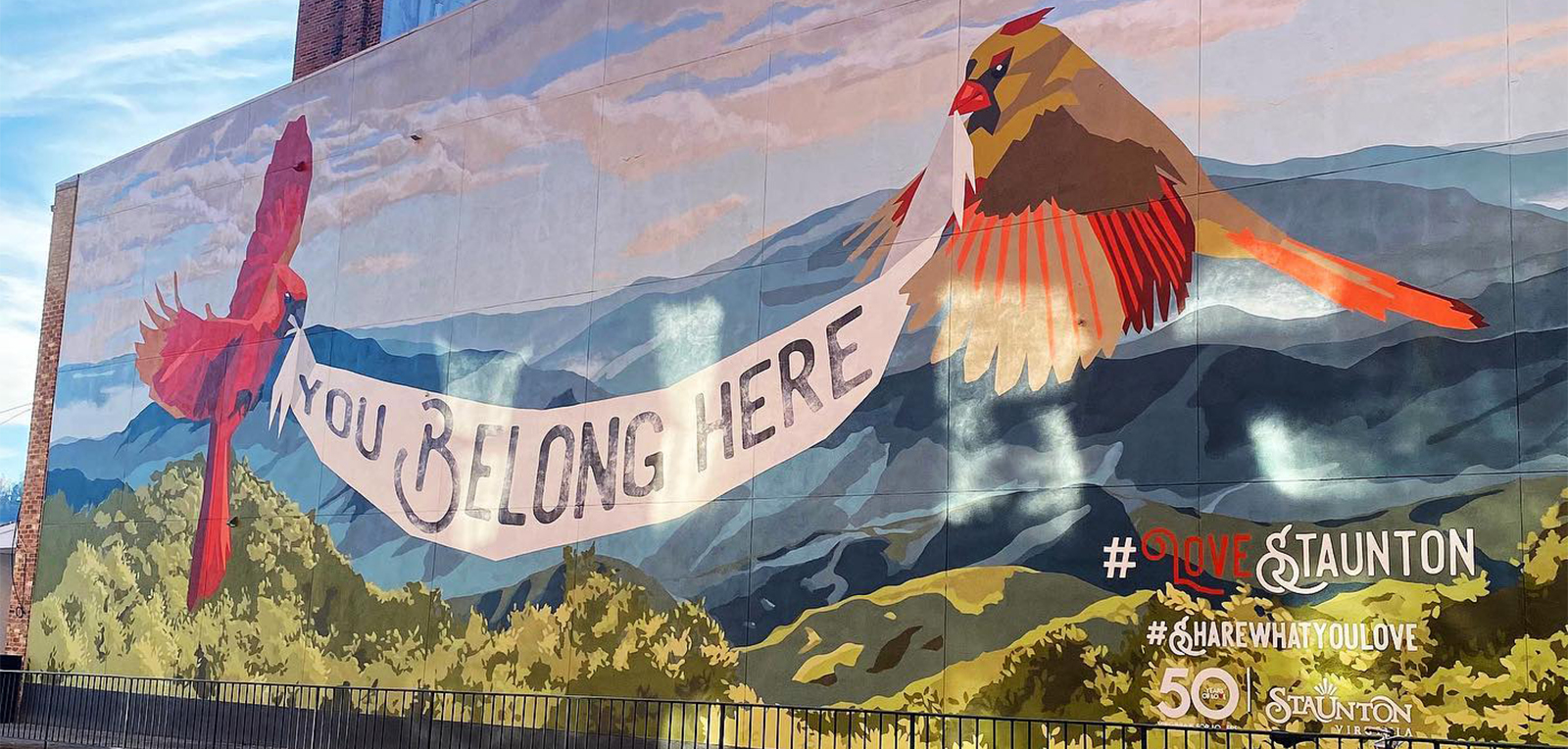 Grab a Selfie in Front of The Murals of Staunton
---
(Published 09/15/2022)
You can't beat the Shenandoah Valley for its natural beauty, but many of its towns are introducing man-made scenery to the landscape. If you've spent any time in downtown Staunton recently, you'll have noticed the murals brightening up walls and sides of buildings. They're fun to look at, pose in front of, and photograph.
Tag your mural photos #stauntonVAmurals and tag us @stauntonva or @visitstaunton. What are you waiting for? Go check out some murals.
The railroad underpass is a prime location for public art. You'll immediately notice the giant watering can created by Staunton-based welder and sculptor, Willy Ferguson. Nearby, a mural depicts blooms that survive the end of flower season and bring color and joy even in the dead of winter.
Marino's Lunch just reopened a few months ago, but it's making a name for itself with its tasty food and drinks, Sunday New Orleans Brunch, and exciting live music scene. Make sure you check out the mural that features musicians silhouetted against the Blue Ridge at sunset.
The mural in the welcoming lobby of Tru By Hilton features some of Staunton's best adventures: the Woodrow Wilson Library, biking, leaf-peeping, fishing, wine, and some of downtown's most recognizable buildings. Tru is a great place to set up a home base for any of these activities.
Redbeard Brewing Company has a cool, new mural that features an enormous tree against a background of mountains and a colorful sky. You'll enjoy playful details like the robot Redbeard and robot squirrel. The mural covers a wall of the taproom, so you'll be able contemplate it while sipping your beer.
Staunton's largest mural takes up an entire wall of the building at the corner of Beverley and North Central Avenue and welcomes residents and visitors alike with its positive You Belong Here message. For many years, this wall featured an older mural of a man on a scaffolding painting the wall. The new mural, made possible by a Virginia Tourism Corporation's 50 Years of Love Grant includes a pair of cardinals (Virginia's state birds) against a mountain backdrop. For more about the creation of this mural, check out our interview with artist Christy Baker.
The mural on the side of Black Dog Bikes was also created by Christy Baker. This time she tackles the theme of community-centered, family-friendly active lifestyles. You'll get another landscape that actually blends into the sky and scenes of hikers, bikers, walkers, runners, and more. Come inside to get started with your own active lifestyle!
Looking for something new-to-you to upgrade your home? Check out the SAW Habitat for Humanity ReStore, where you can find anything from a desk or mirror to antique cabinet hardware to an entire kitchen full of lightly used cabinetry. The Habitat mural covers the side of the building with construction energy. There's a second collaborative work SAC art students that's painted on the back wall of the parking lot.
When you stop in for lunch at the Pampered Palate, make sure you get a seat facing the beautiful mural of downtown Staunton at dusk. You'll enjoy a menu of soups, salads, sandwiches, and quiche while picking out your favorite buildings from the softly lit scene.
Jones Community Garden helps connect our community with fresh produce for low prices (or free if you volunteer). Stop by and see the garden, buy some produce, and check out the collaborative mural created by local artists.
Is it a flower? Is it a pie? We're not sure but we know it's recognizable and beautiful. On the outside wall of what was previously Firkin Pie Company; take a photo of this unique mural.
---
Newsletter Sign-up
Stay up to date on the latest and greatest happening in Staunton.