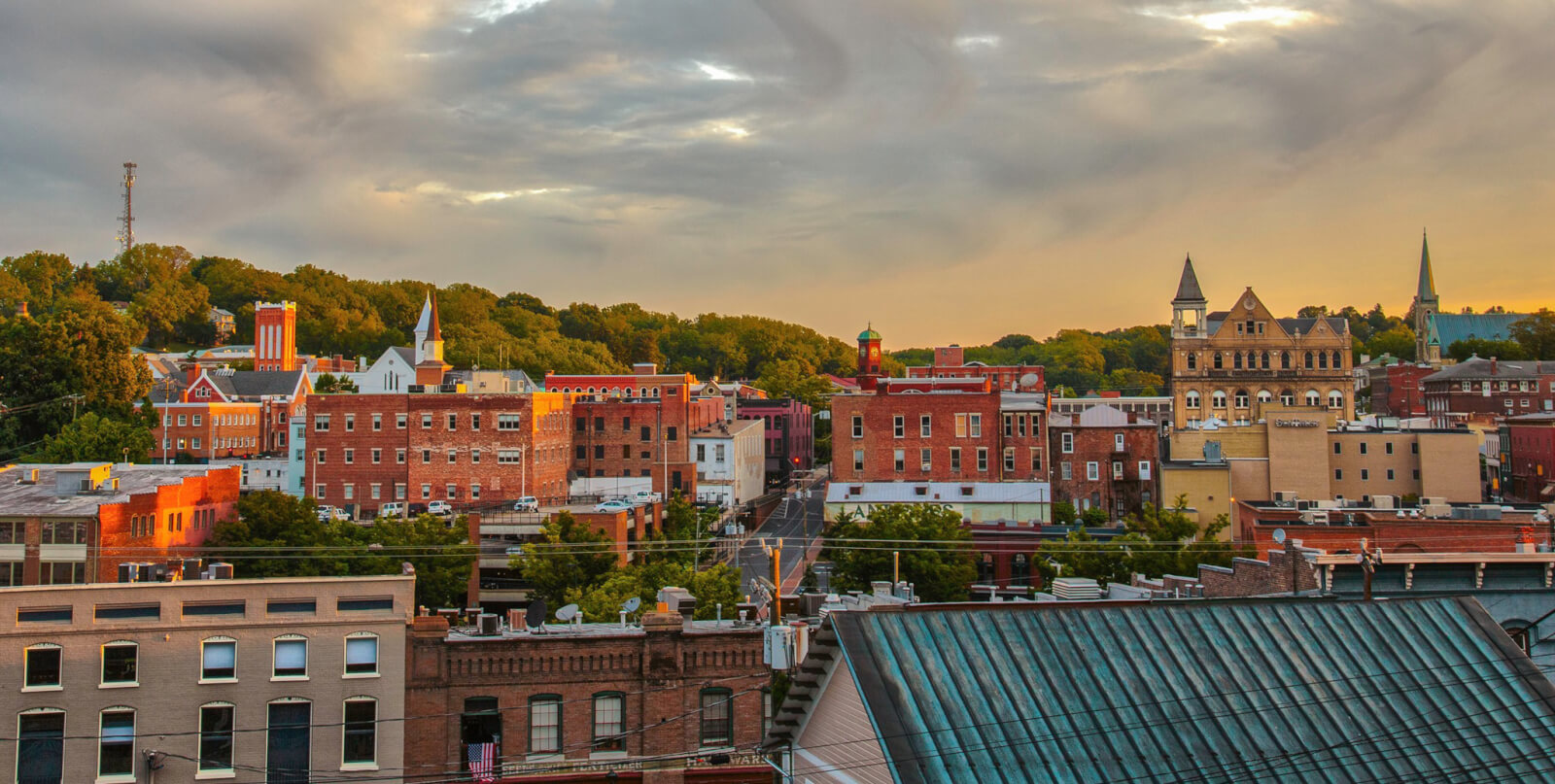 Happy Anniversary to These Staunton Favs!
---
(Published 02/23/2023)
We regularly introduce new businesses opening in Staunton, but today we're celebrating those who have been serving the community for years and even decades. Celebrating an anniversary is a way to honor the hard work and dedication that went into building and sustaining a successful business. Here are the Staunton businesses reaching major milestones as well as the unique offerings and contributions that make them special.
American Shakespeare Center – 35th
A visit to Staunton isn't complete without taking in a performance at the American Shakespeare Center's Blackfriars Playhouse, which the Washington Post lauds as "shamelessly entertaining." For 35 years, this replica of Shakespeare's theater has been staging historically-informed versions of plays by the Bard as well as modern responses to them. Visitors can also attend lectures, talk sessions with actors and directors, and tour the backstage areas of the theater. Anniversary events include expanded tours, a Friday-night series with scholars and industry experts, wine tastings, and free community concerts. Check the schedule for the 2023 spring lineup, which includes As You Like It and Sarah Ruhl's Eurydice. Later this year, ASC actors will perform Hamlet, Measure for Measure, The Taming of the Shrew, and Coriolanus.
CoArt Gallery – 25th
Experience some culture and support local artists at Staunton's CoArt Gallery, which is turning 25 this year. Visitors can view and buy works in a variety of media. In March, the gallery will celebrate with an exhibit by eight artists who have been members since the shared space opened. A collaborative project brings 16 more artists together to show their perspective on the past quarter century, and the gallery invites the public to a party on Saturday, March 25th.
Baja Bean – 25th
This June, the newly-renovated Baja Bean will celebrate 25 years of Tex-Mex deliciousness. You'll enjoy a menu of tacos, burritos, quesadillas, nachos, and other traditional dishes. Baja Bean even has a "Little Bean" menu of your kid's favorites. In addition to its food offerings, Baja has an extensive drink menu, with a rotating selection of craft beers, cocktails, and margaritas. Check the website in the coming months for events, visitors, throwback menus (and price specials), and more.
Staunton Music Festival – 25th
In 1998, NYC-based Carsten Schmidt organized two chamber music concerts by pulling together several friends to make a weekend of music. From that modest beginning, Staunton Music Festival (SMF) has since bloomed into a dynamic ten-day festival with 80+ professional musicians from around the world. Now regarded among the mid-Atlantic's most innovative and accomplished chamber music organizations, SMF has been recognized by Southern Living, Virginia Living, Travel+Leisure, and by the Washington Post as a "Critic's Pick."
Giancarlo Fine European Pastries – 25th
Giancarlo and Jane Gnali opened Giancarlo Fine European Pastries in Staunton, VA in June 1998. Their bakery houses a small commercial kitchen and a retail room displaying weekly delectable desserts, an assortment of tarts, cakes, danish pastries, fine chocolates, and specialty bread. There are no flashing signs or decorated windows but the shop is a treasure to discover! They are open for retail sales on Fridays from 9:00 a.m.- 5:30 p.m. and Saturdays from 9:00 a.m.- 3:00 p.m. Custom orders may also be placed and picked up on other days of the week by appointment.
Frontline Model Kits & Hobbies – 20th
After 20 years of making the community's modeling dreams come true, Jack's Model Kits has a new name – Frontline Model Kits & Hobbies – and a new owner. It's still the biggest scale model kit and hobby store in Virginia. Want to bring a 1971 Ford Ranger truck to (almost) life? How about an F-14D Grumman Tomcat? Visit the store or the website for a chance to find your favorite model and relive your childhood.
Design @ Nine Women's Boutique – 20th
This women's boutique opened its doors in downtown Staunton in 2003. Design @ Nine has everything you need to look fashionable for any occasion. From tops & pants to shoes & boots and any type of accessory; stop in to see what's in style for each season.
The Split Banana – 15th
It's hard to believe that The Split Banana has been making gelato a Staunton household name for 15 years. Seriously, did you even know the difference between gelato and ice cream before you tried the rotating selection of fresh flavors? Slow-churned with less air and a denser texture, gelato is made with more milk and less cream and is served at a slightly warmer temperature. This makes the flavors really pop. The Split Banana uses local milk and high-quality ingredients to deliver standard and exotic flavors like white chocolate grisbi. You can buy gelato by the cup, by the fresh-baked cone, or by the pint or quart to enjoy at home.
Nu-Beginning Farm – 10th
Nu-Beginning will be celebrating their 10th year as a brick & mortar. But, do you know they started out serving up local goodness at the Staunton Farmers Market? This farm-to-table grab-n-go cafe and grocery features products from Virginia vendors including local beer, wine, and cider. Their breakfast, lunch and dinner options use in-season local ingredients.
Yelping Dog – 10th
Did you know that for ten years, you've been sipping wine with your besties and wowing your out-of-town guests with gourmet grilled cheese at Yelping Dog Wine? Yelping Dog has repeatedly been voted the #1 wine shop in Virginia Living's Best of the Valley. The shop has lots of intimate seating for friendly chats and carries local, domestic, and international wines. You can also find craft beer. Make plans to visit on Fridays for happy hour or on Wednesdays for wine tastings.
Made; By the People, for the People – 10th
Made; By the People, for the People calls itself a modern-day general store packed with quirky gifts, handmade creative works, books, vintage clothing, and much more. From Staunton swag like stickers, flasks, and accessories for Queen City Mischief and Magic to gardening books to salty holiday-themed items, there's something in Made to make you smile. You can shop Made in person or online.
Redbeard Brewing – 10th
Redbeard Brewing has been brewing beers and helping you make memories for ten years. This nano-brewery uses high-quality malts and hops and serves customers in the taproom or convenient beer garden. You'll love the beer as well as the range of events the brewery hosts, including trivia, karaoke, live music, Dungeons & Draughts, bad movie screenings, art markets, and more. Stop by on March 11 for the Queen City Women's Day after-party featuring local favorites The Hot Mamas Trio.
Harmony Moon – 10th
For 10 years, Harmony Moon has helped customers "simplify their lives and live in a more fulfilling way, in harmony with our environment." It specializes in unique gifts, gifts for children, jewelry, and home decor items, many of which are handmade by artisans and craftspeople. Harmony Moon also offers a variety of wellness products such as essential oils, incense, and crystals. The store puts an emphasis on fair trade and eco-friendly products. Its mission is to "pay it forward" by supporting local and international charities.
Blackburn Inn – 5th
The building that is now the Blackburn Inn began its life in the 1820s as the Administrative Building for the Western State Hospital. Many gracious and historical details like large windows, heart pine floors, and a pipe organ from the 1850s were retained as the building was updated to a modern luxury boutique hotel. The complex includes 49 modernized guestrooms with luxury baths, a spa, a conference center, an art gallery, and the Second Draft bar and bistro.
---
Newsletter Sign-up
Stay up to date on the latest and greatest happening in Staunton.