Haunted Staunton
---
Halloween is fast approaching, and it's time to finalize your costumes, stock up on candy, and make your spooky plans! Staunton really gets into the spirit of the season with community parties, spooky tours, over-the-top decorations, and much more. Here's how to catch some goosebumps and giggles in haunted Staunton.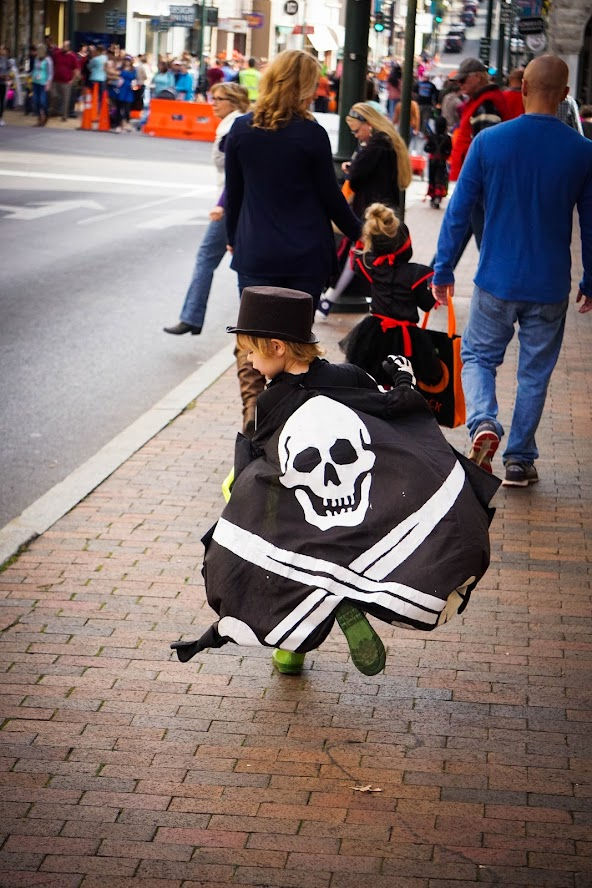 Costume Parties and More
October 28, 6 – 8 pm: Henry Funeral Home will host their 4th Annual Drive-Thru Trick or Treat Event! Expect music, blowups, costumed staff, and lots of candy!
Celebrate Halloween and fall with the SDDA

Compete for prizes in the Online Costume Contest. Upload your scariest, kookiest, strangest costume photos of your family, friends, and pets in downtown Staunton. Win prizes in multiple categories. Upload photos by October 31. You can also hunt for black cats in downtown windows. Take photos reacting to the cats and upload for a chance to win a prize.
October 13-31: Pumpkin Scavenger Hunt. How many pumpkins can you find in the windows of downtown businesses? Accurate guesses win prizes!
October 28,10 am – noon: Dragon Quest at the Staunton Farmers' Market. Pose for photos and treats! Don't forget to stock up on fall produce and decorative items to beautify your autumnal displays.
More Halloween and Seasonal Events
October 26: Flappy Hour: Bat Conservation & Rescue of Virginia at Ciders From Mars. Learn about these fascinating flying mammals and have fun!. $1 from each special Starry Night cocktail sold will benefit Bat Conservation and Rescue!
The Staunton Public Library will liven up the upcoming month with several festive events.

October 17, 3:30 – 4:30 pm. Check out the special Creepy Crafts Art Cart program for "silly-scary make-and-takes." Ages 5-11.
October 20, 10:30 – 11:30 am: Pumpkins, Bats and Cute Black Cats: A Children's Costume Party with snacks, stories, and a costume contest. Ages 1-5.
November 3, 3:30 – 4:30 pm: The Monster's Tea Party is a Where the Wild Things Are-themed celebration. Sign up! Ages 4-8

October 28, from noon – 4 pm: The Frederick House & Wendy's Place Cat Rescue will be hosting a Halloween Tea at the Frederick House. Enjoy tea, coffee, or hot chocolate and three light courses. Best of all, you can meet the adoptable cats at Wendy's Place Cat Rescue. $20 per person, proceeds benefit Wendy's Place.
Ghost Tours, Etc.
Staunton is known for its beautiful, historic Victorian architecture, but buildings that old often come with ghosts! Join Black Raven Paranormal in their 16th season of sharing Staunton's haunted history. Ghosts of Staunton Tours will lead you on a delightfully scary and educational exploration of the best places for sightings in this "hub for paranormal activity." Tour options include both year-round and seasonal excursions. Check out the 90-minute Staunton's Haunted History Ghost Tour, which "strive[s] to educate, enlighten, and entertain you with our own unique blend of the paranormal, science, history, and local legend." This popular tour is wheelchair accessible. The Dark Tales and Haunts Ghost Tour includes mystery, ghosts, and murder "rolled into one." The new Victorian Ghostly Encounters concerns Victorian superstitions, traditions, and a tour of Staunton's most haunted house!
Now – October 31: If you haven't driven or walked by the Whimsically Witchy display on North Coalter, it's a seasonal must-do. Enjoy the spookily creative exhibit and donate to support the arts at Staunton City elementary schools.
October 27, 6:30 pm: Woodrow Wilson Presidential Library and Museum is hosting Mourning at the Manse, a tour of the manse and special program dedicated to fascinating Victorian funeral practices.
Nearby Haunts:
October 28, 7 pm: Glow In The Dark Party at the Foundry at Basic City Beer Co.Dress in white, neon, and body paint. Crack the glow sticks and dance under the black lights.
October 28, 1 – 9 pm: Get ready to get scared at the Haunted Cave at Grand Caverns! There's nothing lurking down in that dark cavern, right? This special tour is not recommended for children.
Waynesboro's Madame Redrum's Nine Gates of Doom is a haunted mill experience that is "fueled by your screams." Tours operate each Friday, Saturday, and Sunday in Octobers, but Sundays are "no scare" nights.
Check out the Haunting Tales Ghost Tours, which explore the spookiest areas of historic Lexington.
Harrisonburg's Fear Forest features three interactive, haunted spaces. Get lost in the forest, evade cornfield zombies, and tour a factory haunted by demonic clowns.
Haunted Staunton Webpage
Check out the official Haunted Staunton page to find out more about the Queen City's spooky side. You'll learn lots of interesting history that focuses on Staunton's most-haunted places and those who reportedly haunt them. Sites include the Blackburn Inn, the Clocktower Restaurant & Bar, Mary Baldwin University, and the historic train station. You'll also learn about the ghostly past of the DeJarnette Sanitarium, Ubon Thai Victorian Inn, and Thornrose Cemetery.
---
Newsletter Sign-up
Stay up to date on the latest and greatest happening in Staunton.