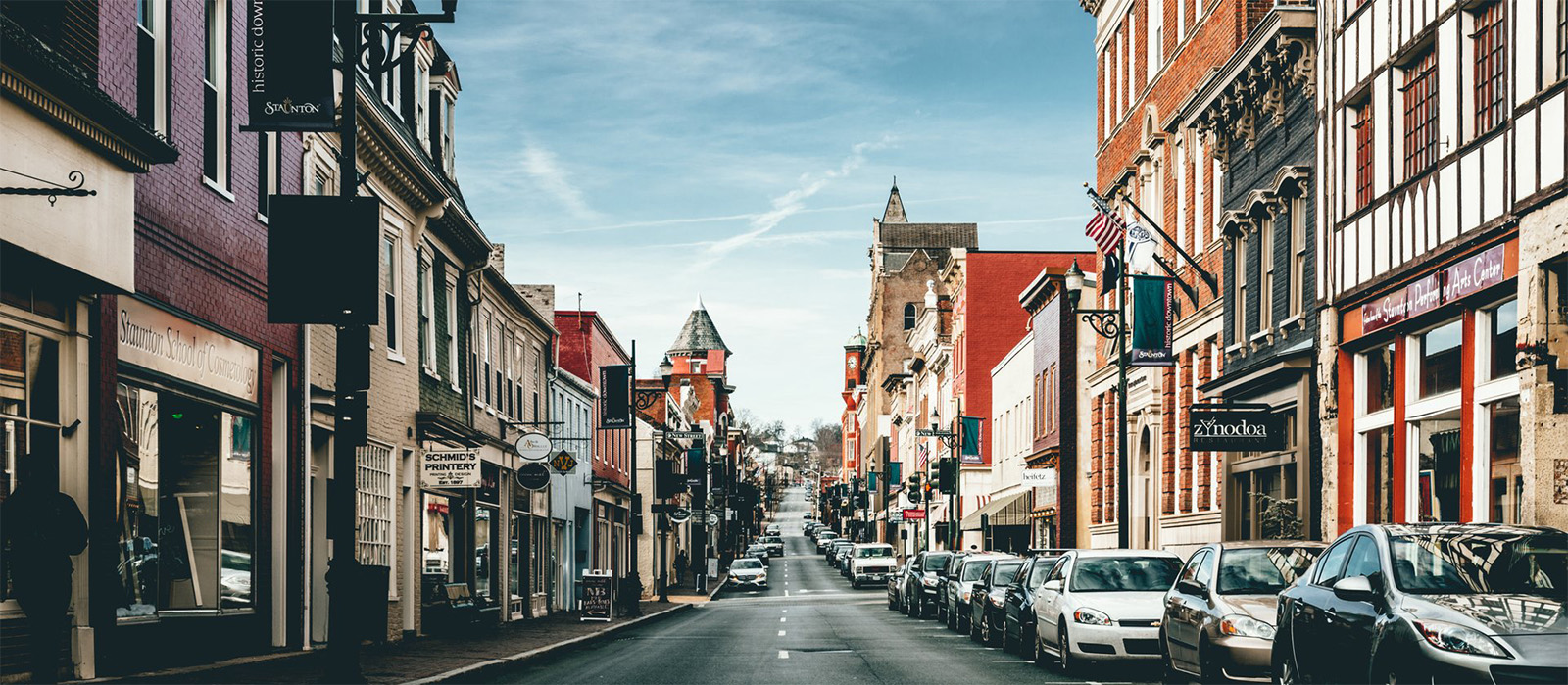 Here's Why Staunton Is a Best Small Town
---
(Published 08/25/2022)
How do I love thee, Staunton? Let me count the ways. It's no surprise that Staunton routinely appears on regional and national best-of lists for beauty, charm, culture, and natural attractions. Read what the pros are saying and then explore our gem of a town on your own.
What Others Are Saying
In recent years, Staunton has been a popular pick on regional and national best-of lists by publications including USA Today, Reader's Digest, Oprah Daily, Kiplinger, Vogue, Architectural Digest, and many more. In 2022 alone, Staunton has appeared in the following:
Dining
Natural Attractions
It's hard to beat Staunton's location for natural beauty. Tucked in the Shenandoah Valley, Staunton offers views of the Blue Ridge and Allegheny Mountains, and you can spend an entire afternoon taking scenic drives or bike rides. If hiking is what you're after, it's just 20 minutes from Shenandoah National Park with over 70 scenic overlooks and miles of trails. It's also easy to access sections of George Washington and Jefferson National Forest. The national forest is a vast, mostly uninhabited tract of land, threaded with hiking trails.
City parks, too, offer spectacular hiking, especially the trails at Montgomery Hall Park and Betsy Bell Wilderness Area. Runners, walkers, and birders extoll the virtues of scenic Bells and Sangers Lanes.
History
One of the oldest towns in the area, Staunton draws visitors for its architecturally stunning downtown. Many buildings are at least 100 years old. The city contains six distinct historic districts, and visitors can take guided or self-guided walking tours to learn about the city's long history and its Victorian architecture.
Step back in time at the Frontier Culture Museum, which invites visitors to explore the lives of the Shenandoah Valley pioneers from the 1600s through the mid-1800s. Costumed interpreters answer questions and demonstrate daily activities. The Woodrow Wilson Birthplace and Presidential Library teaches about the life and times of this president who hailed from Staunton.
Arts and Culture
Staunton has a number of galleries displaying local and regional art. Check out the CoArt Gallery, the galleries at the Staunton Augusta Art Center, and the Hunt Gallery at Mary Baldwin University.
Don't miss the annual Art on the Town in May, and Art in the Park in September. Visitors may browse and purchase artwork, talk to artists, listen to music, and enjoy activities for kids.
Staunton stages world-class performances at the Blackfriars Playhouse, a recreation of Shakespeare's indoor theater. Not only can you witness shows that are similar to what Shakespeare's original audiences would have seen, but you can also buy tickets for modern and musical performances. Staunton is also home to a lively community theater scene. Check out plays at ShenanArts and Oak Grove Theater, which has been performing al fresco since 1954.
The Heifetz International Music Institute is a non-profit organization dedicated to the artistic growth and career development of the most talented young classical musicians in the world, presenting its Festival of Concerts every summer featuring 50+ events in addition to year-round programs throughout Staunton and the Shenandoah Valley
The Staunton Music Festival brings over 90 performers to town each August to perform selections from 600 years of classical music. "Historically-informed" performances help musicians and audiences "rediscover the subtlety and color that emerges from period instrument concerts."
The Red Wing Roots Festival brings over 50 artists to Natural Chimneys Park each summer for a family-friendly weekend of music.
Many Staunton breweries and restaurants feature regular live music. Check the schedules at Redbeard Brewing, Baja Bean, Shenandoah Pizza & Taphouse to name just a few.
Staunton summers are filled with live music at the Gypsy Hill Park bandstand. Choose from marching band favorites, gospel, bluegrass, and jazz.
Community
Staunton's walkable downtown and wealth of locally owned businesses contribute to its strong sense of community. Each weekend, Beverley Street turns into a walking mall when streets close for traffic during Shop and Dine Out Downtown. If you're in town on Saturday morning, explore the Staunton Farmers' Market. You can find spectacular and fresh ingredients for your home kitchen as well as enjoy music and community spirit.
Baseball fans can cheer for the Staunton Braves, a collegiate summer team made up of rising stars.
September's annual Queen City Mischief & Magic Festival is a popular home-grown event for fans of the Harry Potter series.
Proximity to Other Points of Interest
Staunton is an easy drive from Harrisonburg and Charlottesville, both larger cities with extensive shopping opportunities and university culture. Nearby Lexington, too, is a university town, giving Stauntonians even more access to exhibits, lectures, sporting events, and performances. Staunton is an hour and 45 minutes from Richmond. It's 2 hours and 40 minutes from Washington D.C., and under 4 hours from Virginia Beach.
---
Newsletter Sign-up
Stay up to date on the latest and greatest happening in Staunton.