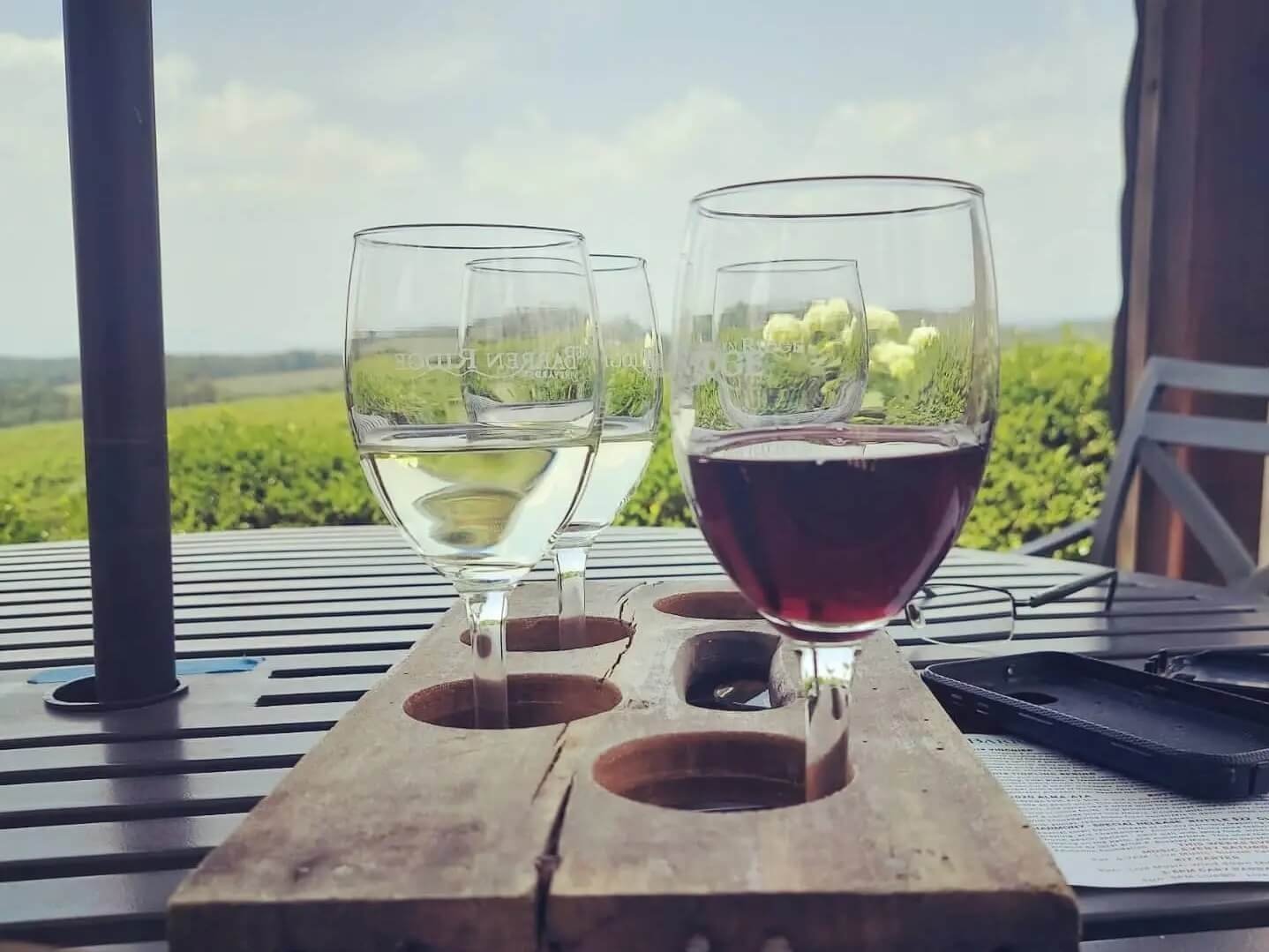 Let's Toast Virginia Wine in Staunton
---
Food and Wine credits Virginia's passionate wine-making culture, high-quality production, and range of terrains for its becoming "one of the most unexpected and exciting wine-producing states in the country." In recent years, wine aficionados have flocked from around the world to sample our varietals. Staunton is ideally situated in Virginia wine country, and vino-tourists can easily access a number of different vineyards as well as our area's scenic beauty, and thriving cultural offerings. Since October is Virginia Wine Month, it's time to celebrate wine created in the Commonwealth. Here are our favorite places to drink it, buy it, and other ways to enjoy it.
Wine Down in Staunton
Walkable downtown Staunton offers an exceptional Virginia wine experience. Start with a tasting at Ox-Eye Vineyards to learn about different types of estate-grown wine. Stick around and share a glass or bottle on the patio. Nearby, Accordia offers guided tastings of wines from Barren Ridge Vineyards as well as from around the world. This shop is dedicated to wine education, so you'll come away more savvy about how wine is produced and what to pair it with! Accordia also sells food and regularly hosts live music and poetry nights.
Seed to Tail is a community-focused restaurant and market that specializes in local and seasonal ingredients. They carry a wide selection of local and global wines, which can be enjoyed by the glass or bottle. Look for weekly wine tastings paired with featured pasta as well as special wine dinners.
Next time you're shopping on Beverley Street, drop in at Yelping Dog and treat yourself to an afternoon glass of wine. Or choose a bottle from the 1,500+ selections hailing from both nearby and around the world. Pair it with a gourmet cheese platter or grilled cheese sandwich. The Green Room provides a cozy atmosphere to relax and connect over wine and light fare. Enjoy a curated wine, craft beer, and cider menu along with sandwiches or a cheese board. Both restaurants are part of Staunton's Shop and Dine Out Downtown, so you can drink your wine alfresco when Beverley Street is closed to weekend traffic.
You can also find Virginia wine at a number of Staunton's restaurants like the Second Draft Bistro, the 1924 Lounge, Zynodoa, Mill Street Grill, and Aioli. Ask your server for a wine and food serving suggestion!
Star Party Winery invites you to taste their natural, low-intervention wines they produce using simple and traditional methods. Their wine production happens without the use of pesticides or herbicides with few or no additives. Their tasting room is open Fridays from 5:00 pm – 8:00 pm and Saturdays 3:00 pm to 8:00 pm in October.
Vineyards with Views
Want to pair one of our wonderful Virginia wines with some spectacular autumnal Valley views? Start by packing some of your favorite snacks and relax on the patio at Barren Ridge Vineyards. Located on the grounds of a former apple orchard, this vineyard is child and dog-friendly and boasts long views over rolling farmland to the distant mountains. Wine can be enjoyed by tasting flight, glass, or bottle. Check the schedule for live music.
Enjoy award-winning, minimally-processed wine and beautiful Shenandoah Valley scenery at Rockbridge Vineyard and Brewery. Bring a picnic and come on the weekend for live music. If you'd rather sight see from above, Afton Mountain Vineyards is a wonderful spot for tasting several varietals of Virginia wine and reveling in the beauty of the Blue Ridge. Take a seat on the patio or spread a blanket on the large lawn where there's plenty of room for your kids to play.
North of Staunton, family-owned and operated Bluestone Vineyard produces small-batch wines made from estate-grown grapes. You'll catch some show-stopping sunsets from the west-facing tasting room and patio. Monthly Wine Amongst Friends events teach wine history. Nearby, the Purple Wolf Vineyard serves several delicious wines, including lavender-infused wine, sangria, and wine slushies. Seating choices include a heated deck and patio seating with purple chairs and fire pits. Visitors can explore both the vineyards and the lavender farm.
More area vineyards with views include: Cross Keys Vineyards, Veritas Vineyard & Winery, Marceline Vineyards, Above Ground Winery, Ridge Run Vineyard, 12 Ridges Vineyard, and Jump Mountain Vineyard.
Places to Buy Virginia Wine in Staunton
Along with breakfast, lunch, and a nice selection of natural and bulk products, Cranberry's sells local beer and wine, including wines from Crosskeys and Barren Ridge Vineyards. Another good bet is Valley Pike Farm Market. The market is known for its stock of local meats, cheeses, and bulk items, but you can also find a huge inventory of 300+ craft beers and wines. Finally, The City Foxes (Waynesboro) sells Virginia wine, snacks, and local crafts. They also regularly host events like mimosa brunches, trivia nights, and art exhibits.
Events and Experiences
October 7: Rockbridge Vineyard and Brewery is holding its 30th annual Harvest Festival. Enjoy music by the Late Night Stumblers and Greenhouse as well as beer, wine, hayrides, and the Island Wheels Caribbean fusion food truck. Check the vineyard's schedule for additional live music and events like sip and paints.
Surprise your sweetie with a weekend getaway at the Iris Inn. Luxurious private cabins have excellent views and are close to Shenandoah National Park, The inn offers a number of wine and on-site spa packages including the Wine Down and Relax package.
Are you a fan of running for your wine? Check out Corkscrew Racing for all the upcoming wine and cider runs in the Shenandoah and Rockfish Valleys.
The Historic Staunton Foundation and Hotel 24 South host an annual Winter Wine Festival in February. A dozen vineyards are represented, so attendees can taste and compare wines produced in different parts of Virginia.
---
Newsletter Sign-up
Stay up to date on the latest and greatest happening in Staunton.