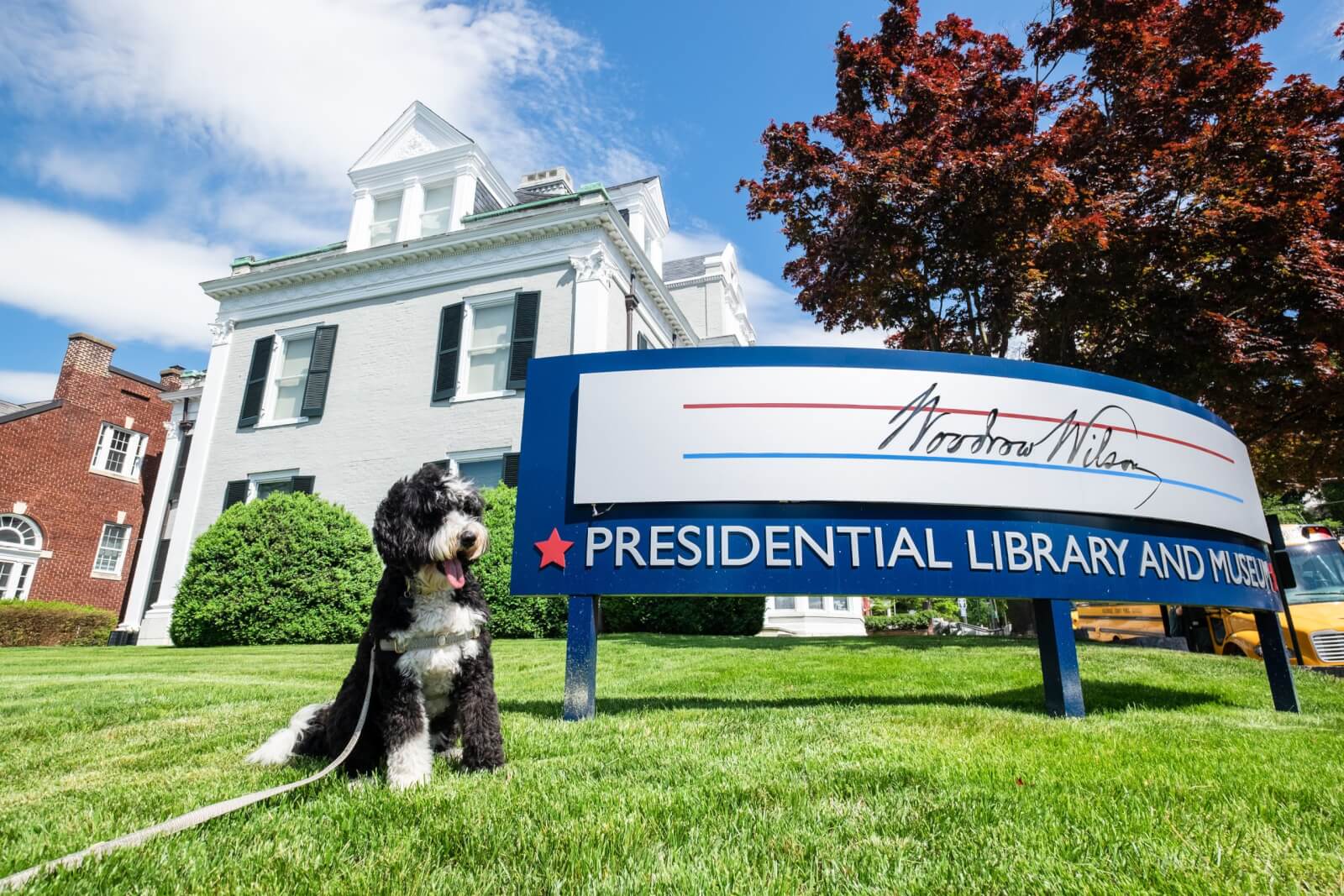 Staunton: Home of a United States President
---
(Published 11/10/2022)
Now that the local election is over, why not take the time to reflect on one of Staunton's historical figures? Woodrow Wilson was born in Staunton and went on to become America's 28th president. Though he only lived here for a few years, Staunton is home to his presidential library, a historical and cultural treasure for our town.
Woodrow Wilson Presidential Library and Museum
A national historic destination, the Woodrow Wilson Presidential Library (WWPL) focuses on the time that Wilson lived, from 1856 to 1924. The WWPL is developing plans to expand the museum by adding exhibit galleries to the second floor of the building, which will double the exhibit space. The new galleries will explore the lives of the people who lived during Wilson's time and how they were impacted by the policies and laws of the time.
What can I expect from a visit to the museum?
Learn about Wilson's life and times and the history of Staunton.
Explore the Greek Revival Presbyterian manse where Wilson was born, which is full of period treasures. You can also visit the surrounding gardens, the research library, and the gift shop.
Learn about WWI trench warfare through an immersive exhibit.
Reserve a 30-minute Twilight Tour to learn about Victorian Era food, military structure, funeral practices, and holiday traditions.
Take a guided Slavery in Wilson's Birthplace tour that explores the experiences of the enslaved people who lived and worked at the property. You can also watch a recording of Reckoning: U.S. Presidents and Racial Inequality. The series features conversations between historians about the struggle for racial equality in our nation with the hopes that with discussion and reflection, we'll be able to advance as a just society. It "explores the views and the political policies of individual presidents toward minority populations, with an in-depth focus on how each of these minority groups was affected by presidential policies directed toward them."
Check out virtual offerings like a timeline of Staunton's controversial urban renewal project. Photographs, newspaper clippings, excerpts from legal documents, and more illustrate the issue.
See the calendar for programs and activities for all ages.
What should I know about Wilson?
Woodrow Wilson was born and spent his early youth in Staunton.
After attending the College of New Jersey (now Princeton University), he practiced law and later became president of the school. He was governor of New Jersey for two years before running for President of the United States.
Woodrow Wilson became president on March 4, 1913. He held office for eight years.
According to UVA's Millercenter.org, Wilson's purpose was "to cleanse, to reconsider, to restore, to correct the evil without impairing the good, to purify and humanize every process of our common life without weakening or sentimentalizing it."
Wilson has a complex legacy. According to NPR, Wilson is known for "progressive views on the state, but his views on race were decidedly regressive." While he was a key player in developing the League of Nations, his views of racial equality were limited, even for his time.
Woodrow Wilson helped start the Federal Trade Commission to regulate questionable business practices.
Wilson supported the Nineteenth Amendment (giving women the right to vote).
He also supported laws prohibiting workdays longer than eight hours and abusive child labor practices.
How did Staunton change during Wilson's lifetime?
After the railroad arrived in Staunton in the 1850s, the town grew quickly into a vital hub of "communication and commerce."
Wilson lived in Staunton from his birth in 1856 until 1858. This was before the Civil War, and at that point, slavery was legal in Staunton.
Women couldn't vote. Though Wilson was on the wrong side of other civil rights debates, he actively supported women's right to vote and his support helped ratify the 19th Amendment.
There were no cars when Wilson lived in Staunton. In fact, even in 1913, cars were a new thing. Wilson arrived at his inauguration in a horse-drawn carriage! Fun fact: A Wilson impersonator can be spotted riding in his 1919 Pierce-Arrow limousine in Staunton's Happy Birthday, America parade every July 4.
Movies and TV didn't exist when Wilson was a child, but he made up for it as an adult. In 1915, he received a projector as a gift and was said to watch movies for up to five hours a day.
---
Newsletter Sign-up
Stay up to date on the latest and greatest happening in Staunton.