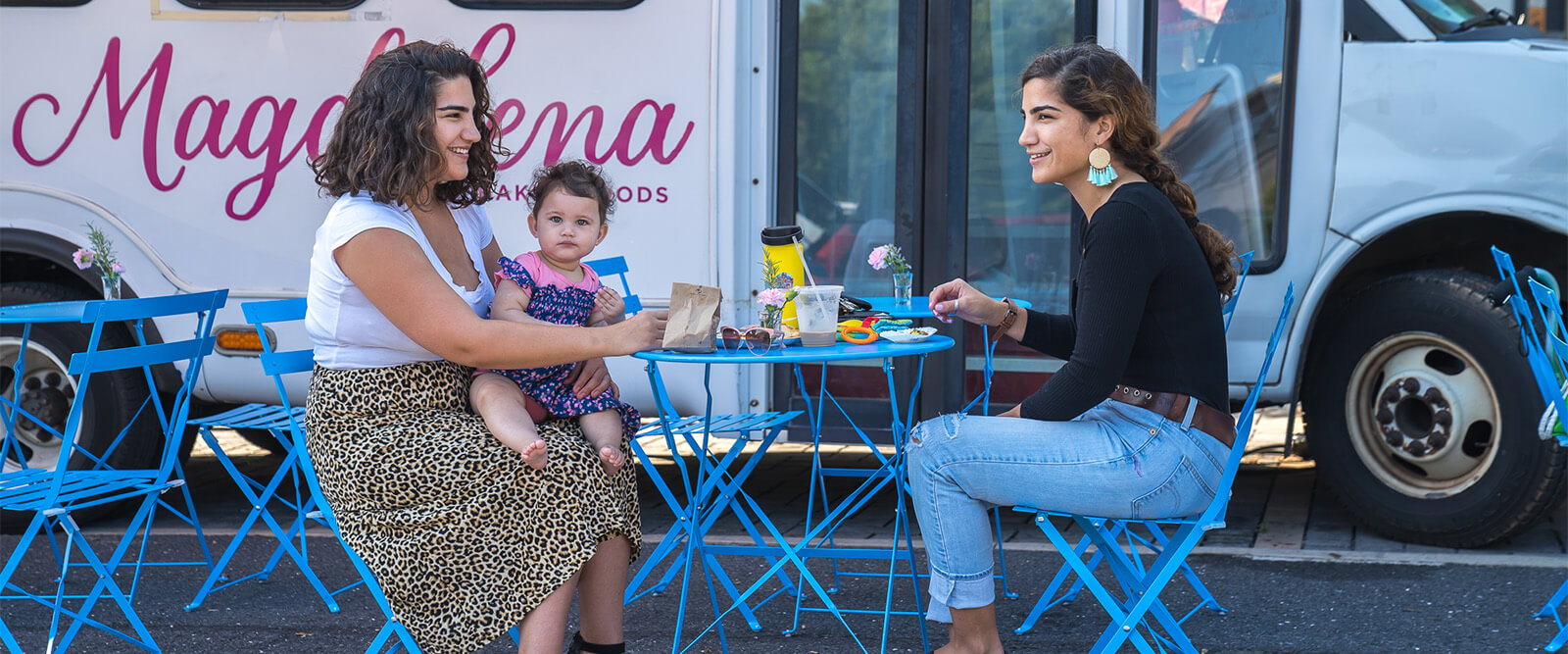 Staunton's Hispanic-American-Owned Businesses
---
(Published 09/08/2022)
Have you been craving authentic global cuisine like Peruvian charbroiled chicken, Uruguayan empanadas, or Salvadoran pupusas? How about burrito bowls and fried plantains? You're in luck: Staunton has restaurants specializing in these flavors and more. Why not celebrate Hispanic and Latinx Heritage Month (September 15 – October 15) by paying tribute to the history, culture, and positive contributions that have made our nation and our city richer and more diverse places? Check out a few of our Hispanic-owned restaurants and businesses!
You may find Noelia Nunez ART painting plein air in downtown Staunton, or presenting a custom commission to a local business. She might be teaching her art techniques to a group of girls or women at a paint party. Wherever you see her or her art, be prepared to be awed by the downtown scenes and landscapes she has painted, in a style all her own.
After the storefront was destroyed in Staunton's 2020 floods, Gloria's Pupuseria continued to serve authentic Salvadoran cuisine from the foodtruck as they rebuilt the restaurant. Now the new space is open for business, and customers can dine on amazing food emphasizing local ingredients. If you try only one thing from the menu, order the pupusas, tortillas packed with flavor and fillings like chicken, blended pork, vegetables, and cheese. You can also enjoy tamales steamed in plantain leaves, fried plantains, or Salvadoran enchiladas. Refresh yourself with an ensalada, which is mango and pineapple juice or a cocktail from the bar.
Chicano Boy Taco has been making our mouths water with handmade tacos and enormous mission-style burritos since 2015. This Mexican-American taquería has some of the best tortillas you've ever eaten. Order from the simple menu of burritos, tacos, or burrito bowls. You'll pick from fillings like pork, chicken, chorizo and potatoes, or sweet potato and black bean. Next, select your salsa from a range of mild to hot, and choose a seat inside or on the patio. You can get a domestic, Mexican or craft beer and eat here for lunch or dinner. Want to make your selections ahead of time? Download the new app and see how easy it is to order and customize your meal.
Los Marquez Mexican Restaurant has a stellar reputation for its authentic Mexican food, cozy atmosphere, and friendly service. It's close to Gypsy Hill Park, so you can stop by to dine or carry out after a ball game or a round of golf. You'll find reasonable prices and a big menu of all your favorites in platter and combination forms. There's even a vegetarian menu that has tasty dishes like fajitas stuffed with squash, mushrooms, green and yellow peppers, onions, tomatoes, beans, and guacamole. Wash it down with a big margarita! Order ahead online and use the drive-thru if you're in a hurry. Lunch is served 11 – 2:30.
Family-owned El Puerto Mexican Restaurant opened in Staunton in 2003 and specializes in reasonably-priced, flavorful food. If you're dining for lunch (M-F, 10-2:30), try the quesadilla rellena, the tortilla soup, or one of the specials. The dinner menu is loaded with appetizers and authentic entrees. Try the signature California fish taco meal or the spicy viva Mexico. Save room for flan or sopapillas for dessert. There's a separate kids' menu. And yes, you should treat yourself to the frozen margarita. Decision made.
Alba Wright's pasteleria, Magdalena Bake, invites Stauntonians to enjoy the Uruguayan tradition of relaxing over coffee and pastries with friends. A farmer's market and food truck favorite since 2019, Magdalena Bake's new storefront serves homemade brunch from Friday to Sunday. They also specialize in delicious and beautiful pastries, cookies, wedding, birthday, and custom cakes, as well as special-ordered items. If you're looking for something savory, try the empanadas.
Staunton diners can choose from two nearby Mi Rancho locations. One is located on West Beverley and the other is in Verona. Mi Rancho serves fresh Mexican favorites and a menu of wine, beer, and icy margaritas that come in regular or jumbo sizes. The bar also has a menu of a dozen different taquillas to taste. The extensive menu is flavored with hometown spices from Jalisco, Mexica. It includes appetizers, a la carte favorites, combo platters, specials, vegetarian selections, a kids' menu and more. If you're really hungry, try the molcajete mixto, which features sizzling steak, chicken, shrimp, chorizo, and veggies piled in a molcajete and piled with a combination of cheeses.
Bonita's Salon has been helping downtown Staunton look its best since 2010. Whether you're seeking for a new hairstyle, artistic nails, a special-occasion look, or hair and makeup services for your wedding party, you'll find it here! Go ahead and make an appointment: you need the pampering!
---
Newsletter Sign-up
Stay up to date on the latest and greatest happening in Staunton.