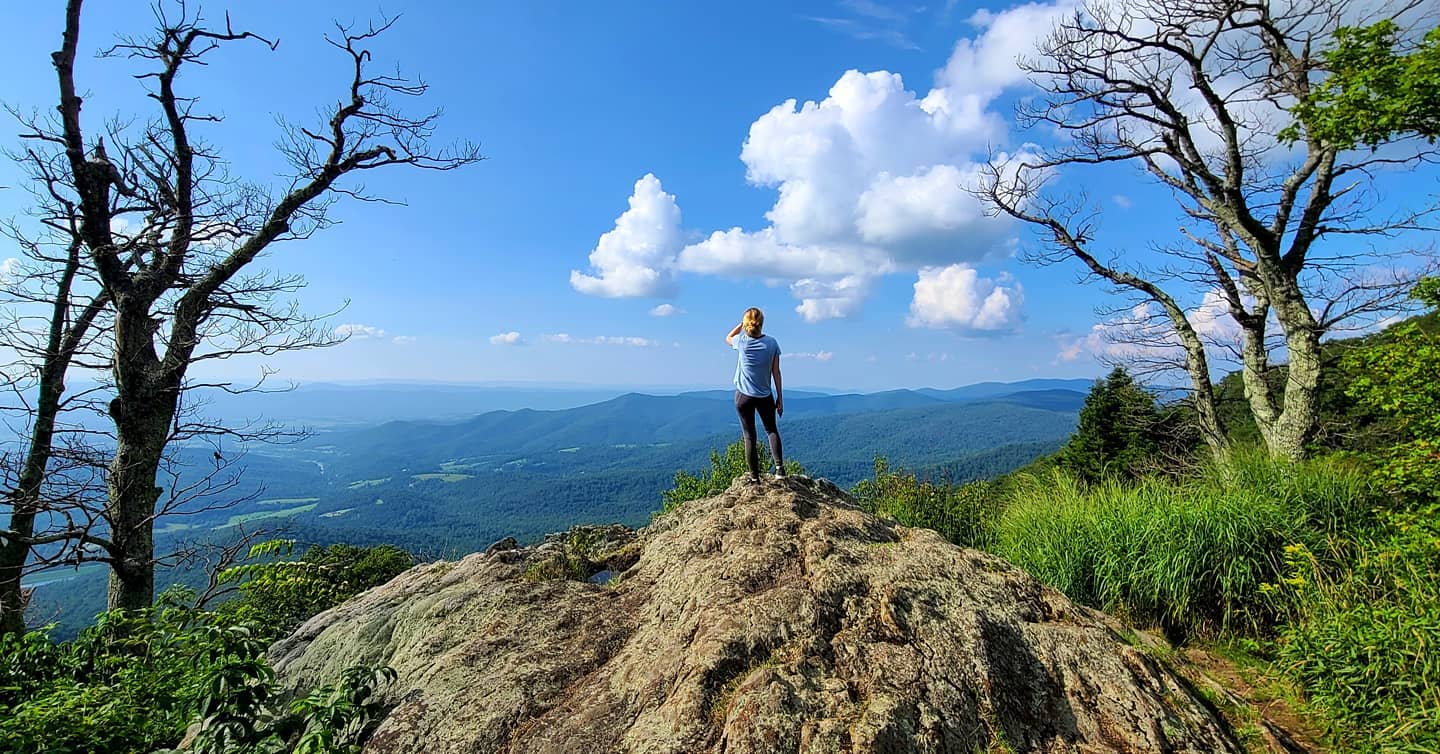 Take it Outside in Staunton
---
(Published 06/08/2023)
June is known as Great Outdoors Month for good reason. The weather is warm and mild, nature is at its seasonal peak, and the kids are out of school and full of energy. Whether you're looking for a screen-free family adventure, a solo excursion into nature, an afternoon outside in a local park, or an alfresco meal, we've got you covered. Grab your comfortable shoes, your sunblock, and your camera. Here's how to enjoy Staunton's slice of the great outdoors.
National Parks and Recreational Areas
Shenandoah National Park is known for its stunning vistas, serene forests, diverse ecosystems, and abundant wildlife. It offers a rich outdoor experience for nature enthusiasts, including over 500 miles of trails and the famous 105-mile Skyline Drive with its many scenic overlooks. With cascading waterfalls, vibrant wildflowers, and world-famous leaf shows in autumn, Shenandoah National Park provides a tranquil escape and opportunities to connect with the natural world.
George Washington National Forest sprawls over 1.8 million acres offering a diverse range of hiking and biking trails, picnic and camping areas, swimming lakes, and more.
Spend an afternoon or weekend at Todd Lake. This recreation area features a sandy beach, bathhouse, picnic facilities, playground, hiking trails, volleyball courts, horseshoe pits, non-motorized boating, and camping.
Beautiful Sherando Lake features postcard-worthy views of the lake and surrounding forest. Swimmers and loungers will love the large sandy beach and cool spring-fed water. The recreation area also has camping, hiking, boating, fishing, showers, and picnic facilities.
Stretch your legs and connect with the natural world at Augusta Springs Wetlands. Once part of a turn-of-the-century resort where city dwellers went to beat the heat, the wetlands now hosts only wildlife and walkers. It has a short, flat loop trail and interpretive signage.
Outdoor Spots in Staunton
Gypsy Hill Park has plenty to keep you busy. Walk or ride bikes around the 1.3-mile loop, feed the ducks, or let the kids play on the playgrounds. There's also a skate park, a dog park, and an 18-hole golf course. Gypsy Hill Park pool has a slide, lanes for lap swimming, and a dedicated kiddie pool for toddlers. When you need a break, spread out your picnic at one of the park's many tables or pavilions. Gypsy Hill Park Bandstand hosts free live music four nights a week. Check out the schedule!
You can stay busy all day at Montgomery Hall Park. Work up a sweat on miles of hiking and mountain biking trails that loop through the trees. Next, rest up while the kids play at the traditional or natural playgrounds. The park has tennis and pickleball courts, a disc golf course, and a community swimming pool. Plenty of picnic tables offer comfortable places to have lunch.
Score some of the best views in Staunton at Sears Hill's Woodrow Park. Perched high above the railroad tracks and Wharf Historic Area, this small space is good for a walk or casual picnic. The historic iron footbridge is interesting and photogenic, and you can identify important Staunton architecture with the help of informative signage.
Spend a day learning about the daily life and cultural heritage of the Valley's earliest settlers at the Frontier Culture Museum. The hands-on, open-air museum features a walking path connecting historic farmsteads representing different countries and time periods. Costumed interpreters teach about daily life, traditional skills, farming practices, and more.
Alfresco Dining Areas
Each weekend, Shop and Dine Out Downtown and Beyond closes the streets to traffic and turns several blocks of Beverley Street into a walking mall. This creates a safe space for Stauntonians to shop, dine, and gather alfresco. Dozens of restaurants and shops take advantage of the outdoor space, and visitors can enjoy a heightened sense of community. This regular event will continue through October 29, 2023!
Many additional Staunton restaurants have patios and outdoor dining spaces. Enjoy a drink or meal in the fresh air at these places.
Grab coffee or breakfast to go from Cranberry's Grocery and Eatery or Reunion Bakery then take it to the Mevluda Tahirovic Memorial Garden. The quiet space is tucked away behind the R R Smith Center. Relax at a table with your meal and enjoy the flowers and the sculpture. Access the space from the Smith Center or Barrister's Row.
Hopefully, you'll find plenty of ways to celebrate Great Outdoors Month in the Staunton area!
---
Newsletter Sign-up
Stay up to date on the latest and greatest happening in Staunton.