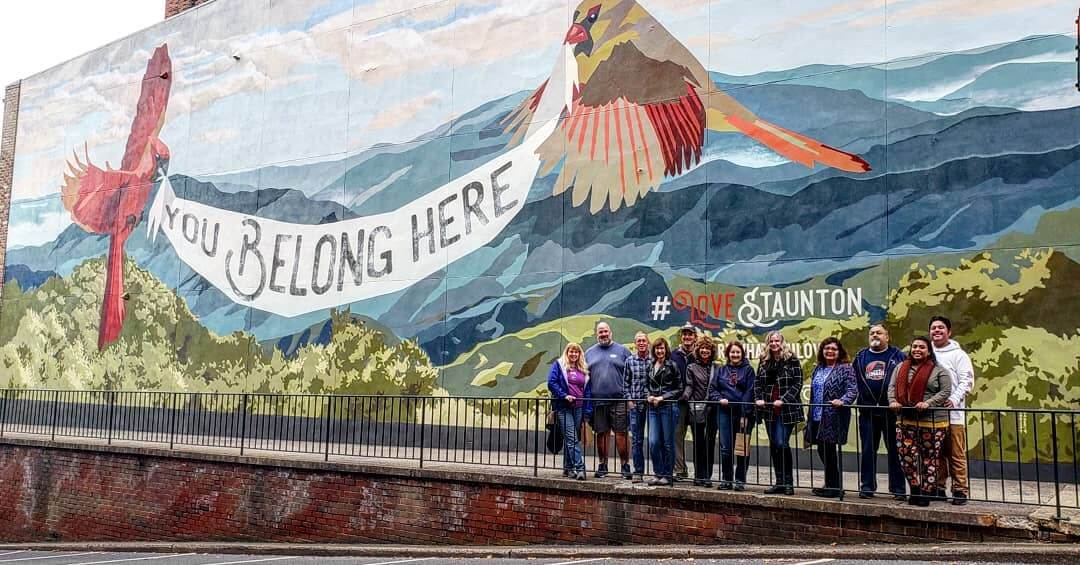 What We're Thankful For In Staunton
---
(Published 11/22/2022)
Thanksgiving is here again and it's time to give thanks for our families, friends, communities, health, food, pets, jobs, and more. Here's what we're thankful for in Staunton this year.
Our Parks
Not only is Staunton just a short drive away from Shenandoah National Park, a premier destination for nature lovers, but it's also close to the George Washington and Jefferson National Forests. And the city of Staunton itself also boasts a wealth of natural resources in its park system. Enjoy the holiday light displays in Gypsy Hill Park, take a quiet stroll in Betsy Bell Wilderness, play a round of disc golf in Montgomery Hall Park, or climb to Woodrow Park for a postcard view of downtown.
Our Historic Downtown
Staunton's downtown is friendly, walkable, and beautiful. Take a walking tour and explore our historic districts and notable buildings like Trinity Church and the train station. If you'd rather save energy, catch the trolley and ride a loop around the city.
Our Food Culture
Staunton has a wealth of fine restaurants specializing in a range of cuisines. Try Salvadoran pupusas at Gloria's Pupuseria or some curry at Taste of India. Dine on Mediterrean tapas at Aioli, Mexican at Chicano Boy. If you're into steak, you can't go wrong at Mill Street Grill or the Depot Grille. BLU Point is famous for its seafood and raw bar. Have a snack and some wine at Yelping Dog or the Green Room. Zynodoa and The Shack have made headlines for their upscale American entrees that emphasize local ingredients.
Live Music
Tap into the live music scene with the extraordinary talent of both seasoned and rising stars in Heifetz Institute's annual Festival of Concerts. Staunton Music Festival brings ten days of chamber music concerts to various downtown venues. You can hear summertime live music almost every day of the week at the Gypsy Hill Park bandstand. You can also take advantage of live music at our local restaurants, vineyards, and breweries. Check the schedules at Marino's Lunch, Ciders from Mars, Redbeard Brewing, Shenandoah Pizza, and more. Queen City Brewing often hosts open mic and jam sessions. If you'd rather take in a dramatic performance, head to Blackfriars Playhouse for a historically informed Shakespearean performance or a seasonal classic like A Christmas Carol.
Our Festivals
From Art in the Park to Happy Birthday America to our signature Queen City Mischief and Magic weekend, Staunton really comes alive with its festivals. Don't miss the upcoming "A Storybook Christmas" Staunton Christmas Parade on November 28. You'll see elaborate floats, marching bands, performances, and more as Staunton kicks off the holiday season! Crank up the holiday music in your car as you drive a loop or two around Gypsy Hill Park for its annual Celebration of Holiday Lights display.
Our Independent Shops
Don't head to the mall! Enjoy seeing Staunton's walkable downtown dressed for the holidays. You can count on finding a special and unique gift for every one of your family and friends in our downtown boutiques and artisan shops. For instance, you might find your perfect luxury scent at Essentially Zen Artisan Body & Bath Co. Look for a plant-themed gift at Burrow & Vine. Outsanta Santa with gifts for the kids from Pufferbellies Toys and Books. You should also check out SAAC's Art For Gifts event. And if you're feeling crafty, create a piece of original blown-glass art for your tree or window at Sunspots Studios. Mark your calendar for Small Business Saturday and check out our other great shopping options here.
Our Beautiful Location
It's hard to top Staunton and the Shenandoah Valley for looks! Next time you're outside, take a deep breath and scan your surroundings. From landscaped lawns to rolling farmland to the distant Blue Ridge, it's impossible to forget how beautiful it is here.
---
Newsletter Sign-up
Stay up to date on the latest and greatest happening in Staunton.