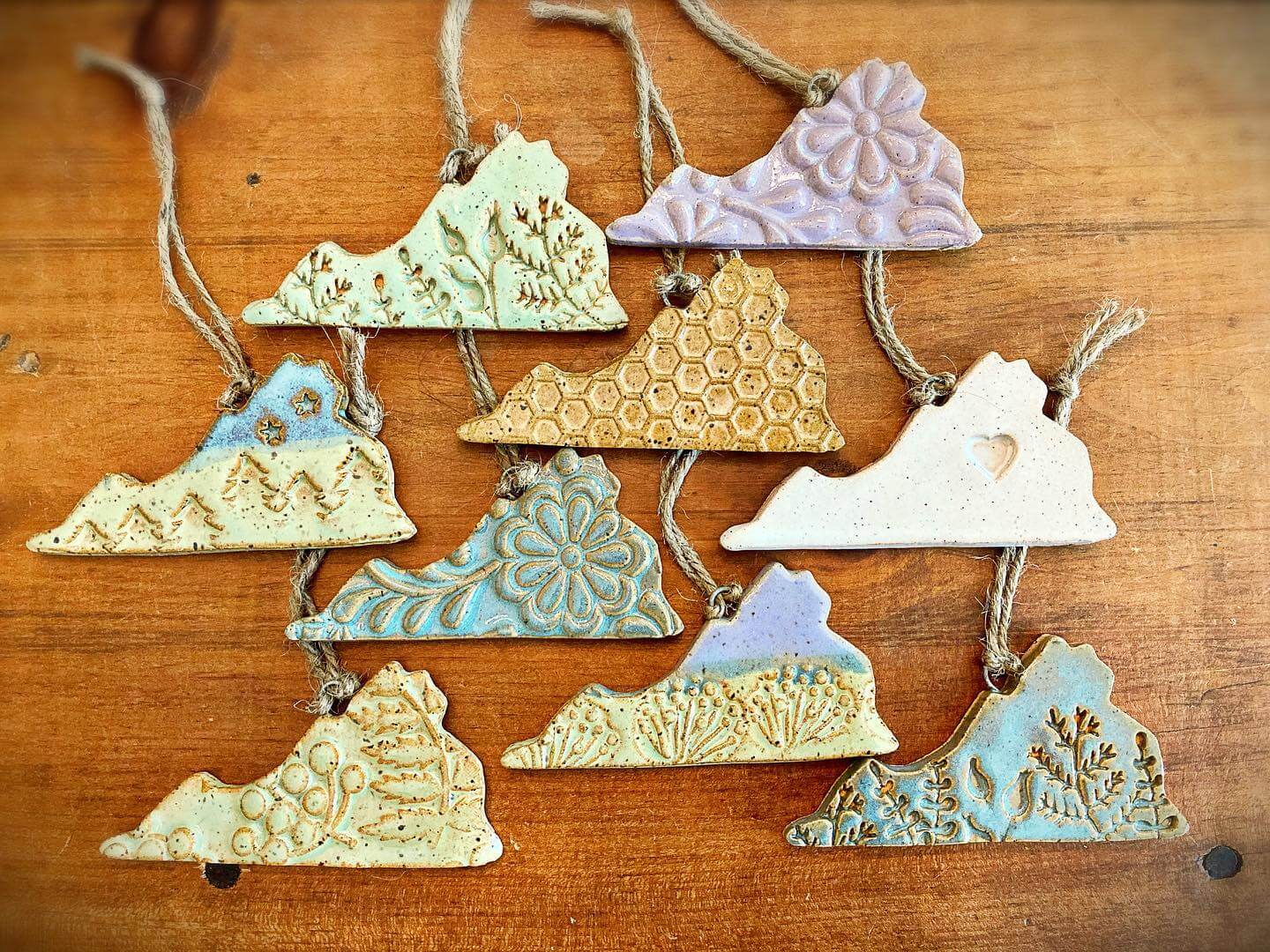 Where to Find Staunton Christmas Ornaments.
---
(Published 12/08/2022)
Deck the halls because the holiday season is officially here. You probably already have your Christmas tree decorated, but if it's missing that final touch, that showcases your love of our Staunton community, we can help. Fill that missing spot with a Staunton holiday ornament. Here's where to find them!
Staunton Ornaments
Each year the Staunton-Augusta Junior Women's Club (SAJWC) designs and sells a Staunton ornament. This year's features the newly refreshed gates at Gypsy Hill Park in celebration of Staunton Parks and Rec's 50th Anniversary. The SAJWC is a group of local women "working together to strengthen our community through a variety of philanthropic activities." Net proceeds from ornament sales support a pair of scholarships for local high school girls hoping to head to college. You can purchase this year's ornament at Latitudes, Crown Jewelers, Woodrow Wilson Presidential Library, and St. John's Methodist Church. Collectors can grab ornaments from past years on the SAJWC's website.
There's also an ornament dedicated to the Staunton Downtown Development Association's vision of "connect[ing] customers, entrepreneurs, residents and visitors, making Downtown Staunton a genuine community hub." The 2022 SDDA ornament comes in two finishes and features a reindeer leaping through snowflakes. Buy it at Book Dragon or the SDDA store to commemorate another wonderful year in Staunton.
Ornaments
Looking for an ornament that you can display all year round? Check out the art glass gallery at Sunspots Studios. The official 2022 ornament is designed to look like a snow globe, plus it glows in the dark! You'll also have your pick from a selection of swirled glass globes that you can see from start to finish in the onsite studio. If you're a hands-on person, sign up to blow your own.
Woodrow Wilson Birthplace and Presidential Library sells a large selection of vintage-inspired Christmas ornaments in its gift shop. Choose from balls and bells made from mercury glass, antique cars, cookie-shaped, pewter animals, glass sheep, and more. You'll also find stockings, mantle trees, and other holiday-themed gifts for the home.
Visit the holiday table at Made; By the People, For the People. You'll find ornaments, knitted snowmen, holiday cards, seasonal candles, and many more gifts and stocking stuffers.
Art for Gifts showcases the work of local artists, and is a fantastic way to score beautiful and unique gifts. You'll find jewelry, paintings, ceramics, baskets, notecards, and more, including handmade ornaments by Miryam Bashir and Sharon Sproul. Lisa Morrison's stained glass display includes lovely 3-dimensional holiday-themed works you can hang on your tree, and Joan Mueller has created Christmas notecards and clay Santas. If you're looking for mantle Santas, try Jim Stadtlander's wooden or Karen Shapcott's felted St. Nicks.
Latitudes Fair Trade Store helps connect artisans in developing countries with customers who will pay them fairly for their work. Add a warm, handmade touch to your Christmas tree with a string of felted holiday lights, a pair of crocheted stocking ornaments, or an embroidered turtle or rainbow. You'll also want to collect handmade sloths, owls, kittens, gnomes, elephants, cardinals, and more.
Burrow & Vine is empowering your creative side with a series of ornament-making classes. Sign up for a session in beaded macrame or hand-painted wooden ornaments.
Harmony Moon Gifts has a charming collection of handmade felted birds for sale this year. You'll also love the felted gnomes and skiing Santas. Harmony Moon also offers holiday table linens and hostess gifts.
The Foundry Pop-Ups is a great place to shop for gifts and pretty things, including ornaments by Scott Tiernan of POP Plastic, who makes all of his products with repurposed post-consumer #5 plastic. "POP stands for Plastic On Purpose and that is just what I aim to do, give purpose to and use plastic purposely for beautiful new products."
Factory Antique Mall has lots of vintage ornaments for sale in its supersized space. The largest antique mall in America also sells jewelry, housewares, collectables, and many other gifts that will bring lots of smiles to lots of faces.
Stocking Stuffer Ideas
Everything from Essentially Zen smells magical. Add some artisan soaps, body frosting, candles, lip balm, shaving soap, and more to a favorite stocking.
Medieval Fantasies Company is a great source for fantasy-themed bath and body products perfect for fleshing out the toe of a stocking. Pick from Butter Ale Handcrafted Body Butter, Durin's Folk Handcrafted Beard Butter, or, for your dry-footed friend, Baggin's Foot Scrub. You should also grab a signed copy of the storybook There Once Was a Dragon…A Christmas Tale.
The Sparrow's Nest offers a variety of novel items perfect for stockings. Pick from handmade leather jewelry, wooden or botanical earrings, all-natural soy candles, and more.
Marion's Candles, Scents & Seasons has more than 60 candle scents in stock. Pick from jar candles, votives, or wax melts. Marion's also carries soaps, body lotions, and bath bombs.
Find even more aromatic gifts at Redwood + Co. From small-batch home fragrances and seasonal candles to jewelry to greeting cards and stickers, you'll find the perfect gift.
---
Newsletter Sign-up
Stay up to date on the latest and greatest happening in Staunton.