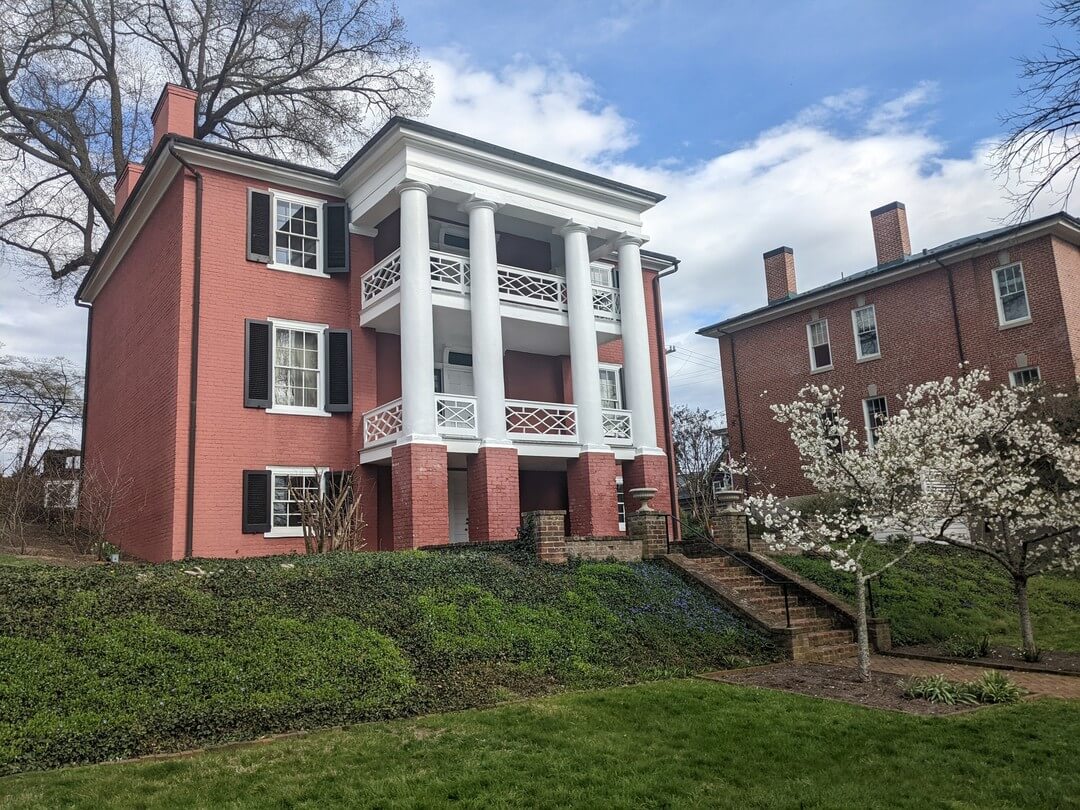 Your Guide to Things to Do On Presidents' Day
---
(Published 02/17/2022)
Whether you know it as Presidents' Day or George Washington's Birthday, the holiday celebrated on the third Monday in February is designed to let us think about the founding and safeguarding of our democracy. You might mark the occasion by exploring history or hitting the Presidents' Day sales, but you don't have to travel all the way to Washington D.C. Here are some Staunton-area things to do.
Learn About a President at the Woodrow Wilson Presidential Library & Museum
Woodrow Wilson was born in Staunton, and though he only lived here a short time, you should visit the Woodrow Wilson Presidential Library and Museum complex. You'll learn about Wilson's life and times as well as the history of Staunton and what it was like to endure a WWI trench. Exhibits also examine prohibition and suffrage. Explore gallery space in the Presbyterian manse where Wilson was born, the Pierce-Arrow Presidential limousine, the surrounding gardens, the research library, and the gift shop.
Register for one of the upcoming programs in the Reckoning: U.S. Presidents and Racial Inequality series. The series concerns the struggle for racial equality in our nation with the hopes that discussion and reflection will help us advance as a just society. It "explores the views and the political policies of individual presidents toward minority populations, with an in-depth focus on how each of these minority groups was affected by presidential policies directed toward them." The programs feature conversations between historians and opportunities for the public to ask questions. Past programs have been recorded and are available on the website.
Learn About Other Virginia Presidents
Virginia is sometimes called the Mother of Presidents because it has produced more presidents than any other state. The eight are George Washington, Thomas Jefferson, James Madison, James Monroe, William Henry Harrison, John Tyler, Zachary Taylor, and Woodrow Wilson.
You can also travel over Afton Mountain to Monticello to learn about the life and legacy of Thomas Jefferson. Explore Jefferson's house and gardens. On-site tours, virtual events, and other resources examine Jefferson's own complex history as both an enlightened thinker and an owner of enslaved persons. James Madison lived at Orange County's Montpelier for 76 years. Visitors can learn about the house, grounds, and his role as "Father of the Constitution." Travel a little farther to D.C. to tour George Washington's Mount Vernon, or explore the house and grounds virtually.
Check out the Smithsonian National Museum of American History's exhibit, The American Presidency: A Glorious Burden, which "grants visitors an insight into the lives and contributions of the men who led our nation since its founding through 900 historical objects and artifacts." This permanent collection can be viewed in person or online. It will answer all your burning questions like, "what creature was featured on James Monroe's dessert service," and "did Grace Coolidge really keep her pet raccoon at the White House?"
Take a Virtual Field Trip
Other online exhibits that deserve a timely visit are the Lincoln Home and the Museum of the American Revolution. Head to South Dakota where The National Park Service has put together a Mount Rushmore site with a lot of valuable educational plans for kids of various ages.
Other History Near Staunton
There's nothing about the lives of presidents at the Frontier Culture Museum, but you can connect with the past lives of ordinary citizens through costumed interpreters working on traditional farms.
Write a Letter to President Biden
Finally, whether you agree or disagree with the current administration, you have the right to make your opinion known. Why not put your valuable ideas into a letter, and send it to the President? You might even get a letter in return!
The President of the USA
The White House
1600 Pennsylvania Ave. NW
Washington, DC 20500
For more events in Staunton, please check out Staunton on Tap!
---
Newsletter Sign-up
Stay up to date on the latest and greatest happening in Staunton.