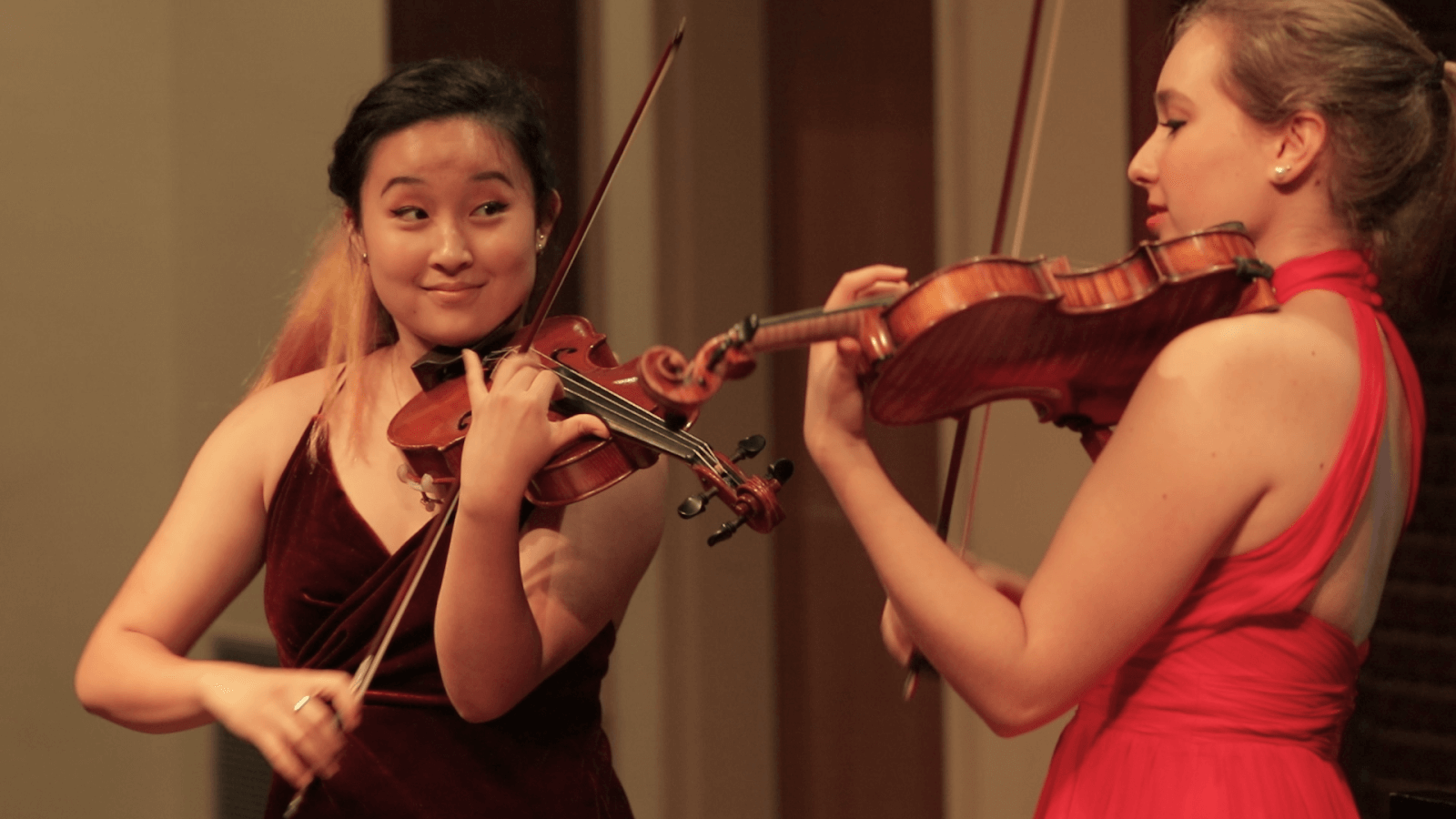 2022 Must See Summer Music Events in Staunton
---
(Published 05/19/2022)
Picture dancing in the street to some of the best local and regional music and falling in love all over again with Staunton's wonderful community. Imagine kicking back on a blanket under the stars and enjoying a picnic and incredible jazz. Or imagine relishing the sounds of antique classical instruments while the light shines through the stained glass at Trinity Church. Or how about celebrating the 4th of July with live music and fireworks for the first time in years? Here's a guide to your Staunton summer soundtrack!
Staunton Jams
After a 4-year hiatus, Staunton Jams is back, bigger and better than ever, hosted by The Judy Chops and supported by a number of Staunton businesses. This free, all-day music and art event will take over downtown Staunton on May 28. Look for 20 acts representing a variety of musical styles to appear at the Sunspots Pavilion, the Staunton Patio, along Beverley Street, in the Wharf, and more. You'll see Mojo Parker, Sun-Dried Opossum, The Queen City Porch Swingers, Matt Palmieri, the Beverley Street String Band, The Judy Chops, and more. There's even an afterparty scheduled at Tempest Bar & Lounge. The event will also showcase artists, vendors, food, street performers, and more. Check Staunton Jams Facebook page for a schedule.
Redbeard's Summer Concert Series
Want to enjoy delicious craft beer while you listen to music? From now thru September, relax at Redbeard Brewing Company on select Saturday nights for their Live Summer Concert Series. Favorite groups like The Judy Chops, Six Shot Rebellion, The Findells, and Drägön Wägön will headline. Check out the full schedule.
SummerStage at the Blackburn
Spread out your blanket for a night of music under the stars at the Blackburn Inn's Friday night SummerStage concert series. The concerts will extend through Labor Day and they will showcase talents like David Wax Museum, Danielle Nicole, Chatham Rabbits, Scott Miller, The Judy Chops, and more playing in a wide range of genres. Along with the music, you can enjoy beverages from local vineyards, breweries, and cideries as well as food from the 2nd Draft Bistro. The grounds and bar open at 6 p.m. and the music starts at 7 p.m. See the full schedule and buy tickets.
Red Wing Roots Music Festival
Everyone in the family will get up and dance as the biggest names in folk music appear at Red Wing Roots Music Festival in Natural Chimney's Park the weekend of June 24 – 26. Get ready to experience to The Steel Wheels, The Jayhawks, Langhorne Slim, Aoife O'Donovan, and many more on stage against the background of stunning limestone towers. Besides the music, festival attendees can expect a beer garden, food and craft vendors, bike rides, yoga, and lawn games for adults and kids alike. Here's the full 2022 lineup.
Heifetz Institute's Festival of Concerts
You're in for a treat with this year's annual Heifetz Institute's Festival of Concerts! Choose from over 50 different concerts extending from June 28 to August 6 that range from chamber music, Fourth of July music, and multi-genre selections. See world-renowned celebrity guests in the Celebrity Series and Chamber Music Sunday Matinees. Heifetz students perform in the Stars of Tomorrow Series as well as the intimate Market St. Musicale series that pairs performances and conversations with the musicians. Anything goes in the Heifetz Hootenanny Series, which will occur on Page Terrace. Admission is free for all events for kids 12 and under.
Happy Birthday America
Bring the family to Gypsy Hill Park this Independence Day for the free, family-friendly Happy Birthday America celebration. Have a blast with a 5K race, a lively parade, a parent/child baseball game, vesper's service, a beauty pageant, and concessions. Rock out to live music from local acts, Rhonda Vincent and The Rage, and headliner Wilson Fairchild. Fireworks will follow the concert. This event is free.
Staunton Music Festival
Musicians will love The Staunton Music Festival's classical concerts spanning over 600 years. Dozens of musicians will perform in both large and small ensembles in a variety of Staunton venues like Trinity Episcopal Church and Blackfriars Playhouse from August 12-21. Festival highlights include "Handel Extravaganza: from the Rhine to Rio," which features Handel's orchestral and vocal music, "Love Stories," and "Early Keyboard Extravaganza." While some events are ticketed, many are free.
Music in the Park at Gypsy Hill Bandstand
Monday Nights: Stonewall Brigade Band
Staunton's historic 70-member Stonewall Brigade Band is bringing big sounds to your Monday nights all summer. The oldest-continuous community band in the U.S. was originally a marching band, but with the addition of woodwinds after the Civil War, it became a concert band. It first played in what is now Gypsy Hill Park in 1889. Concerts featuring marches and big band classics begin at 8 p.m. Watch for the full schedule here.
Tuesday Nights: Praise in the Park
Head to Gypsy Hill Park on Tuesday nights in July and August to hear Linden Heights Baptist Church's annual Praise in the Park concert series. You'll hear contemporary and southern gospel as well as gospel bluegrass. Better yet, there will be activities to keep the kiddos busy while you listen to favorites like Faithful Men, Ed Pettersen & Streets of Gold Quartet, Brian Buchanan & New Life Gospel Band, and Heaven's Mountain Band & Blue Mountain Sunrise. Concerts begin at 7 p.m. See the full schedule here.
Wednesday Nights: Bluegrass
Local and regional bluegrass entertainers will visit Staunton on Wednesday nights between July 6 and August 24. Most concerts include sets by two different groups. Get ready for some energetic tunes and banjo picking! Concerts begin at 7 p.m. Watch for the full schedule here.
Thursday Nights: Jazz in the Park
Celebrate hot summer nights with the Jazz in the Park summer concert series. You'll hear classic jazz standards performed by S.P.L.A.A.A.T. Quintet, Afro Cuban jazz with rumba, salsa, and cha cha music by Jstop Latin Soul, and zydeco, cajun, street parade, and Louisiana funk by The Dixie Power Trio. See the full lineup here.
Nearby Music
You might also check out Waynesboro Parks and Rec's Thursday night Groovin' at the Greenway series. This lineup of showcases a variety of styles and lets Waynesboro visitors get comfy outdoors while listening to live music.
Other Festivals and Fun
May 21-22: Staunton's newest outdoor art festival Art On The Town comes to life at the Sunspots Pavilion in the Wharf. Another great event by the Staunton Augusta Art Center happens September 3-4, where you can join the fun at the 55th annual Art in the Park festival in Gypsy Hill Park. You'll find amazing art, community spirit, live music, food, and creative activities for the kids. The park boasts lots of parking, shade, and playgrounds to keep everyone happy. (Free)
September 24-25: Join thousands of seriously excited fans in downtown Staunton for themed shopping, dining, performances, and hands-on activities for all ages at the Queen City Mischief and Magic Festival. This home-grown fan festival celebrates J.K. Rowlings' Harry Potter series as well as all things magical and mystical. (Many activities are free, some are ticketed)
---
Newsletter Sign-up
Stay up to date on the latest and greatest happening in Staunton.