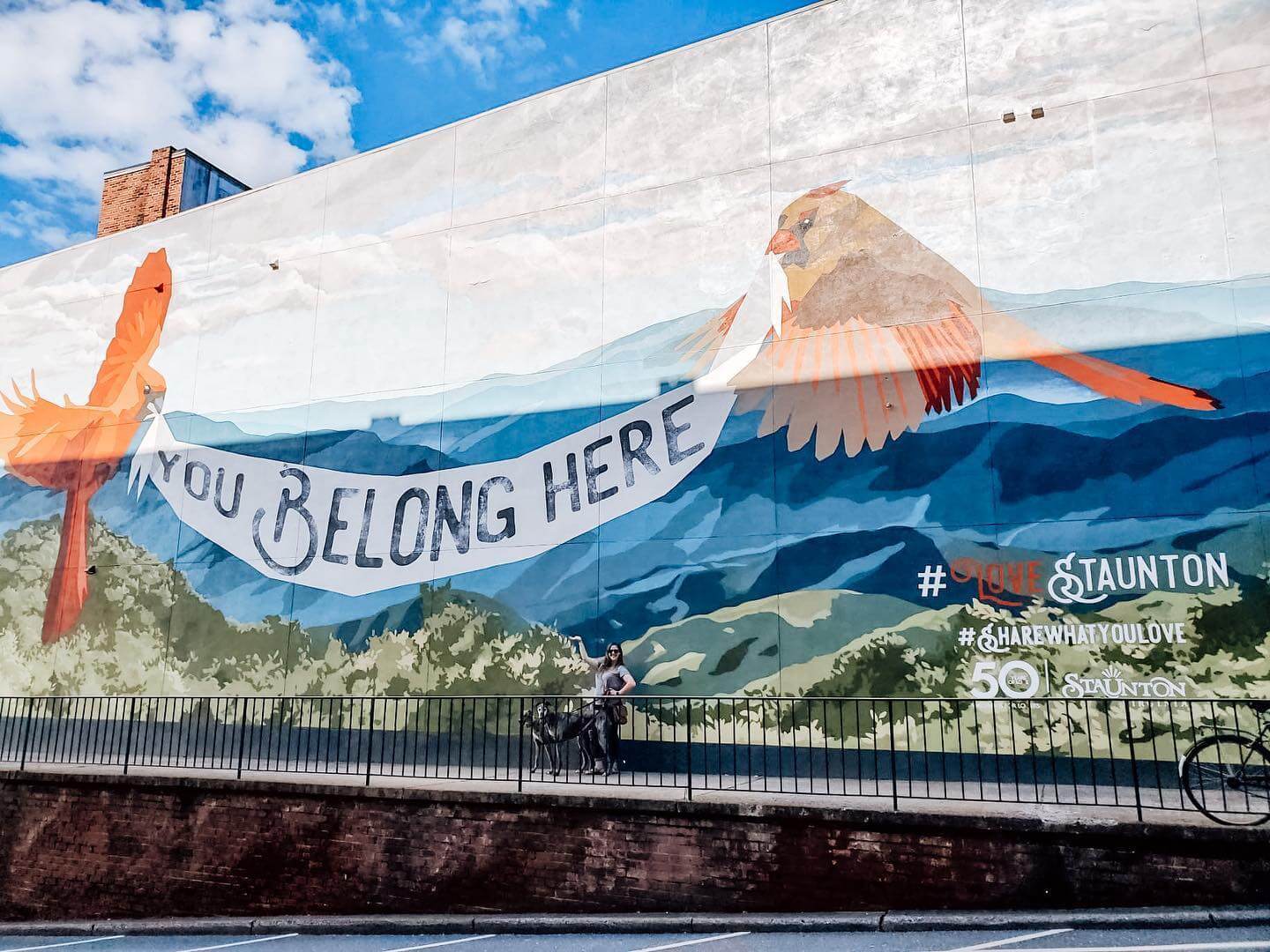 9 Free Ways To Explore Staunton VA
---
(Published 01/12/2023)
Are your pockets feeling a little light after the joys of holiday spending? It sure was fun, but we understand if your New Year's resolutions call for resting your wallet for a little while. Fortunately, some of the best things in life (and Staunton) are absolutely free! From tours to demonstrations to concerts and festivals, Staunton offers a rich lineup. Here are 9 free ways to explore Staunton (plus some almost-free options)!
Visit the Murals of Staunton
Staunton has a wealth of historic architecture and spectacular views of the mountains. But you can also feast your eyes on the interesting and energetic mural scape. Appearing in both expected and unexpected places, they're fun to look at, pose in front of, and photograph. For the entire mural scene, check out Grab a Selfie in Front of the Murals of Staunton. Here are some of our favorites:
The giant You Belong Here mural at the corner of Beverley and North Central Avenue and welcomes residents and visitors alike with its positive message and sheer scale. It features a pair of cardinals (Virginia's state birds) against a mountain backdrop.
Before sitting down to a yummy meal or round of drinks, check out the mural that features musicians silhouetted against a Blue Ridge sunset at Marino's Lunch.
Redbeard Brewing Company has a new mural in the taproom that features an enormous tree against a background of mountains and a colorful sky.
The interior mural at the Pampered Palate depicts downtown Staunton at dusk. Look for your favorite landmarks as you dine on soups, salads, sandwiches, and quiche.
The Black Dog Bikes mural celebrates a community-centered, family-friendly active lifestyle. You'll get another landscape that actually blends into the sky and scenes of hikers, bikers, walkers, runners, and more.
Explore Staunton on Foot with a Walking Tour
The Historic Staunton Foundation offers free guided walking tours at 10 a.m. every Saturday from May through October. The two-hour tours explore the architecture and historical development in Staunton's six historic districts. Meet in the R.R. Smith Center for History & Art, across from the Staunton Visitors Center & Parking Garage.
You can also take a self-guided tour.
If you don't like to part from your phone, explore Staunton with the free app, Traipse! Traipse combines history with scavenger hunt fun. It explores downtown Staunton, Gypsy Hill Park, the campus of Mary Baldwin University, and more.
Feed the Ducks at Gypsy Hill Park
You can stay busy all day in 214-acre Gypsy Hill Park. You'll feel like you stepped back in time as you wander around the duck pond admiring mallards, swans, and enormous carp. Vending machines for duck food are located at the pond, but if you venture across the street to the Royal convenience store, you can get an entire bag for less than $1. The park has playgrounds for big and little kids, and a 1.3-mile loop for walking and bike riding. It also has a bark park with enclosures for big and little dogs. Nearby, find a skate park that welcomes skateboards, inline skates, scooters, and BMX bikes.
Summertime at the park brings free live music most nights of the week as well as swimming (for a small fee) at the Gypsy Hill Park Pool.
Browse the New Indoor Farmers' Market
Stauntonians love the Staunton Farmers' Market. The only thing they don't like is that their source of fresh food and local products dries up in the off-season. 2023 brings a new market experience with the Staunton Winter Market opening in the fellowship hall of Emmanuel Episcopal Church at 300 West Frederick St. Look for vegetables, meat, cheese, bread, and more to tide you over until the outdoor market re-opens in April.
Watch Glass Blowing at Sunspots
You'll be amazed as you browse the collection of beautiful art glass in the showroom at Sunspots Studios. Marvel at the sculptural qualities and the way the light hits and shines through the works. If you head back to the studio, you can watch the glassblowers at work. They'll demonstrate the process of melting glass bits into waxy blobs before blowing and shaping them into art.
See the Light through a Tiffany Window
It's free to slip into Trinity Episcopal Church to check out the impressive stained glass collection, including twelve Louis Comfort Tiffany windows. The church's windows date between the mid-1800s and mid-1900s. Learn more about the windows here.
Trinity is the oldest church in Staunton, completed in 1855. Two previous churches stood on the site, including the one that housed the Virginia General Assembly in 1781 after it fled Richmond ahead of the British army.
Get Dirty at the Natural Playground
Nature Ridge natural playground is tucked away in 148-acre Montgomery Hall Park. Designed for imaginative play, Nature Ridge has a mud kitchen, rock quarry, pirate ship, ball drop, chimes, and an elevated sand pit accessible to children of all abilities. There's also a tunnel, a large traditional sand area, picnic tables, and benches.
Montgomery Hall Park also has miles of wooded hiking and mountain biking trails, ball fields, and a playground. Summer visitors can take advantage of the swimming pool (small fee).
Get Cultured at an Art Gallery
You don't need to travel to the big city to see fine art. Staunton has several galleries dedicated to the works of local and regional artists. See the current Staunton-Augusta Art Center show and the Augusta County Historical Society display in the R.R. Smith Center. You'll also find the work of local artists on display at the CoArt Gallery and the Artisans Loft. Mary Baldwin's Hunt Gallery brings a diverse selection of artists and their works to campus each year.
Party on at a Free Festival:
Don't Skip these Nearly Free Options:
---
Newsletter Sign-up
Stay up to date on the latest and greatest happening in Staunton.