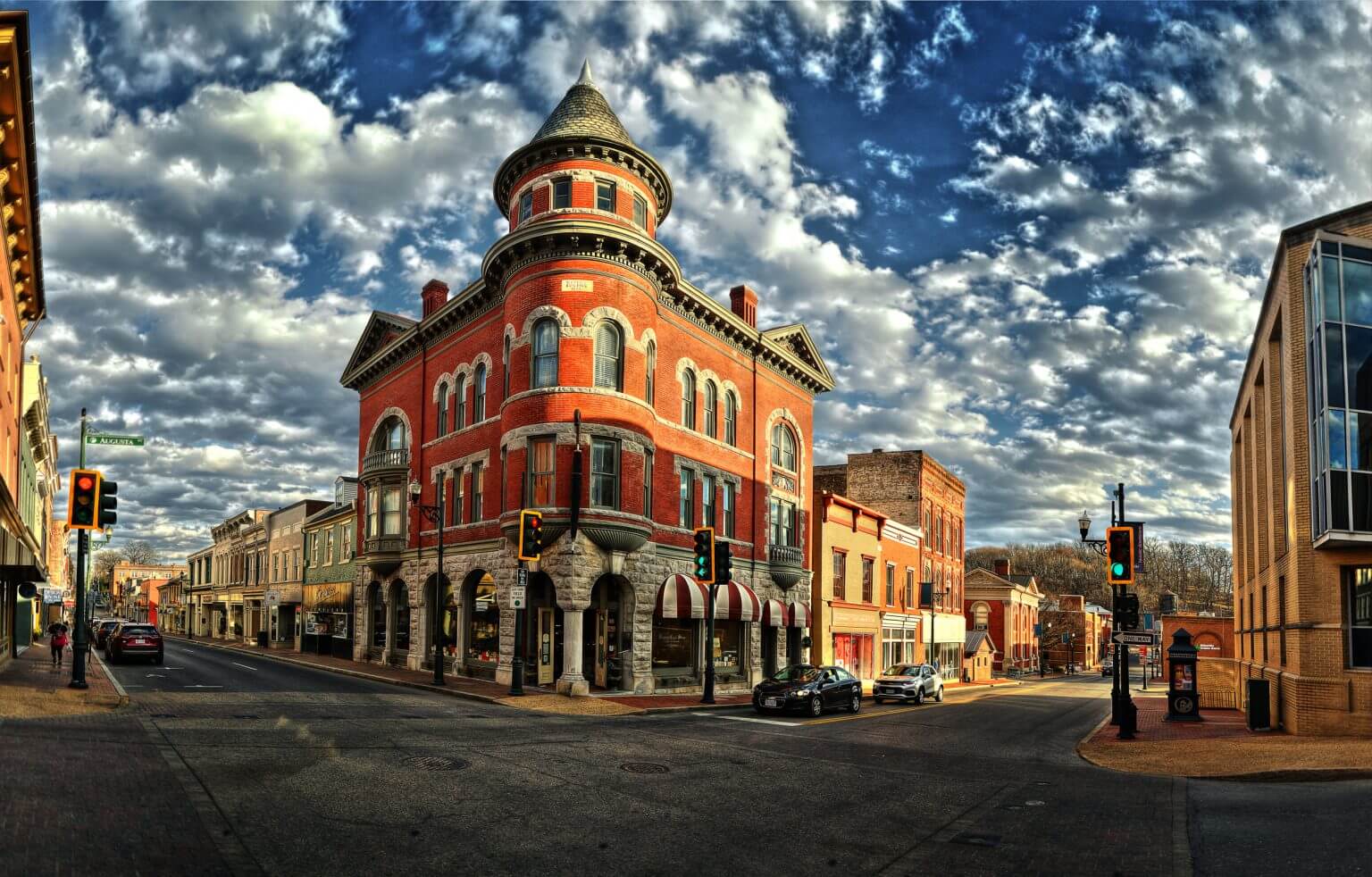 Explore Staunton From A to Z in 2023 
---
(Published 01/05/2023)
It's a new year, and you're probably ready to try new things. Here's a new way to explore the Queen City! It's as easy as A-B-C.
A = Architecture
Learn about the Queen City's history and wealth of Victorian architecture. Historic Staunton Foundation leads Saturday Walking Tours from May – October. Itching to get started? Take our self-guided tour through the historic districts.
B = Staunton Braves
The Staunton Braves are part of the 11-team Valley League that's been entertaining fans since 1923 with the skills of talented college players, many of whom go on to the pros. While away the summer nights watching baseball at Moxie Stadium.
C = Ciders from Mars
Ciders from Mars presses locally grown apples to create the hard cider you'll enjoy by the glass, bottle, or flight. Choose from single-varietal ciders, blends, and ciders fermented with other local fruits.
D = Dine out Downtown
The Shop and Dine Out Downtown program is just another reason to look forward to warmer weather. Beverley Street closes for vehicular traffic each weekend starting in April so that restaurants and businesses can spread out al fresco. Tables, chairs and tents fill the sidewalks and the street, and those outdoor dining spaces are filled with groups chatting, laughing, and loving the fresh air. 
E = Essentially Zen
Pamper yourself with a treat from Essentially Zen, an artisan bath and body company. Enjoy natural soaps, body frostings, candles, and more. If you're hunting for a special gift, they can put together a personalized gift basket.
F = Frontier Culture Museum
For more than 20 years, the Frontier Culture Museum has helped modern visitors step back in time with historically-accurate exhibits and hands-on experiences. Costumed interpreters demonstrate how the area's early settlers lived and worked.
G = Gypsy Hill Park
Gypsy Hill Park is one of Staunton's true gems. This lovely park features playgrounds, a miniature train, a dog park, a biking and walking loop, a bandstand that comes to life with music every summer, ballfields, an 18-hole golf course, and much more.
H = Heifetz
Heifetz International Music Institute educates young musicians and treats the community to a variety of world-class listening opportunities. Hear for yourself at the annual Heifetz Institute's Festival of Concerts, which offers over 50 chamber music and multi-genre concerts.
I = Igloo at Stable Craft
For the ultimate way to keep warm on a cold winter night, reserve an igloo at Stable Craft Brewing. Just a short drive from Staunton will net you beautiful views, cozy fun, tasty agro-pub fare, and, of course, delicious craft beer.
J = Jumbo Museum
Make sure to take your kids on a tour of the Jumbo Antique Fire Engine Museum in the Staunton Fire Department. Not only will you learn about firefighting, you'll see the only remaining 1911 Robinson Chemical Fire Engine as well as other historic fire-fighting exhibits.
K = Kline's Dairy Bar
You'll be able to taste the freshness. Kline's Dairy Bar makes its ice cream from scratch every morning. This local chain always serves vanilla and chocolate, but each week there are two different special flavors like pumpkin, cake batter, raspberry, and lemon gingersnap.
L = Locally-Sourced
Businesses in Staunton emphasize locally-sourced ingredients and products. Visitors enjoy farm-to-table fare at many of our restaurants, produce and crafts at the producers-only farmers' market, local artwork at our galleries and art festivals, and much more.
M = Market
Spend Saturday mornings strolling the Staunton Farmer's Market to find the tastiest local produce and baked goods. Listen to live music and talk to the producers at this weekly event that celebrates community. (April-Thanksgiving)
N = National Park
Shenandoah National Park is only a short drive from Staunton. It features miles of hiking trails, serene campgrounds, ranger programs, and some of the most beautiful scenery in the country. Get back to nature for a week or take a short drive along the Skyline Drive where you can stop to admire the view from more than 70 incredible overlooks.
O = Olive Oil
Staunton isn't in Italy, but you'll feel close when you enjoy a tasting at Staunton Olive Oil Company. Enjoy extra virgin and infused olive oils and balsamic vinegars. You'll also find olive oil soaps, beauty products, coffee, wine, gluten-free baked goods, and more.
P = Pufferbellies
Pufferbellies Toys & Books is a paradise for kids and gift givers. Browse the selection of toys, games, books, art supplies, costumes, and everything else that's fun to play with. This is the largest independently owned toy store in the Valley, and its carefully curated shelves will fascinate the kid in all of us.
Q = Queen City Mischief and Magic
Each fall, downtown Staunton transforms into an enchanted village for the Queen City Mischief and Magic celebration. The festival is designed for fans of J.K Rowlings' Harry Potter series as well as everything else mystical and magical. Visitors can explore hands-on activities, demonstrations, themed dining and shopping, and meet their favorite characters.
R = Redbeard Brewing
Redbeard Brewing Company creates "small batches of big beers" in its location in Staunton's historic wharf district. Stop in for live music, fun events like trivia and karaoke, and lots of delicious craft beer.
S = Shakespeare
Staunton is home to the American Shakespeare Center and the Blackfriars Playhouse, the world's only re-creation of Shakespeare's indoor theatre. Grab tickets to a play performed the way Shakespeare's actors would have done it. Afterward, stick around for a lecture or a tour of the theater.
T = Trolley
Whether you're looking for an unusual way to see the city or a way to get to a popular destination without driving, you should hop on one of Staunton's green trolleys. Pick from several downtown destinations like the Wharf or the Woodrow Wilson Museum. You can also ride the trolley to Gypsy Hill Park.
U = Underground
Underground enthusiasts will rejoice with all the Staunton-area options to explore subterranean worlds. Check out nearby caves like Grand Caverns and Endless Caverns as well as the Blue Ridge Tunnel Trail that leads hikers through an old railroad tunnel that stretches for nearly a mile.
V = The Visulite
The Visulite airs the latest movies as well as classic and cult favorites and art films. Best of all, you can relax with a glass of wine or craft beer as you watch!
W = Woodrow Wilson Presidential Library and Museum
Enjoy more Staunton history at the Woodrow Wilson Presidential Library and Museum where you can tour the historic buildings and Garden Club of Virginia grounds and learn about Wilson's life and presidency. Exhibits also include WWI trench warfare and the history of the enslaved people who worked there.
X = Railroad Crossing
You don't want to miss Staunton's historic train station. Not only is the building photogenic, but you can also catch some terrific photos from the Sears Hill Bridge. Reserve your spot on the train for a Virginia Scenic Railway excursion. You could also sign up for a Staunton Ghost Tour.
Y = Yelping Dog
Yelping Dog Wine stocks its shelves with both local wines and wines from over 200 vineyards around the world. Enjoy an ever-changing wine-by-the-glass menu or indulge in a bottle to share from the extensive selection. Hungry? Nibble a cheese plate or gourmet grilled cheese sandwich.
Z = Zynodoa
Zynodoa serves "inspired Southern cuisine" in a stylish, metropolitan setting. The menu emphasizes farm-to-table fare using ingredients mostly sourced from the Shenandoah Valley and Piedmont. The bar is known for its big city feel, unique cocktails, and extensive wine list.
---
Newsletter Sign-up
Stay up to date on the latest and greatest happening in Staunton.