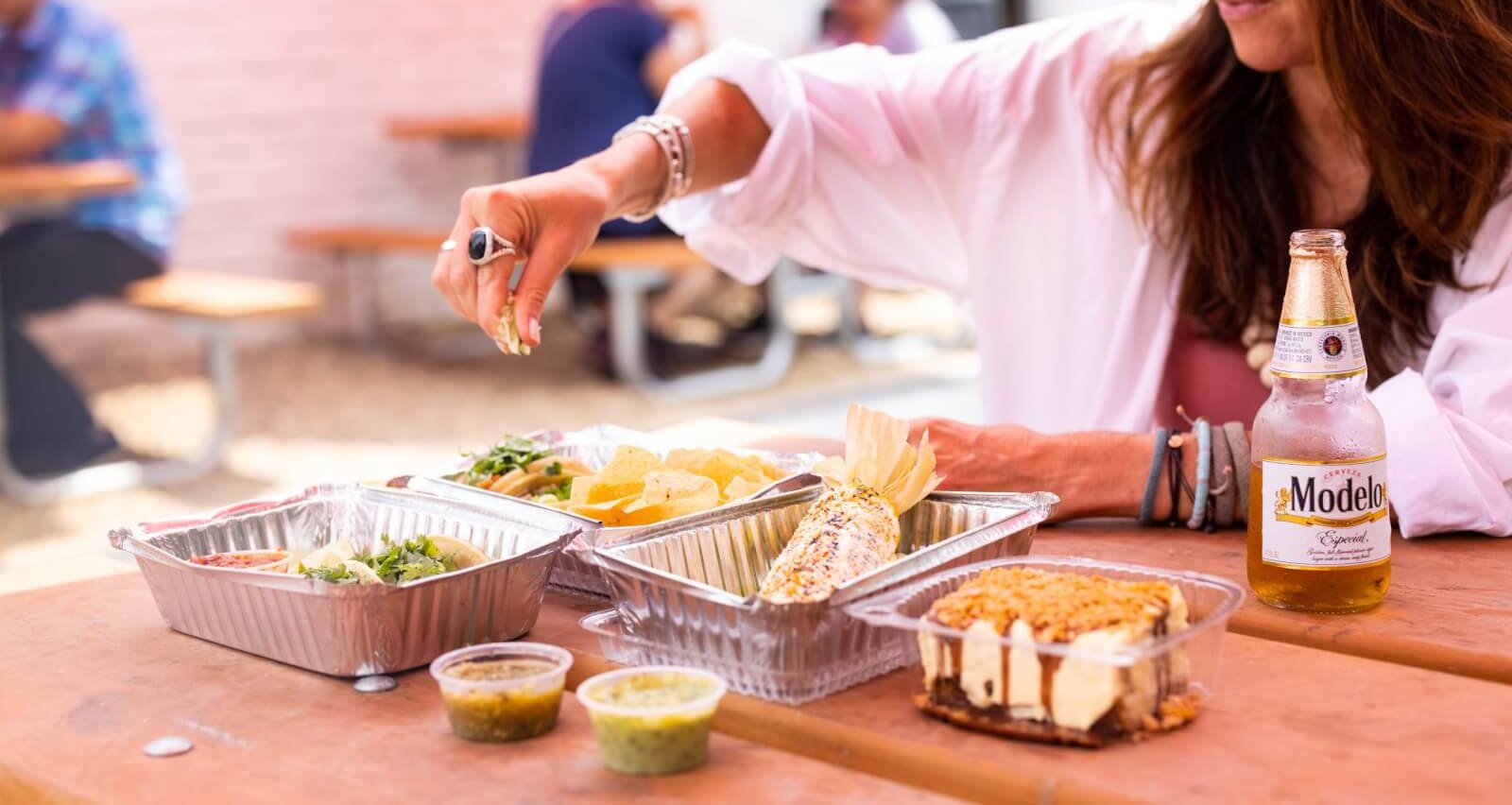 Light Bites – Staunton's Taste of Summer
---
(Published 06/22/2023)
Does the summer heat put a damper on your appetite? Are you super hungry but can't abide the thought of a hot, heavy meal and a steamy kitchen? Or maybe you're trying to get healthy for long days of summer sports in the sun? If you want to go out to eat but are seeking something cool or light, try a light bite from one of these Staunton restaurants.
Cranberry's Grocery & Eatery
Meals at Cranberry's Grocery & Eatery incorporate lots of vegetables, fruits, and organic grains. There are numerous options for vegetarians, vegans, and those who eat gluten-free diets. For breakfast, try fruit, house-made granola, or a tofu scramble. Lunch specialties include wraps and sandwiches. Cranberry's also boasts gourmet coffee and a juice bar with treats like the Celtic Elixir, a blend of apple, carrot, celery, beet, and ginger. You can also order a mimosa or something off the smoothie menu. The Wellness Smoothie blends avocado, spinach, almond milk, chia seeds, and blueberries. The Grown-Up Snack Attack has oats, cacao nibs, almond milk, banana, cold brew, and nut butter.
The By & By
The By & By serves coffee as well as gourmet espresso drinks, sandwiches, bagels, and desserts. Dine inside or sit in the quiet beer garden. Stop in for a grilled panini and dessert, or if you just want something light and cool, have an order of Greek yogurt with fruit and granola or a delicious fruit smoothie.
The Pampered Palate
The Pampered Palate offers a range of light fare including sandwiches, wraps, salads, quiche, and cool desserts like cheesecake. The gourmet meats and cheeses used in the sandwiches are sliced daily, but you might enjoy a vegetarian option like the New Theater wrap, made with fresh chopped broccoli, carrots, celery, mushrooms, tomato, lettuce, Havarti cheese, and golden Italian dressing in a pita.
Sweet Addie's
A Belgian waffle from Sweet Addie's might be precisely what you're in the mood for. Try the savory Farmers Market that's made with fresh mozzarella, ripe cherry tomatoes, fresh basil, and Italian herbs topped with a Staunton Olive Oil Company drizzle. Follow it up with something sweet. Or, you know, skip the meal and go straight to dessert. The Red White & Oreo made with sliced strawberries, crushed Oreos, house-made whipped cream, and white chocolate sauce sounds cold and delicious.
Seed to Tail
Seed to Tail prepares fresh sandwiches, soups, and salads along with an assortment of sides. Try the goat grilled cheese, which is made with roasted pears, caramelized onion, thyme, and warm goat cheese on homemade toasted bread. If you want a light vegan treat, try the beet salad bowl. It has roasted golden beets, fresh herbs, fennel, orange, radish, grains, apple, greens, pickled onion, croutons, and goat cheese, tossed in a red wine vinaigrette. Seed to Tail also serves locally fermented Blue Ridge Kombucha in a variety of flavors.
Gloria's Pupuseria
Gloria's Pupuseria serves fresh-made Salvadoran dishes that specialize in local ingredients. The signature dish is the pupusa, a stuffed corn tortilla that can be filled with a variety of meats, cheeses, and veggies. The recommended serving is three, but you can order just one if you're looking for a quick snack. Cool off with a refreshing ensalada, a fruity drink made of mango, pineapple, and apples with chopped fruit.
The Green Room
Visit The Green Room for wine, craft beer, cider, specialty non-alcoholic cocktails, and more. The Green Room also serves artisan snacks and light fare like baguette sandwiches and customized charcuterie boards. Looking for a light lunch? The Green Room serves half sandwiches in the afternoon. Have a quick drink, settle in and hang out with friends, or grab something to take home with you from the curated selection of beverages and snacks, including Jeni's Splendid Ice Creams.
The Clocktower
The Clocktower is known for its tasty bar libations and an extensive menu of decadent comfort foods like burgers and revved-up macaroni and cheese. However, you can also make lighter choices. We like the look of the Buddha bowl, which tops a spinach salad with cauliflower rice, broccoli, corn, mushrooms, sweet potato hash, and sesame soy dressing.
Chicano Boy Taco
Chicano Boy Taco serves handmade tacos and enormous mission-style burritos prepared on some of the best tortillas you've ever eaten. Order a burrito, taco, bowl, or salad plus your choice of fillings like chicken, beef, pork, sweet potato and beans, chorizo, or squash. A lunch deal promises the same amazing tastes, just in smaller quantities.
More
For a taste of Staunton's best food and a serving of community spirit, eat outside during Shop and Dine Out in Downtown. Planning a picnic? Browse the fresh produce and baked items available at the Staunton Farmers' Market. Finish with an icy treat from Kline's Dairy Bar, Wright's Dairy Rite, or The Split Banana!
---
Newsletter Sign-up
Stay up to date on the latest and greatest happening in Staunton.