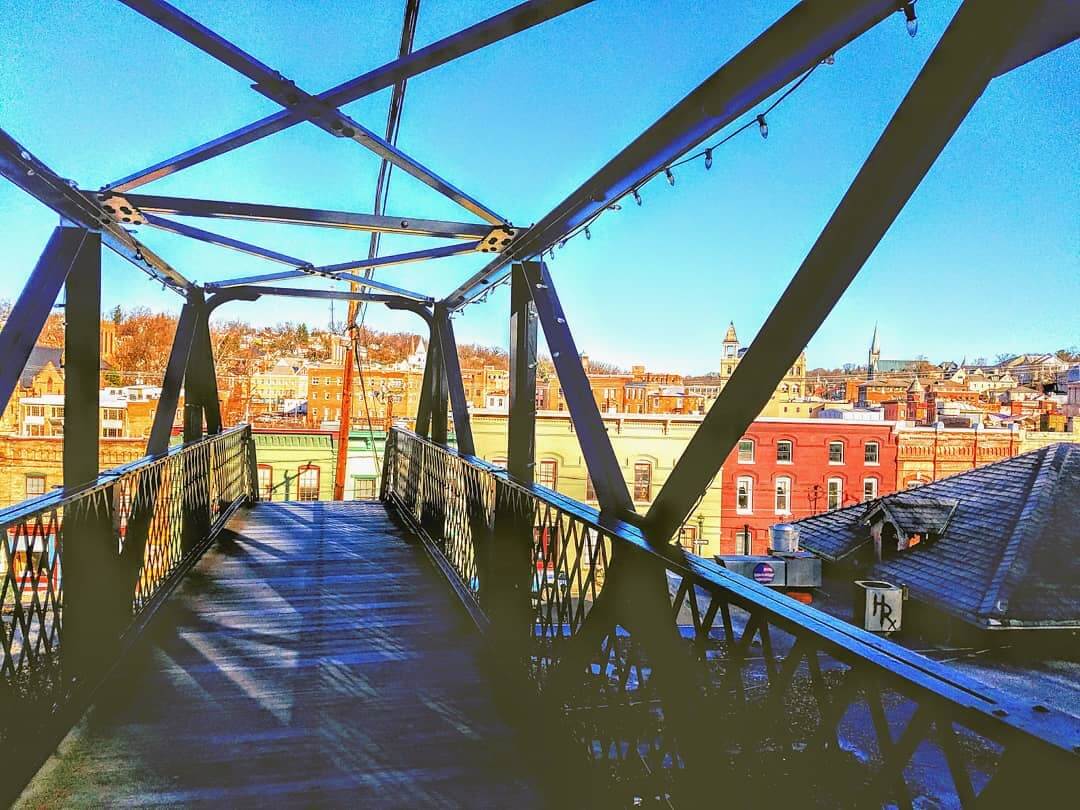 Must-See & Do in Staunton's Wharf
---
(Published 09/02/2021)
The Wharf Historic District shines as one of Staunton's busiest and most vibrant neighborhoods. Once a quiet meadow, it was developed for business when the Virginia Central Railroad came to town in the 1850s. Along with warehouses and hotels, this district once featured saloons, distilleries, liveries, brothels, and a dispensary of a patent medicine that claimed to "cure all ills." It's now home to a wealth of independently owned businesses and restaurants.
Where to Stay
If you're coming to Staunton for the weekend, plan to stay at Gibson's Warehouse, a four-suite loft lodging in a historic TJ Collins-designed warehouse. Designed in 1905, the building was originally used to store hay, fertilizer, and farm equipment. Now, it's the epitome of comfort and industrial cool, central to dining, shopping, and entertainment. Each suite offers a fully-equipped kitchen, living space, and a king-sized bed. There is also a common space in the lobby with seating areas so guests can socialize.
Where to Have a Drink
Redbeard Brewing Company serves excellent craft beer in a newly renovated tap room. Stop in for a pint of one of the dozen beers on tap and stick around for entertainment like live music, trivia, karaoke, and more. Try the award-winning 221B Baker Brown.
The Ox-Eye Vineyards Tasting Room, located in the yellow historic Fultz Office building, serves estate-grown, food-friendly wines. Stop in to relax over a tasting or a glass — you can't go wrong with the Reserve Scale House Chardonnay — and make sure you tour the upstairs art gallery.
Ciders from Mars has only been open for a few months, but people love the hard cider and the cool, modern space. Hang out at the bar, at a table, or grab a spot on the large patio and watch the bustle of the wharf. Ciders from Mars presses locally grown apples for its cider, and you can drink it by the glass, bottle, or flight. Try the Mellow Gold, made from Virginia Goldrush apples.
Where to Eat
Byers Street Bistro serves drinks, tasty appetizers like crab dip, stellar sandwiches and burgers, and the atmosphere is welcoming. Enjoy your food on the shaded brick patio.
Locals and tourists alike rave over the food and kid-friendly service at The Depot Grille. Look for favorites like the crab cakes, fried oysters, and steak. Pose for selfies by the historic bar or the caboose parked outside.
Once one of the largest flour mills in the Shenandoah Valley, Mill Street Grill dishes up a wide selection of choices including steak, ribs, seafood, and pasta.
Taste of India boasts generous portions and good prices. You'll enjoy a big menu of authentic Indian food that's always rich, delicious, with a spice level suited to your needs.
Crumbl Cakes & Bakes just opened, but Staunton residents are already lining up for their daily treat. Choose from a rotating variety of cakes, cookies, cookie dough, and brownies. Try a vegan or gluten-free treat and don't forget a pupcake for your dog.
Where to Shop
If you're shopping for unique gifts, you can't go wrong with the Wharf district. Find some incredible art glass at Sunspots Studio, housed in the historic 1929 Klotz building. As a bonus, you can slip into the studio and watch the artists manipulate the molten glass into globes, vases, and much more.
Spoil someone you love with artisan bath and body products from Essentially Zen. Choose from great-smelling essential oil soaps, soy candles, body frosting, and more. Essentially Zen will put together gift boxes tailored just for you.
Gamers will find supplies for all kinds of tabletop fun at The Dragon's Hoard, and Pufferbellies Toys & Books carries a large, and well curated selection of toys, games, and books for all ages.
Wilderness Adventure stocks your favorite brands of outdoor gear, clothing, accessories, and a huge selection of shoes. Better yet, investing in footwear here guarantees you'll get a perfect fit.
Don't forget to get Fido a treat or a pet massage from the Well-Balanced Paw.
And of course if you're in the Wharf on a Saturday morning from April to Thanksgiving, you don't want to miss the producer's only Staunton Farmers' Market. Expect to enjoy the freshest local fruit, produce, cut flowers, baked goods, and more.
Where to Walk
Despite a history fraught with fire, flooding, and war, much historic architecture remains. Look for the the Beaux Arts-style Augusta County Courthouse and the Bungalow-style C&O Train Station. Many of the Wharf's buildings are protected by the Historic Staunton Foundation.
For a detailed description of the historic architecture in the district, take our walking tour. Make sure you snap some selfies near the train station. There are lots of insta worthy backgrounds, including the Sears Hill Bridge that crosses the tracks and delivers walkers to Wilson Park, a small park with big views of Staunton.
---
Newsletter Sign-up
Stay up to date on the latest and greatest happening in Staunton.