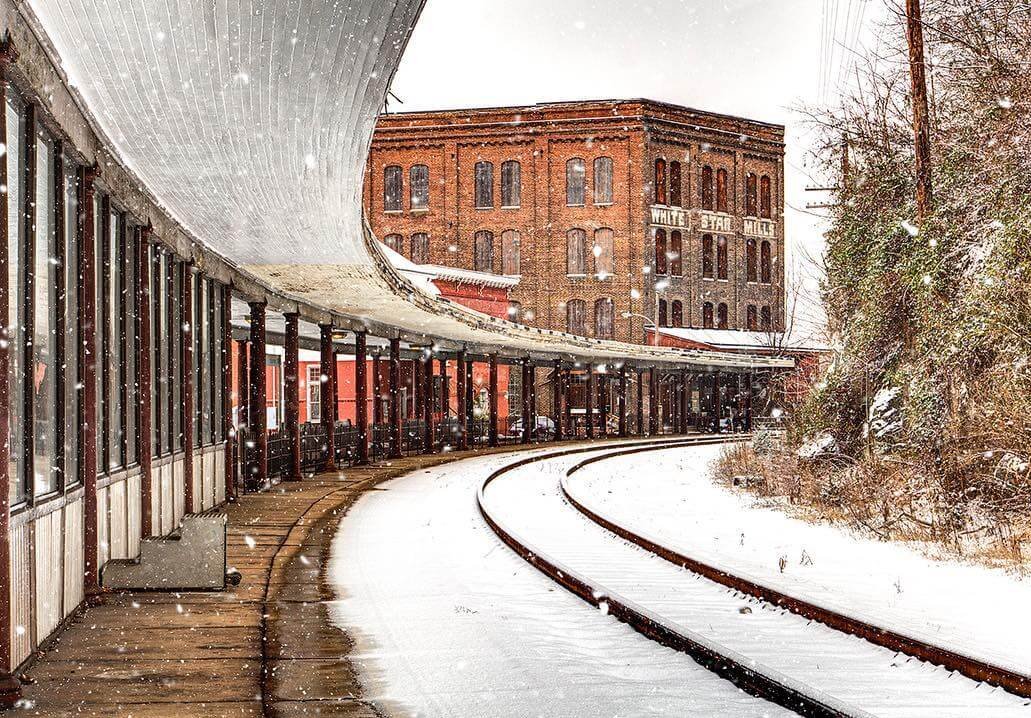 Spend a Cold Winter's Day in Staunton
---
(Published 01/26/2023)
Bring on the ice and snow because there's a lot to do in Staunton when it's cold outside. Whether you're trying to keep the kids off screens or you want a fun outing with your bestie or partner, here's how to keep busy when Staunton's temperature drops to single digits.
Hit the Slopes
Ski bums and snow bunnies rejoice! Staunton is just a short drive away from four awesome ski resorts where you can master the moguls and enjoy apres-ski amenities in style! Wintergreen Resort, Bryce Mountain Resort, Omni Homestead Resort, and Massanutten Resort, all have excellent slopes for skiing, snowboarding, and snow tubing. Additionally, kids and newbies can sign up for award-winning lessons. Rent gear at the resort or shop for your own at Stan's Ski and Snowboard. See Downhill Fun for more information.
If you prefer sledding, it's not hard to find a good hill in Staunton. Dust off the saucer and race down the sweeping hill to the Mary Baldwin soccer field. Residents also love Montgomery Hall Park and Gypsy Hill Park for a variety of hills, places to park, and even winter bathrooms.
If you'd rather glide over a flat surface, lace up your skates at the outdoor rink in Bridgewater's Generations Park. You can rent skates, reserve times, and even take some lessons.
Drink Some Wine
If the weather outside is frightful, warm up with a glass or bottle of wine. Staunton has several shops catering to the oenophile, including the newest game in town, Accordia. Accordia serves delicious wines including featured Barren Ridge bottles, other Virginia wines, and tastes from around the world. Accordia also seeks to teach customers the best food pairings for their vino.
Other Staunton wine bars include The Green Room and Yelping Dog Wines. Both are cozy places to gather with friends to enjoy wine and snacks as well as to buy a bottle to enjoy at home. Ox-Eye Vineyards offers tastings of estate-grown wines from a knowledgeable sommelier.
Make plans to discover a new Virginia vineyard at the Winter Wine Festival on February 23 at Hotel 24 South. You'll mingle with other wine aficionados as you taste and learn the differences between wines from different regions.
Chill out with a Book or Game
Cuddle up with a new favorite book. You'll find new and gently used books for all ages at The Book Dragon. Pufferbellies also sells popular books for kids and they can help you find what's right for your young reader. Bargain Books stocks its shelves with a wide selection of used titles.
If you're looking for some family time, Pufferbellies also carries lots of award-winning games and puzzles. You'll find something for all ages and plenty of enthusiastic advice from the staff. If you're into strategy games, war games, and more, you can't beat The Dragon's Hoard for games, gaming supplies, dice, and miniatures. Pick out a model from Frontline Model Kits & Hobbies and get lost in a world of miniatures.
Visit a Museum
Did you know that the Frontier Culture Museum is open all year long? Enjoy walking from farm to farm in the brisk weather before popping inside the cozy houses for living history demonstrations by costumed interpreters. The Woodrow Wilson Presidential Library & Museum is another good destination to learn about history and life in the past, including what it was like in a WWI trench. Art lovers should check out the rotating art and history exhibits at Staunton Augusta Arts Center in the historic R.R. Smith Center for History and Art. The Beverley Street Studio School Gallery, Co-ART Gallery, and Mary Baldwin's Hunt Gallery host multiple exhibits of fine local art each year.
Take a Winter Stroll
Staunton is beautiful all year long, but nothing rivals the long winter views of distant mountains when the leaves are off the trees. Try some in-town walks to see the sights and to reach your daily step goals. Head to the plowed 1.3-mile loop at Gypsy Hill Park to feed the ducks, or stroll around downtown and do some shopping. How about a cozy new candle from Redwood + Co.? Bells Lane is a peaceful route just north of Staunton that's loved by walkers, runners, and birders. If you don't mind snowy or muddy boots, Montgomery Hall Park and Betsy Bell and Mary Gray Wilderness offer fresh air and winter solitude.
Warm up with Something Tasty
Warm up with some fresh-roasted coffee and lively conversation at Crucible Coffee Roasters. Serendipity Java Bar & Eatery serves your favorite caffeinated beverages as well as fresh pastries and grilled sandwiches. Cranberry's Eatery & Grocery is another option for a warm drink and a healthy lunch.
We recommend Clocktower for a filling comfort meal like loaded mac and cheese or grilled sandwiches. If Tex-Mex is your preference, grab some warm queso and a craft beer at Baja Bean. Follow it up with a cheesy, spicy main course!
Other Ideas
---
Newsletter Sign-up
Stay up to date on the latest and greatest happening in Staunton.