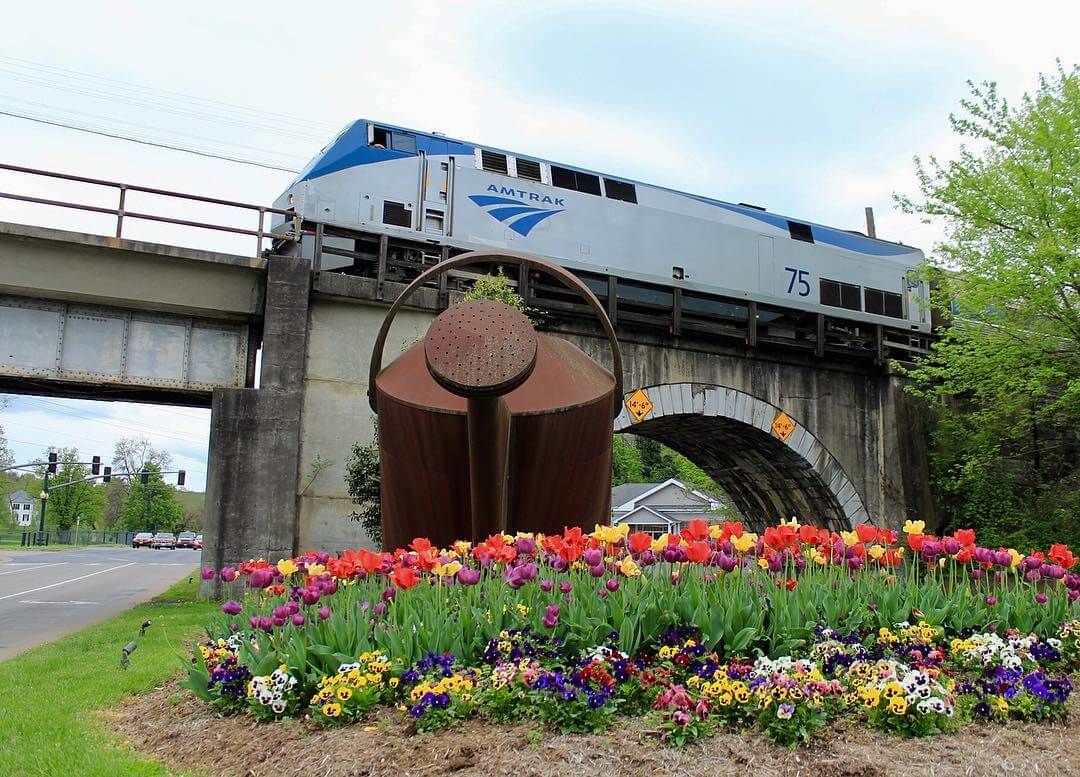 Staunton Spring Itinerary in 5 Steps
---
Many of us are probably planning to stick close to home this spring. Fortunately, there's plenty to keep you and the family busy in the Staunton area. From hiking to biking to hot-air ballooning, here are our local picks for springtime fun!
Step 1: Dust off Your Hiking Boots
It's been a long, cold winter, and you've probably spent too much of it inside. How about a nice, easy hike to stretch your legs and break in your boots? A family-appropriate 2.5-mile hike that you'll love is Hidden Rocks Trail. The gently rolling terrain has several creek crossings, so wear your water shoes. You'll see a pretty waterfall and climb up to the aptly named cliffs, where you might get to see rock climbers. Looking for something longer, without creek crossings? Check out the wooded loop trail at Trimble Mountain. Hike clockwise to leave the steepest part for the descent, and make sure to follow the short path to look at Todd Lake when you finish.
Want more? Visit Shenandoah National Park or read our recommendations for more Hikes for Beginners.
If you enjoy studying the migration patterns of our feathered friends, see Plan Your "Nest" Adventure: Birdwatching in Staunton.
Step 2: Level Up Your Biking Skills
This is the year you're finally going to get into mountain biking, right? Test your trail readiness on the singletrack at Montgomery Hall Park. You'll get to explore miles of trail that will prove an appropriate challenge to beginners, but will entertain more advanced riders as well. Once you have some experience under your belt, head out and pedal the trails in the George Washington and Jefferson National Forest. 
Families seeking easy, scenic, and mostly flat rides should pedal the 1.3-mile loop at Gypsy Hill Park. Wind down after your ride with some time on the playground or a stroll around the duck pond. While a bit further afield, Lexington's Chessie Trail, Waynesboro's South River Greenway, or the trail system that starts in Mountain View Park in Grottoes also offer gentle rides that are safe from traffic. 
Step 3: Dine Alfresco
Nothing feels better when warm weather arrives than eating alfresco. Pack a picnic and climb to somewhere with a view. Check out the peaceful, open space on Mary Baldwin University's Cannon Hill or lounge on a blanket in Woodrow Park to view the city from above. There's also plenty of room to spread out with wine and a sunset at Barren Ridge Vineyard, just a short drive from town.
Is actually packing the picnic too much trouble? Grab takeout from one of our downtown restaurants. Many let you order online!
Nobody will forgive you if you forget dessert, so make plans to scoop up some cold gelato at The Split Banana. Load a waffle cone with one of their signature flavors like matcha (green tea), Virginia peanut butter, or white chocolate grisbi. If you'd rather eat soft serve, Wright's Dairy Rite has been serving up frozen treats since the 1950s. You can even cruise up in your car and have your treat delivered to your window, old-school style!
Step 4: Try Something New
We bet you've never ridden in a basket through the sky, or walked under a mountain, or watched people blow bubbles in molten glass. Start checking off that bucket list with a hot air balloon ride from Bridgewater's Star Ballooning, which specializes in sunrise and sunset views.
You won't be able to see anything without a headlamp as you explore the 2.25-mile Claudius Crozet Blue Ridge Tunnel trail, which has just opened for foot and bike traffic. The tunnel is spooky fun mixed with exercise and history. Finally, head to downtown Staunton to tour the gallery at Sunspots Studios. Make sure to attend a live glass blowing exhibition in the studio where you'll see masters manipulate the glass like wax!
Step 5: Treat Yourself to Something Special
Whether you're a history buff, or you love bonding over games, or you want to bring home the perfect piece of unique artwork, Staunton is the place to find your next favorite thing. History lovers should visit the Frontier Culture Museum or the Woodrow Wilson Birthplace and Presidential Library for unique views of the past and souvenirs from the gift shops!
Gamers will love the selection of table games and accessories at The Dragon's Hoard. And if family games are what you seek, Pufferbellies Toys and Books has a curated selection of award-winning games for all ages. Looking for more unique finds in Staunton; check out our shopping page.
Staunton has a number of galleries featuring original work by local and regional artists. Tour a gallery to find inspiration or a focal point for your wall. The Staunton Augusta Art Center regularly hosts exhibits, and art can be purchased in the gallery or online. The CoArt Gallery displays the work of over 40 local artists working in a variety of media. The space features different artists each month. 
---
Newsletter Sign-up
Stay up to date on the latest and greatest happening in Staunton.