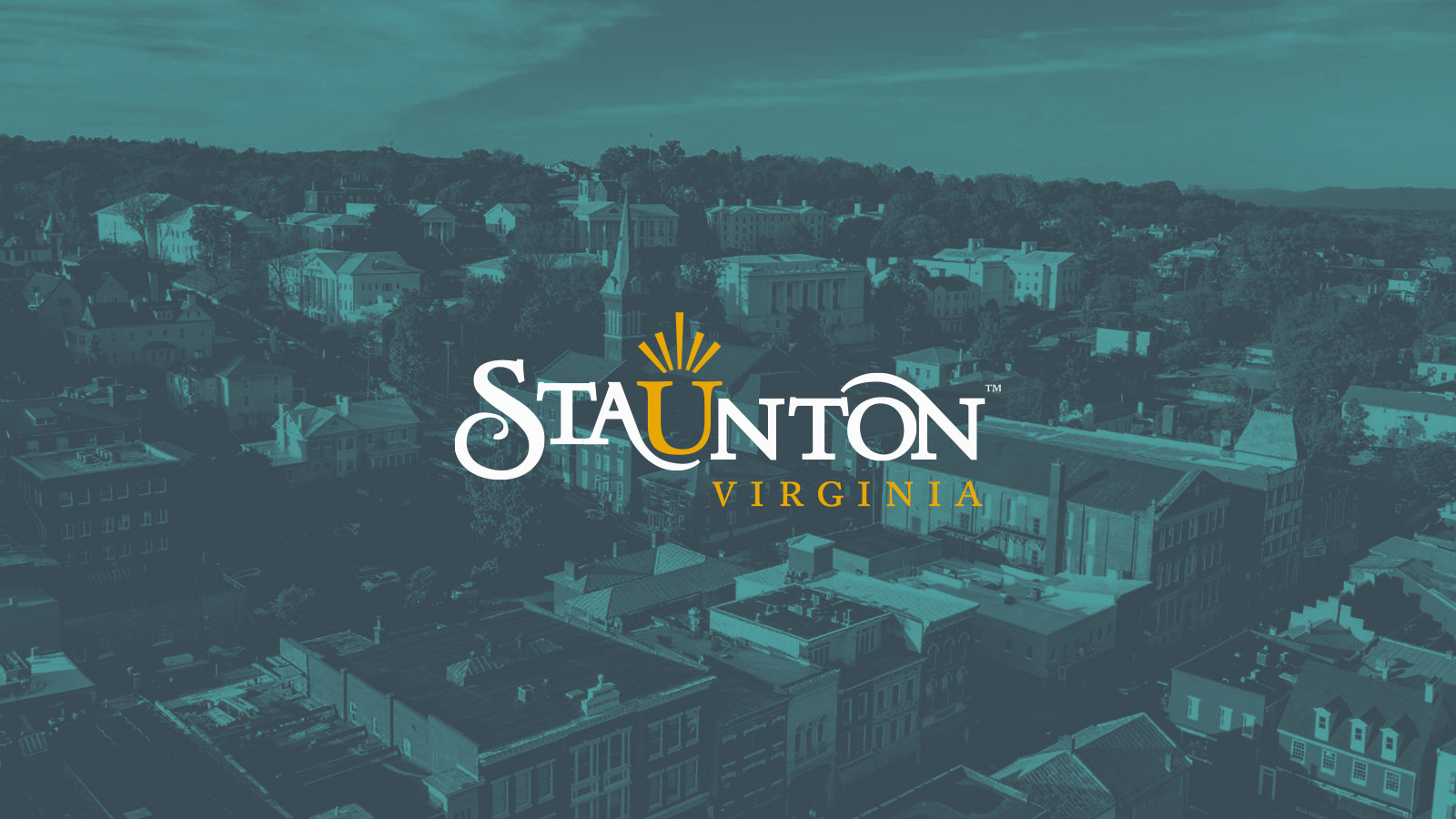 Staunton's 2021 Holiday Gifts
---
(Published 12/02/2021)
Want to make an impression this holiday season? Why not find meaningful gifts for everyone on your list in downtown Staunton? You'll not only snag a one-of-a-kind Staunton find, you'll also be supporting the local small businesses that make Staunton such a special place.
Wellness and Personal Care
Really impress someone with an Essentially Zen Artisan Bath and Body curated holiday zen box. Not only will you be giving a relaxing and great-smelling product, but it will also be beautifully packaged, and all you need to do is name the occasion, your budget, and list any no-no fragrances! Essentially Zen will take care of the rest.
Nature's Bliss hemp and CBD boutique is your answer to holistic health in Staunton. Stop in to try some local products including energizing tinctures and the best brownie you've eaten all year! Tend to you dog's health at the Well Balanced Paw pet wellness shop. Fill Fido's stocking with treats, toys, and accessories. Is he stressed over the holidays? Book him a therapeutic massage!
Arts and Music
The Heifetz Music Shop offers excellent music-themed gifts like sheet music umbrellas and adorable banjo kitty socks. Did you know that they also have an excellent selection of rental instruments so that fledgling musicians can try their hands at violins, saxophones, clarinets and more. You can also inquire about lessons.
If you're buying a gift for someone who'd rather just listen to music, head over to the Vinyl Asylum to relive memories in their ever-changing stock of vintage LPs and more.
You don't want to miss Staunton Augusta Art Center's annual Art for Gifts. Running through the end of December, the holiday market showcases the work of more than 60 local and regional artists. Shoppers can find paintings, sculpture, jewelry, textile and fiber art, photography, pottery, stained glass, and more.
Gifts
Looking for some holiday table linens like a set of vibrantly colored cotton placemats designed by French artisans and block printed in India? Or how about a special hostess gift like an aromatherapy wrap filled with organic ingredients like flaxseed, lavender, and essential oils? You'll find this and much more at Harmony Moon.
Do you have a Tolkien lover on your gift list? Known for its handmade swords, armor, and Welsh items, Medieval Fantasies Company also has lots of inexpensive stocking stuffers from Middle Earth like Rivendell and Rohan-scented soaps. More adventurous folk can scrub down with some Smaug-scented soap and follow up with a liberal application of Durin's Folk handcrafted beard butter.
CFO Trading Co. sells men's fine gifts and apparel. Here you'll find something nice to wear, shaving supplies, glassware, and even pit barrel cookers. Better yet, you can buy a glass of wine from CFO's sister store Yelping Dog Wine and sip while you shop. If you're looking for a gift for a cigar aficionado, you'll be delighted with the selection of cigars, pipes, and accessories at Beverley Street Cigar Store.
Staunton Flavor
Experience the magic of hot glass and the beauty created from it at Sunspots Studios. Blow your own ornament or choose from their spectacular gallery of glass art.
A Staunton charm from H.L. Lang and Company Jewelers will make the recipient think of the Queen City whenever they hear it tinkling. These keepsakes are lovingly crafted from sterling silver or 24-K gold and depict the Stonewall Brigade Bandstand, the Marquis Building, the watering can and other Staunton landmarks. Another place to look for something sparkly is Crown Jewelers, where you can select from both new and estate jewelry.
How about the gift of organizing the year ahead with a Staunton calendar? Local artist Haley Roberts is using her talents to support downtown by creating a calendar highlighting some of the many wonderful local businesses that make Staunton's downtown life so vibrant, and charming. If you order by December 20th,the proceeds will support the Staunton Downtown Development Association (SDDA).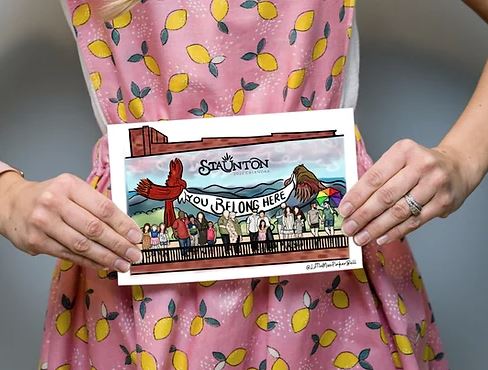 Make sure to visit the American Shakespeare Center gift shop for Shakespeare-themed goodies like shirts, bags, and face masks adorned with a Shakespeare facial hair design. History buffs will enjoy the offerings from the Woodrow Wilson Presidential Library gift shop. Stuff stockings with candles, mugs, note cards, picture frames and holiday ornaments.
Experiences
If you'd rather gift a Staunton experience this holiday season, why not treat someone to a night in one of our historic hotels like the Blackburn Inn or Hotel 24 South, which both provide luxurious accommodations just steps from downtown.
Now that we're finally seeing movies in the theater again, you can't beat the convenience of a gift card from the Visulite. Sign up online and give a gift of any amount that's good for all the new movies that are coming out next year.
Also consider an annual pass to the Frontier Culture Museum. This pass provides unlimited visits to the museum and select special events for an entire year. The pass also provides a 10% discount at the museum store.
Finally, how about a semester of art classes from Beverley Street Studio School? Classes are offered for both beginners and advanced students and cover topics like watercolor, streetscapes, and theory and critique.
---
Newsletter Sign-up
Stay up to date on the latest and greatest happening in Staunton.