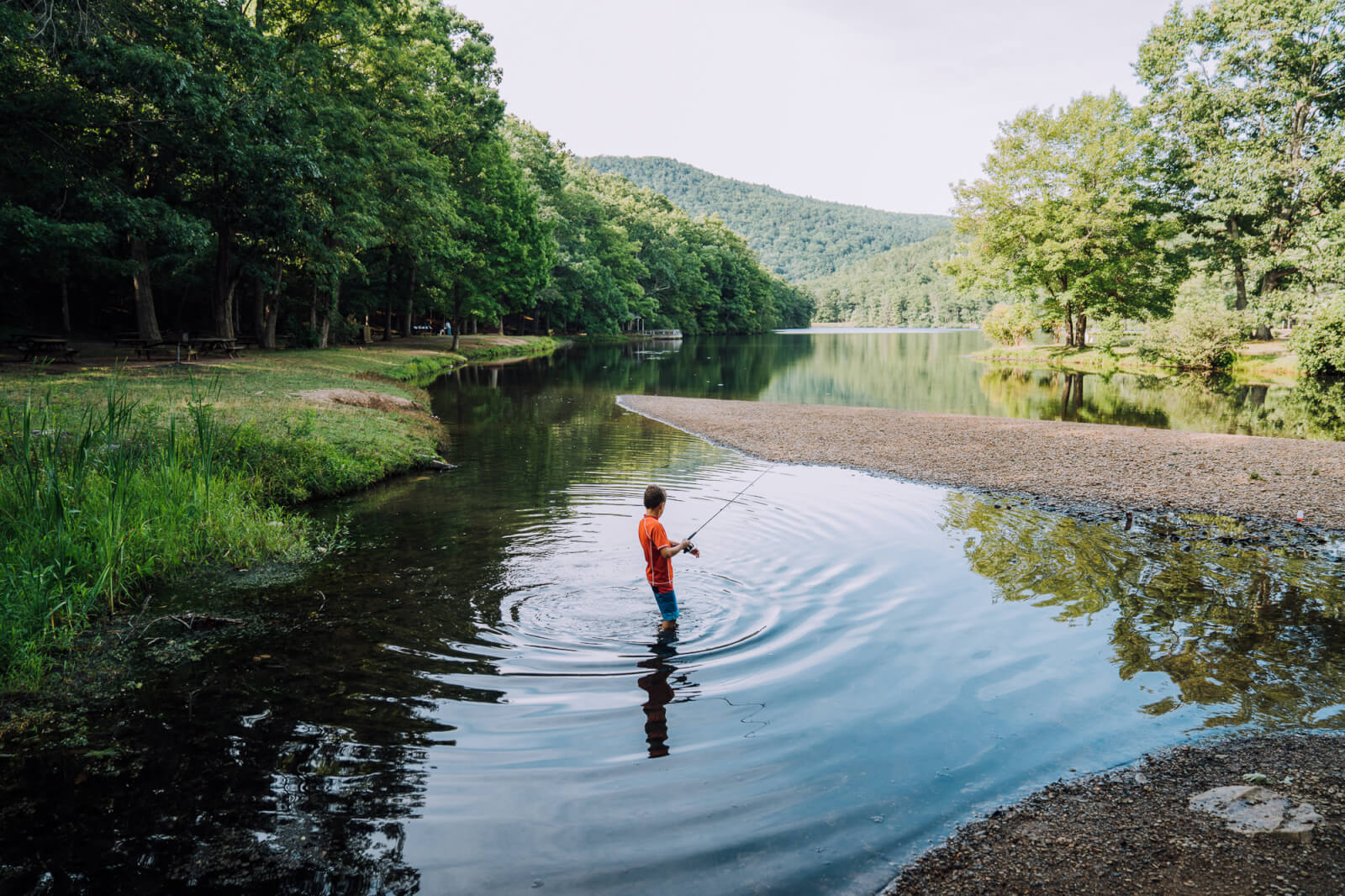 Staunton's Swimming Holes, Waterfalls, Camping, and Other Summer Fun
---
Discover Staunton, Virginia's hidden gems this summer! Dive into refreshing swimming holes, marvel at stunning waterfalls, pitch a tent at picturesque camping sites, and embark on unforgettable summer adventures. Enjoy nature's paradise!
Swimming holes
Slather on the sunscreen! Here's how to cool off on the hottest summer days with a Staunton-area swim break.
Try a Staunton public pool
Staunton has public swimming pools located in Gypsy Hill and Montgomery Hall Parks. Both have lifeguards, slides, areas for deep-water swimming, areas for wading, and spots for kids. There's grass to spread your towel as well as nearby picnic facilities and playgrounds. You can pay per visit or spring for a 20-visit pass.
Take a dip in an area lake
Both Sherando and Todd Lakes are man-made lakes located in beautiful George Washington and Jefferson National Forest a short distance from Staunton. Both recreational areas offer sandy beaches, restrooms, swimming areas, picnic areas, and trails to hike. Visit for the day or reserve a campsite. Day use and camping fees apply.
Chill in a rocky riverbed
Goshen Pass will spoil you with dramatic scenery and icy mountain water. The Maury River carved this three-mill gorge, and visitors will find giant rocks to climb, pools to swim in, and channels to traverse with tubes and kayaks. Another place to kick back and enjoy the rocks is Harrisonburg's 27-acre Riven Rock Park. Pack a picnic and let the kids wade, skip rocks, and net critters in the water.
Waterfall hikes
If you'd rather hike than lounge, lace up your boots and try one of these area waterfall hikes.
Shenandoah National Park waterfalls
Both the 6.6-mile Jones/Doyles Falls and 9.5-mile Riprap Hollow Trail are located in the southern portion of Shenandoah National Park and have trailheads along the scenic Skyline Drive. Though hilly, both hikes offer plenty of shade, dramatic views of multiple large and small cascades, and places to dip your feet. The popular Riprap Hollow trail also has an incredible 50-foot-wide swimming hole. These lengthy hikes can both be shortened to down-to-the-falls-and-back-out adventures.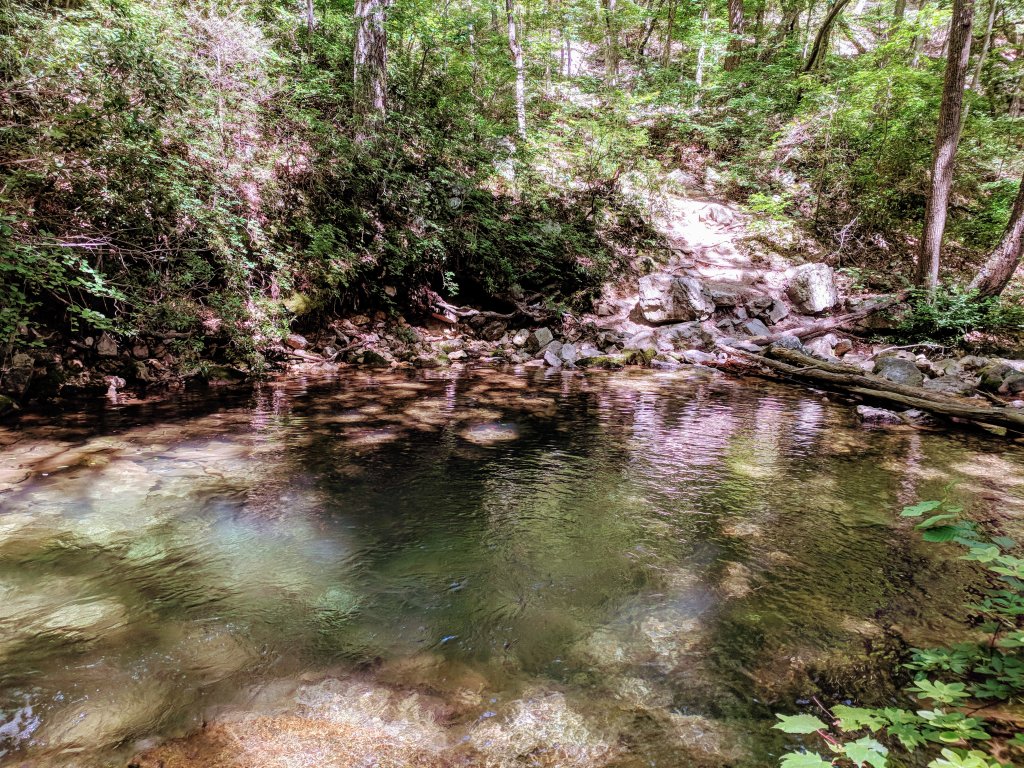 Waterfalls hikes in the George Washington and Jefferson National Forest
Visitors can find lots of hikes in the national forest, but some of our favorite summer adventures follow streams and waterfalls. You never stray far from the water on the Crabtree Falls hike. The trail hugs the series of five major cascades that total more than 1,200 feet. The view from the top gazes out over the Tye River Valley. Follow the 4-mile out-and-back path along St. Mary's River to St. Mary's Falls. After multiple stream crossings, you'll reach a big, icy mountain pool that's fed by a wide, scenic waterfall.
Canoeing, Kayaking, and Rafting
Odds are you'll end up getting wet, but here's how to navigate Staunton-area water in a boat.
The Waynesboro Water Trail is a 4-mile stretch of the South River that winds through downtown Waynesboro. This calm section of the river offers multiple put-in and pull-out spots and access to several city parks. If you don't own equipment, you can rent it from Rockfish Gap Outfitters.
If you want a guided adventure on the water, a trip with Massanutten Adventures on the Shenandoah River as it parallels Shenandoah National Park is the answer. These canoe, kayak, and tube excursions include gear, transportation, and safety training. If you're seeking thrills on the river, get a group together to share an exciting white-water rafting trip with Outdoor Adventure Experiences Inc.
Camping
Dig out the tent and the camp chairs. Stock up on hotdogs and marshmallows and get ready to make some family memories at a campground near Staunton.
Shenandoah Valley Campground has large, comfortable sites and plenty to do like playgrounds and a fishing pond as well as wading and tubing access to a stretch of the Middle River. There's also a heated pool, hot tubs, a game room, playgrounds, and mini-golf. Families will love tenting or RVing at Walnut Hills Campground. Not only are the grounds attractive, but there's also a pool, a lake, a disc golf course, a playground, and a game room. If you're looking for natural drama, try Natural Chimneys Park & Campground. This 165-site campground lies in the shadow of a series of 120-foot limestone towers.
Other summer fun
Still looking for more ways to have fun this summer? Here are some of our other recommendations.
---
Newsletter Sign-up
Stay up to date on the latest and greatest happening in Staunton.