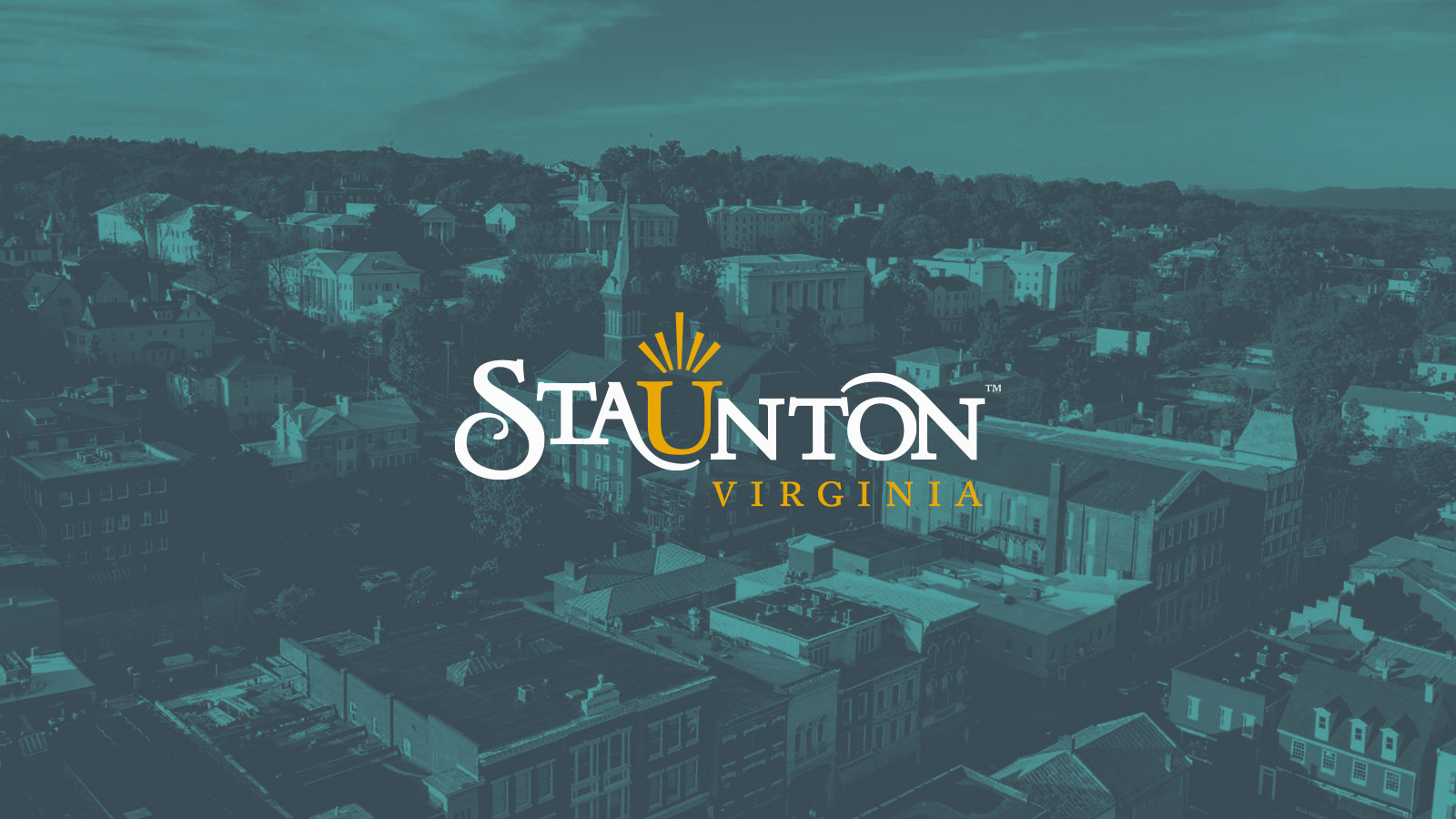 Visit Staunton on Foot: Thornrose Cemetery
---
People visit Staunton for its food scene, its Shakespeare, and its proximity to the natural beauty of national parks and forests. But another, lesser-known reason to visit is right within walking distance of downtown. Did you know that Thornrose Cemetery is considered one of the most beautiful in the country? Combining human and architectural history and landscaped beauty, Thornrose Cemetery is yet another compelling reason to visit Staunton.
History
Early Staunton's main burial ground was the crowded cemetery at Augusta Parish Church, now Trinity Episcopal Church. However, as downtown expanded, the need for an alternative grew. Built on 12 acres in 1849, Thornrose Cemetery saw its first burial in 1853.
Roads and walks meander through Thornrose, making it a pleasant place for a stroll. Before the 20th century, most people did not have access to public parks. It was the fashion to make cemeteries as park-like as possible, so that people without a lot of land of their own could enjoy their beauty. Well into the 20th century, people would "haunt" the cemetery, exploring its paths and picnicking near their departed loved ones.
Notable Sites
Main Entrance
Designed by famed Staunton architect T.J. Collins and built by William Larner & Company in 1896, this stone arch and gatehouse mark the main entrance to Thornrose Cemetery. William Larner's stone and brickwork also survives at Oakdene. The quarry that supplied the Thornrose limestone on Middlebrook Road opened an entrance to what became known as Staunton Caverns. This short-lived commercial cave, lit by acetylene gas lights, opened in 1907.
Footbridge and Tower
The footbridge and tower, also designed by Collins and built by Larner & Company can be seen up the hill from the gate. The female statue standing near the tower is Perpetual Care, and in the past she has been extensively damaged by vandals pushing her off the bridge.
General John Echols
A tall obelisk marks the grave of General John Echols. Known for his stint as a general in the Civil War, Echols later practiced law in Staunton. He championed the cause for Virginia's readmittance to the Union and helped former Confederates return to political office. Echols joined the state legislature and later became president of the National Valley Bank. He later moved to Kentucky to oversee the Chesapeake, Ohio, and Southwestern Railroad, but died in Staunton.
Fort Stonewall Jackson
Fort Stonewall Jackson sits at one of the highest points in the cemetery. Dedicated in 1888, a 22-foot marble Confederate infantryman marks the mass grave of 1,700 fallen Civil War soldiers who died at Cross Keys, Port Republic, Piedmont, McDowell, and other area battlefields. This site also includes a pavilion and a stone terrace flanked by cannons and planters.
Jed Hotchkiss
Jed Hotchkiss earned Civil War fame as Stonewall Jackson's mapmaker. His work was instrumental during Jackson's Valley Campaign. After Jackson's death, Hotchkiss continued to develop maps for the South. Following the war, Hotchkiss returned to Staunton. He built the house still known as the Oaks and operated a school for boys in Churchville. The Library of Congress holds his maps.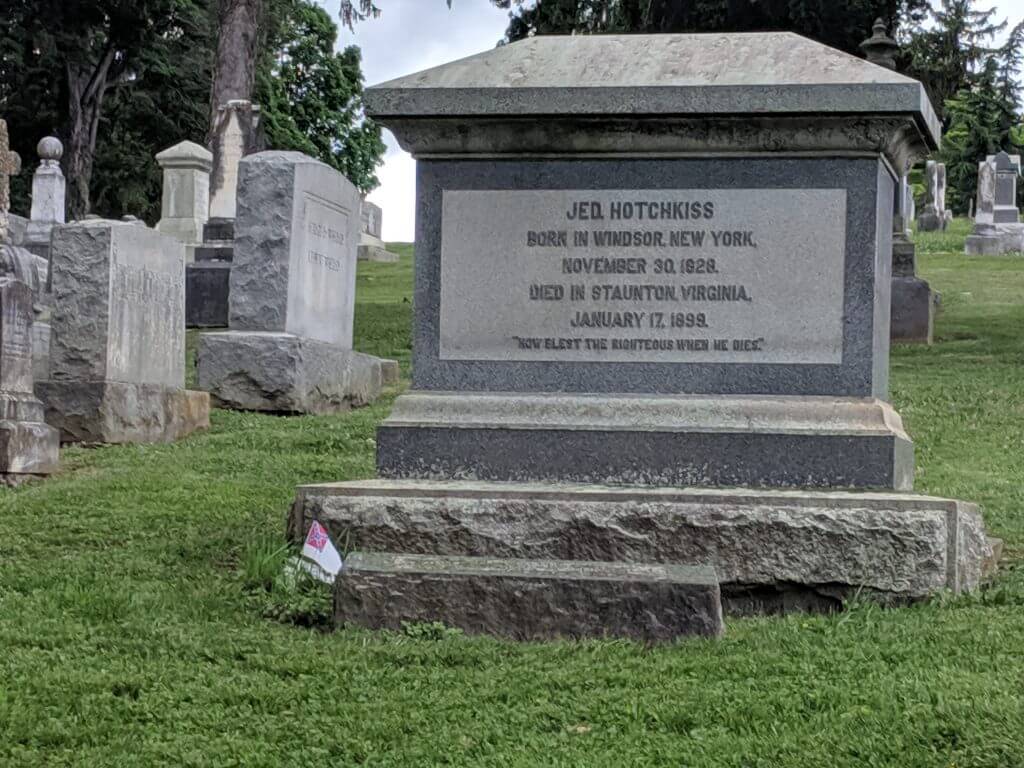 Eva Clark
In 1906, 25-yr.-old Eva Clark, a trapeze artist with the Cole's Brothers Circus found herself in the middle of a confrontation between a "friend" and her jealous husband, and was shot in the abdomen. After being abandoned by both men and the entire circus, she survived for three weeks at King's Daughters' Hospital before succumbing to infection. For years, each time a circus came to town, performers would gather to decorate her grave with flowers.
Row of Crypts and Garden
Originally, Thornrose Cemetery was a simple, somewhat wild, burial ground. The attempt to beautify the cemetery by building gardens, structures and statuary continued into the 20th Century. Arista Hoge, a city treasurer and longtime cemetery board member, led the movement. Some call Thornrose Cemetery Hoge's "city of the dead" due to his planning and often personally funding the improvements. The stone garden at the bottom of the hill along West Beverley is a good example of an improvement. Several ornate mausoleums line the road nearby.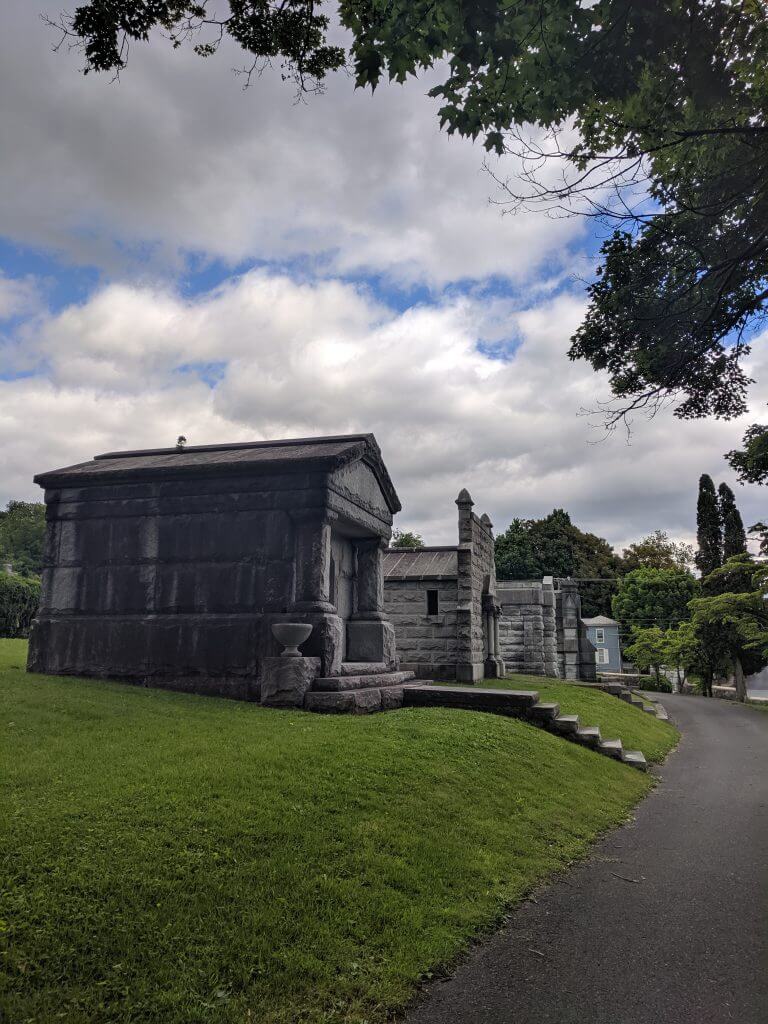 Mortuary Art
Thornrose Cemetery is home to a large collection of mortuary art. From elaborate iron urns and gates to marble statuary, these details appear everywhere on the grounds. Many of the older tombstones feature symbolic markings.
Staunton Mourning Her Dead
The marble statue of E. Barnicoat's life-sized Staunton Mourning Her Dead sits in the mausoleum at the southwestern edge of the cemetery. In 1989, Thornrose updated the original 1910 pavilion into a rock-of-ages granite mausoleum housing over 100 crypts and cremation niches. On a stone wall at the rear of the mausoleum stand marble statues representing the four seasons.
Before You Visit
Park along the shoulders of the cemetery roads. Please don't block road access.

The terrain in Thornrose is hilly: wear comfortable walking shoes.

There are no public restroom facilities in the cemetery.

For a guided tour experience and a chance to learn history and see costumed interpreters, check out Conversations from the Grave, an occasional tour that's been run by the

Augusta County Historical Societ

y

since 2008.
---
Newsletter Sign-up
Stay up to date on the latest and greatest happening in Staunton.