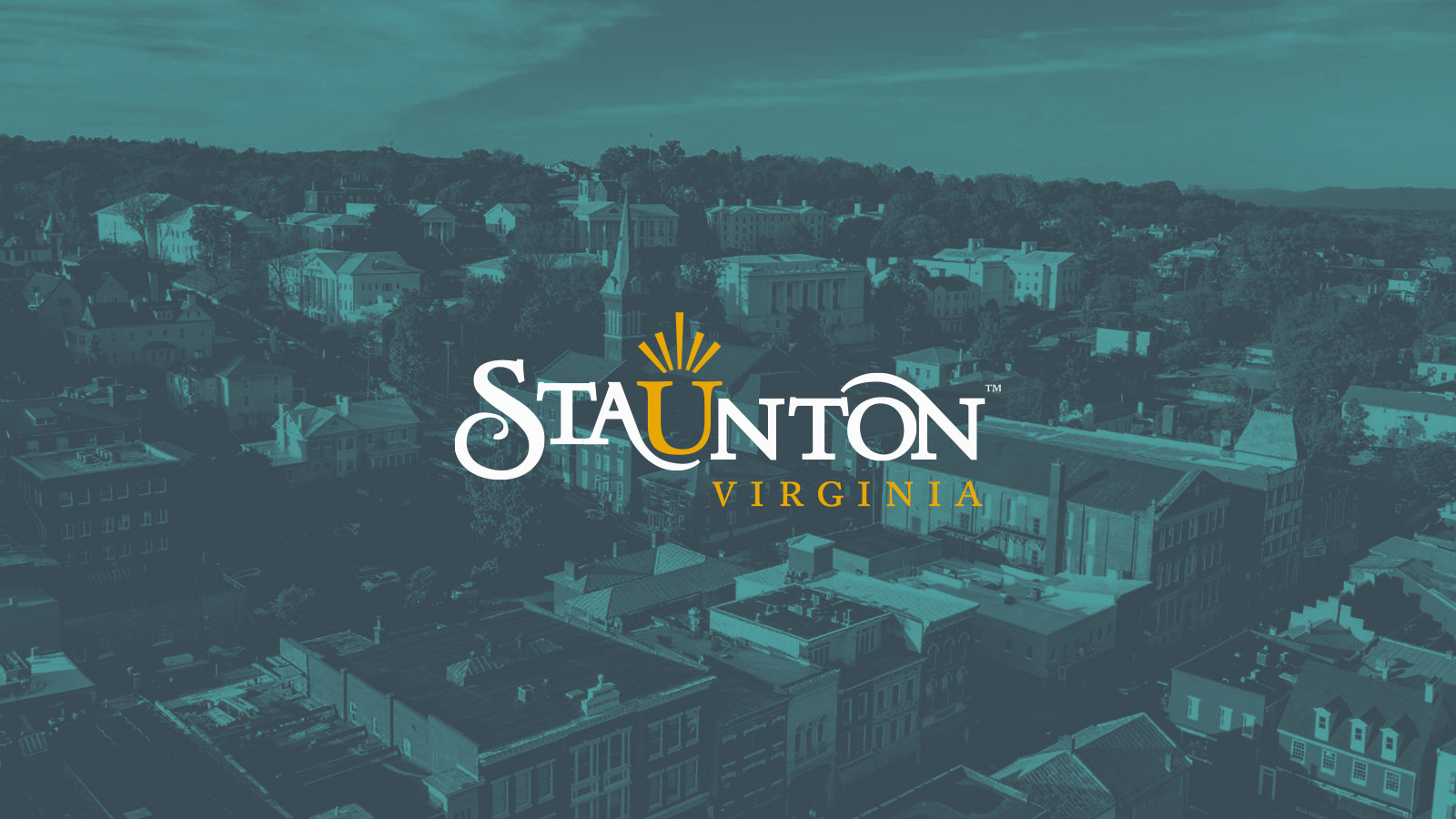 Explore Staunton on Foot: Newtown Historic District
---
Named to the National Register of Historic Places in 1983, Newtown Historic District is Staunton's oldest distinctly residential neighborhood. The name Newtown set it apart from the area once known as Oldtown. This district is Staunton's largest and consists of over 400 buildings. Many of the homes in Newtown emerged between the 1870s and 1920s, but some older structures date to the late 18th and early 19th centuries.
Where to Park
Park in the New Street Parking Garage or in the Wharf Parking Lot. You can also park along the street which has a two-hour limit.
Beverley Street
Start your walk on the corner of Beverley and New Streets and head west along Beverley. Staunton's oldest house of worship, Trinity Episcopal Church, rises to your left. This is the third church on this site. The first was Augusta Parish Church that briefly housed the Virginia General Assembly as it fled from British troops in 1781. The current church was built in 1855 in early Gothic Revival style, the church contains 12 stained-glass windows made by Tiffany Studios. Check the website for when the interior of the church is open to the public and explore the churchyard. You'll find many historic grave markers as well as beautiful landscaping and a labyrinth. Two other architectural gems grace the property: The Parish House (gothic revival style) and the Trinity Rectory (Jacobean revival style), both constructed in 1872.
Staunton's first public school, the Stonewall Jackson School at 217 W. Beverley, was built in 1887 and later remodeled by T.J. Collins. Now the building houses The Beverley Street Studio School, an art school dedicated to offering non-degree, college-level classes.
Church Street
Turn left on Church street for another view of the Trinity grounds. Look to your right for 18 Church Street. This structure, built in 1880 in the Eastlake style, is unusual in this part of the country. 120 Church Street's Stuart House was built in 1791 for Judge Archibald Stuart, who claimed to have received plans and building advice from Thomas Jefferson. Stuart's descendants live there today, and sometimes open the early Classical Revival building for house and garden tours.
Johnson Street
The large, white brick Greek Revival house at 600 W. Johnson Street is one of the most prominent houses in the Newtown Historic district. Built in 1851 as a private home, the Wesleyan Female Institute bought it in 1870. 610 W. Johnson Street was built in 1871 as part of the Institute, which was a college for women. When the Institute went bankrupt in 1900, the houses reverted to single-family dwellings.
Fayette Street
Several preserved historic homes line Fayette Street. Look for Italianate, Dutch Colonial, Queen Anne, and stone block townhouses. 19 S. Fayette Street was built in 1810, and T.J. Collins designed the "new" entrance in 1905. When Fayette St. ends at Beverley, look across the street at the Smith-Thompson house at 701-703 Beverley Street. The sided portion, built by a Revolutionary War-soldier-turned-barber who claimed to have shaved George Washington, dates from 1792, and is one of Staunton's oldest buildings.
Thornrose Cemetery
If you're up for a little extra walking, turn left on Beverley Street and follow it west. Note 921 West Beverley Street, former site of Allen Chapel African Methodist Episcopal Church, which was organized in 1865 and was the first church west of the Blue Ridge Mountains established by people of color. The church moved to a more accessible location and the building is now a private residence. Head toward Thornrose Cemetery. Built in 1849, many consider this 12-acre park-like cemetery to be one of the most beautiful in the country. See our separate walking tour of Thornrose Cemetery.
Frederick Street
Head back east on Frederick Street. The view on your left are the grounds of Stuart Hall School, added to the National Register of Historic Places in 1974. The Episcopal Church founded Stuart Hall in 1844 as the Virginia Women's Institute, and renamed it in 1907 after headmistress Mrs. J.E.B. Stuart. 401 and 325 W. Frederick Street were originally single-family homes that were absorbed by the school. Edwin M. Taylor designed the Greek Revival-style "Old Main" building in 1846.
Emmanuel Episcopal Church was constructed in 1894 and designed by Staunton's own T.J. Collins. This Gothic Revival structure features stained glass windows, lovely brick and woodwork, and painted murals.
There are many more sites of historic significance noted on the Historic Staunton Foundation walking tour map. Pick up a walking tour map from the kiosk outside the Visitor Center located at 35 S. New Street and visit some of the other historic districts in downtown Staunton. You can also view and download the walking tour map here.
---
Newsletter Sign-up
Stay up to date on the latest and greatest happening in Staunton.