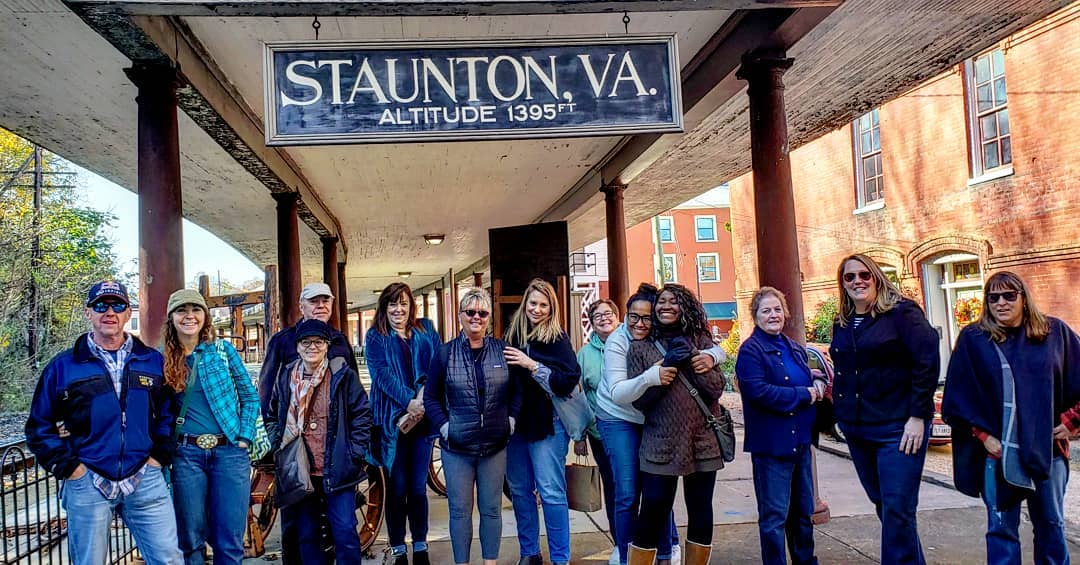 14 Ways to Tour Staunton
---
Tours are wonderful ways to see new places because someone has taken the pressure off of you and done all the planning! Your guide has identified the best attractions, curated the stories, provided a unique perspective, and streamlined the adventure so that you see as much as you can in a limited amount of time. They've also provided travel tips and perhaps transportation and equipment. There are many ways to tour Staunton, and whether it's your first visit or you've visited before, you'll find something to entertain and educate you. Read on to learn about all the ways you can tour and experience Staunton!
In-Town
Staunton's charming and walkable downtown encompasses six historic districts all filled with exceptional architecture and independently-owned restaurants, galleries, and businesses. Here's how to explore the area.
Self-guided walking tours
Staunton has a wealth of notable architecture in its downtown historic districts. Grab a paper copy of the Historic Staunton Foundation's walking tour at the Visitor Center kiosk (35 S. New Street). You should also check out our self-guided walking tours that include important sites, history, and information about parking, shopping, and more.
Historic Staunton Foundation guided tours
From May through October, the Historic Staunton Foundation leads free walking tours through Staunton's historic districts. Learn about Staunton's historic architectural gems and how the city developed and evolved over time. Tours start at 10 am on Saturday mornings at the R.R. Smith Center.
Staunton Guided Tours
Want a private tour of Staunton's historic neighborhoods to see the houses that appear on the National Register of Historic Places? Want to ask lots of questions and learn about the houses' history and the lives of the people who lived there? Staunton Guided Tours provides personal hour-long car tours to see sites like The Oaks, the Miller House, the Stuart House, and more. You can also take a narrated trolley tour to learn all about the Queen City's history. Tours overview important moments in Staunton's history, highlight architectural gems, and touch on more modern subjects like the Statler Brothers Buildings, Sunspots Glassblowing, and The Blackfriars Playhouse. Other tour options include a Walking Tour, Civil War Tour, and a Valley Pike Tour.
Museums
Take a guided tour of the house or a self-guided tour of the museum at Woodrow Wilson Presidential Library and Museum. You'll learn about the Wilson family, Staunton's history, the history of Staunton's enslaved people, and what trench warfare was like in WWI. You can also sign up for a behind-the-scenes self-guided tour to see artifacts that aren't generally on display. Another way to explore the area's past is with a walking tour or the Frontier Culture Museum. Visitors move between farms and learn about the Valley's earliest inhabitants from costumed interpreters or come visit the Spotts-Coffman house to get an idea of what life was like in the late 1800s to early 1900s. Weekend guided tours by a costumed guide take approximately 45 minutes who will tell you about the house, the people who lived there, and the artifacts of the time period.
Blackfriars Backstage Tour
Have you seen a world-class performance of a Shakespeare play in the only faithful reproduction of the Blackfriar's Theater? Summer productions at the Blackfriars include The Taming of the Shrew, Measure for Measure, and Much Ado About Nothing. You'll also want to schedule an informative and entertaining tour of the theater. The 45-minute backstage tour lets you in on production and theater secrets!
Staunton Ghost Tours
You don't need to wait for Halloween to meet Staunton's spooks and apparitions. Black Raven Paranormal's Ghosts of Staunton Tours leads educational and entertaining tours through Staunton's most haunted spaces. Not only will you explore the best places for sightings in this "hub for paranormal activity," the 90-minute lantern tours will teach you Staunton history as well.
Traipse
If you like interacting with the world through your phone, you'll love taking a digitally enhanced tour of Staunton with the Traipse app. Download the app for a new-fangled way to engage with Staunton's landmarks and businesses. Pick from a menu of tours tailored to your interests. You'll meet new people, solve puzzles, and learn about the Queen City. Traipse also offers a tour of Waynesboro's street art scene.
Tours of the Countryside
Augusta County is beautiful from the car, from your bike, and on foot. It's easy to lose yourself – in a good way – as you wander the scenic backroads. Here are more ways to explore the area around Staunton
North Mountain Outfitters
Get in touch with your inner cowpoke as you explore trails on horseback in the George Washington National Forest with North Mountain Outfitter. Adventures at this family-owned ranch range from half, full-day, and overnight rides to themed all-inclusive getaway weekends such as Couples Weekend, Cowgirl Weekends, and clay-busting Shotguns and Saddles. Getaways include lodging, rides, ranch-style meals, and entertainment.
Star B Stables
Don your ten-gallon hat and saddle up your faithful steed. Star B Stables leads guided trail rides through incredibly beautiful countryside. The horses are well-trained and gentle, and the rides are appropriate for everyone of any experience level who's over the age of six.
Middle River Outfitters
If you've ever wanted to take up fishing but don't have a clue where to start, Middle River Outfitters can teach you everything you need to know. Patient and experienced guides will show you how to select the best lures and flies and take lead you to popular fishing destinations like Mossy Creek or the South Fork of the Shenandoah River. Spend a half or full day learning how to cast and land trophy fish from the shore or boat. Sign up for fly fishing lessons or all-inclusive fishing weekends.
SUP Shenandoah
SUP Shenandoah is a brand-new business with a mission to make paddleboarding accessible for everyone. Not only will they provide equipment and transportation, they'll also guide you to the best places, and provide instruction so that even people who've never tried the sport before can learn and have fun. Reserve a spot in an upcoming eco-tour today!
Scenic Railway Tours
Head downtown to Staunton's historic train station and climb aboard the Virginia Scenic Railway for a taste of how people traveled in the past. The Scenic Railway offers 3-hour rides on the Alleghany Special, which explores the rolling countryside to Staunton's west. The Blue Ridge Flyer travels east into the mountains and ventures through the Blue Ridge Tunnel. Both tours include a meal, dessert, and a beverage.
Enchanted Nature Tours
Take a guided afternoon hike led by experienced naturalists with Enchanted Nature Tours. You can also sign up for a mushroom class led by a certified mycologist and learn about how to identify both dangerous and delicious fungi, how to grow your own, and how to cook your bounty.
Cave Tours
The Shenandoah Valley's bedrock is made up largely of soft limestone and dolostone, which has been eroded by millions of years of rain and water. Natural monuments and systems of commercial caverns remain to be toured today. Grand Caverns is a National Natural Landmark. It offers several different tours focusing on different topics and ranging from easy walking to "rugged." Visitors can also tour the 34-story Caverns at Natural Bridge and Harrisonburg's Melrose Caverns which has both geological features and graffiti dating back to the Civil War!
---
Newsletter Sign-up
Stay up to date on the latest and greatest happening in Staunton.